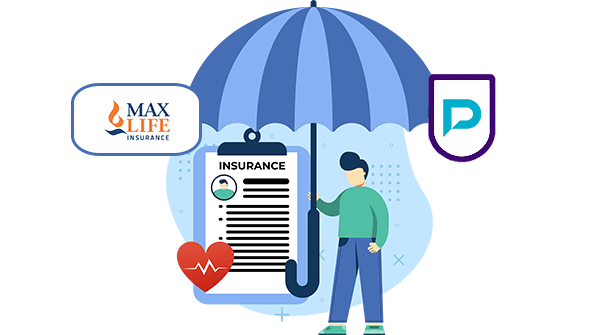 Max Life Monthly Income Advantage Policy
Max Life Monthly Income Advantage Plan
The Max Life Monthly Income Advantage Plan is an all-inclusive individual life insurance savings and protection plan that offers guaranteed monthly income as needed to cover recurring expenses and a lump sum benefit, which consists of non-guaranteed bonuses, at maturity to support long-term financial goals. This way, you can rest assured that your loved ones' wishes are always taken care of. The plan gives you the option to select the period of your coverage, your premium payment arrangements, and other perks.
It offers a lump sum of money as monthly income for ten, twenty, or thirty years. Customers who want to guarantee their future financial responsibilities can, therefore, greatly benefit from it.
Read on to know more about Max Life Monthly Income Advantage Plan.
Here are the eligibility criteria for Max Life Monthly Income Advantage Plan.
Parameters
Details
Age

Minimum- 18 Years

Maximum- 45 Years

Maturity Age

Minimum- 66 Years

Maximum- 90 Years

Premium Payment Term
6 years, 8 years, 10 years, 12 years, or 15 years
Policy Term
25, 35, 45
Premium Payment Mode
The product allows annual, semi-annual, quarterly, and monthly premium paying modes
Minimum Annualised Premium
₹ 25,000
Maximum Annualised Premium
No limit
Key Features & Benefits of Max Life Monthly Income Advantage Plan
Listed below are the key features and benefits of the Max Life Monthly Income Advantage Plan.
Long-Term Coverage: By paying premiums for only 15 years, policyholders can obtain live coverage for 45 years. The policy does, however, offer premium payment terms of six, eight, ten, twelve, or fifteen years.
Tax Benefits: By the Income Tax Act of 1961, policy provides tax benefits. Based on the premiums paid, the covered individuals will be eligible for a tax deduction. (Changes in tax laws could affect the tax advantage.)
Guaranteed Monthly Income: Depending on the chosen policy, the insurance would continue to pay out monthly payments for 10, 20, or 30 years after the term of premium payments ended.
Maturity Benefit: The policy pays out all accrued and terminal bonuses once it reaches maturity. The following benefits will be paid upon maturity: accrued compound reversionary bonus (if any) + terminal bonus (if any), assuming survival through the policy term and full payment of premiums.
Death Benefit: If the policyholder passes away, the nominee will receive death benefits. The nominee should not pay premiums by the death benefits because they are waived. However, the rule will remain in place. As a result, it will provide all additional advantages as specified under the policy.
Free-look Period: The policyholder may terminate the policy within 15 days (the "free-look period") if they have any issues with the terms and conditions by sending a signed written notification to the insurance provider outlining their concerns. The person will be eligible for a return of the premium they paid, minus a few fees like stamp duty.
Grace Period: All premium payment methods, except the monthly option, which will only offer a grace period of fifteen (15) days, will allow a grace period of thirty (30) days from the due date for payment of each premium. The Company will accept the premium within the grace period without charging interest.
Reduced Paid Up Benefit: The policy will continue with Reduced Paid Up (RPU) benefits and won't lapse if the policyholders don't pay the premium after the policy has accrued a surrender value. In RPU Mode, the following are compensated:
Reduced Death Benefit – The following is paid as a death benefit:
RPU Death Insurance.
Benefit from Monthly Income Reduction.
Benefit of Reduced Maturity.
What is Not Covered Under Max Life Monthly Income Advantage Plan?
Regardless of everything else specified in this document, the policy will end immediately if the Life Insured, whether sane or insane, commits suicide within 12 months of the effective date of risk beginning or the date of revival of the policy. The Company will then pay one of the following:
If the insurance contains a surrender value, the higher of that value or (total premiums paid + underwriting additional premiums paid plus loadings for modal premiums paid), but excluding any relevant taxes levied from time to time by the government; or
Total premiums paid plus underwriting additional premiums paid + loadings for modal premiums paid, excluding any applicable taxes levied from time to time by the government if the policy has not yet developed a surrender value.
How Does Max Life Monthly Income Advantage Plan Work?
Mr. Tushar Reetha, 35, makes an annual investment of Rs. 75,000 in the Max Life Monthly Income Advantage Plan. He chooses a 22-year policy term and a 12-year premium payment term. Let's see how this plan would work for him.
Age
Annualized Premium
Total Premium Paid

receivable as Guaranteed

Monthly Income for 10 years (After 10 Years)

Lump-sum payable at Maturity* i.e., Accrued Bonuses + Terminal Bonus
35 Years
₹ 75,000
₹ 9,00,000
Rs. 9,087

@ 4%* = Rs.70,798

@ 8%*= Rs. 8,66,746
What Are The Riders Available Under the Max Life Monthly Income Advantage Plan?
Here are the riders available under the Max Life Monthly Income Advantage Plan.
Max Life Term Plus Rider (UIN – 104B026V03) additional risk protection in the event of death.
Max Life Accidental Death & Dismemberment Rider (UIN – 104B027V03) provides lump-sum compensation in the event of accidental death or dismemberment.
Max Life COVID-19 One Year Term Rider (UIN: 104B048V01) pays benefits in the event that the Life Insured passes away after being diagnosed with Coronavirus disease (COVID-19) covered by this insurance.
Max Life Critical Illness and Disability Rider (UIN: 104B033V01): Under this rider, the life insured suffers from Critical Illnesses or Total and Permanent Disability will be covered.
How To Buy Max Life Monthly Income Advantage Plan?
If you want to buy Max Life Monthly Income Advantage Plan, you can simply talk to the customer care representative of Max life insurance at 1860 120 5577 or connect via WhatsApp at +91 7428396005. Alternatively, you can visit the nearest branch of Max Life Insurance to buy the Max Life Monthly Income Advantage Plan and get expected monthly returns to secure your future.
Frequently Asked Questions