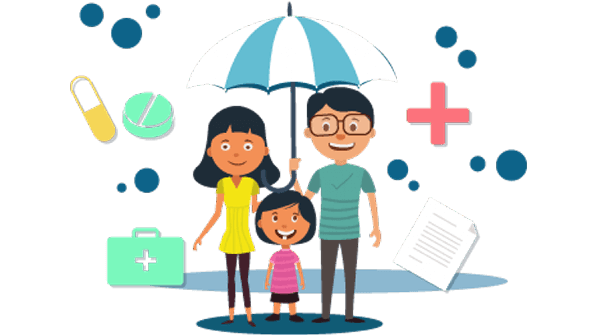 HLPP or Term Plan: What to Choose for a Home Loan?
HLPP or Term Plan - Which is Best?
A home is something that everyone wants to invest in, whether it is the thought of moving into a house of your dreams with your family or investing in a place as a safety measure. When it comes to purchasing your ideal house, the importance of a home loan cannot be overstated. Many lenders offer home loan protection plans to assist an individual or their family because life is full of uncertainty.
There are now two options available to you. One is a simple "Term Plan" that you may purchase, and the other is the "Home Loan Protection Policies" that banks offer when you take out a home loan.
Popularly known as the House Loan Protection Plan, HLPP is a type of insurance in which the firm covers the outstanding home loan amount in the event of unforeseen events, such as the borrower's death. HLPPs relieve the borrower's family of the strain of making EMI payments. By purchasing Home Loan Insurance, the borrower ensures that his or her family will not be forced to repay the home loan or abandon the property due to non-payment of the loan amount after his or her death.
In Term Insurance, the company financially protects the life assured for a set length of time, and a death benefit is paid to the nominee in the event of the life assured's death. Although HLPP and term insurance are comparable in certain ways, there are some distinctions.
Difference Between HLPP and Term Plan
Let's take a look at the difference between HLPP and term plan:
| | | |
| --- | --- | --- |
| Basis of Comparison | HLPP | Term Plan |
| Premium | Single premium payment is required for a home loan protection plan or a home loan insurance premium. It's frequently applied to your house loan balance, raising your EMI. | A term plan, on the other hand, can be purchased with a single payment or multiple premiums paid monthly, quarterly, or annually. Paying your subscription in installments relieves you of your immediate financial pressure. |
| Scope of Coverage | A house loan insurance policy will only cover the amount of your debt and will not cover your life once the loan is paid off. | As long as you keep paying your payments, a term insurance plan will cover you for the whole term (whatever long that may be). |
| Change in the Period of Policy | Even if your loan term changes, the policy term cannot be changed further in HLPP. | The policy term in term insurance can be changed to meet the needs of the life assured. |
| Taxation | The home loan you take out allows you to claim a tax deduction for the principal amount under section 80C of the Internal Revenue Code. The same tax benefits are obtained when the single premium payment is added to your home loan amount. | Section 80C of the Internal Revenue Code allows you to deduct the cost of a term insurance policy's premium. Term plan premiums, which are deductible under Section 80C, are the same. |
| Benefit of Alteration | The amount covered by HLPP may decrease depending on the amount of money still owed to repay the loan. | In the event of any uncertainty regarding the life assured, no such changes are made to your death benefit. |
Which Is Ideal Option For Home Loan- HLPP or Term Plan?
Well, that depends entirely on your needs. Although HLPPs are more popular among lenders, if you're a borrower looking for a plan that benefits your family financially in every manner possible, term insurance is a superior option if you have a home loan. There is no requirement for an additional HLPP if you want to purchase the term plan.
It is, however, incredibly important for you to determine your needs and then choose the right loan type accordingly.