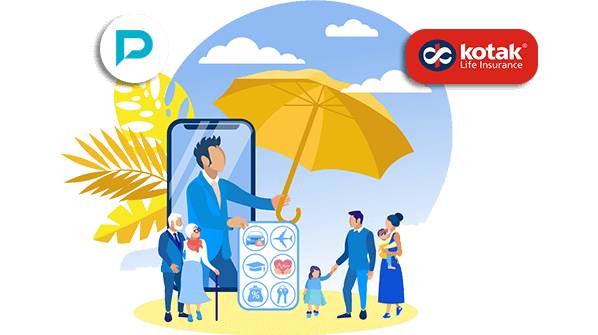 Kotak Term Insurance Plans
Kotak Term Insurance plans are provided by Kotak Life Insurance, one India's fastest growing insurance companies and a subsidiary of the prestigious Kotak Mahindra Bank Limited. Over 32.8 million Indians trust Kotak Life Insurance thanks to its exceptional customer-focused service. Kotak offers an extensive range of term insurance products that cater to individuals from all backgrounds.
Quick Look At Kotak Term Insurance
| | |
| --- | --- |
| CHARACTERISTICS | SPECIFICATIONS |
| Company Name | Kotak Mahindra Life Insurance Company Limited |
| Headquarters | Mumbai |
| Year of Establishment | 2001 |
| Company Type | Public |
| Parent Company | Kotak Mahindra Bank Limited |
| CEO | Uday Kotak |
| Number of Branches | 1600+ |
| Claims Paid (FY 2020-21) | 4336 |
| Amount Paid (in Rs Cr) | 299.92 |
| Claim settlement ratio (the financial Year 2020-21) | 98.50% |
| First Year Premium (Up to 31st March 2021) | 5256.51 |
| No. of Policies (Up to 31st March 2021) | 341292 |
| No. of lives covered (Up to 31st March 2021) | 15720213 |
| Sum assured ((Up to 31st March 2021) | 218584.59 crores |
Different Kotak Term Life Insurance Policies
Below, you'll find the range of Kotak Term Plans so you can select the one best suited to you.
1. Kotak Preferred E-Term Plan
Avail a high level of risk protection for your loved ones, at an affordable cost. Kotak Preferred E-Term Plan provides death benefits payable to your nominees. The plan offers attractive rates for female lives and non-tobacco users, as well as enhanced protection with Rider add-ons for all-rounded coverage.
Key Features:
Riders – Customized riders give you ample protection and ensure the plan is all-inclusive and comprehensive.
Plan options – Based on your needs, you can pick and choose from different plan option like life options, life plus option and life secure option. So you have the right protection at the right time.
Step-up option – With the step-up option, you can easily enhance your cover at specific stages of life depending on how life progresses, and this option is highly beneficial.
Age Criteria

Minimum: 18 years

Max:

65 years (Except for Limited Pay)

50 Years (For Limited Pay)

Maturity Age

Minimum: 23 years

Maximum: 75 years

Policy Term 

Regular pay: 5 years to 40 years or 75 Minus Age at Entry

Single pay: 5 years to 40 years or 75 Minus Age at Entry

5-Limited pay: 10 years to 40 years or 75 Minus Age at Entry

7-Limited pay: 12 years to 40 years or 75 Minus Age at Entry

10-Limited pay: 15 years to 40 years or 75 Minus Age at Entry

15-Limited pay: 20 years to 40 years or 75 Minus Age at Entry

Sum Assured 

Minimum: Rs. 25, 00,000

Maximum: No limit, subject to approval
2. Kotak Saral Jeevan Bima Plan
Be at ease knowing that your family will always have the financial security they'll enjoy today, even in the unfortunate event of your demise. Saral Jeevan Bima is Kotak's hassle-free risk coverage plan, with economical premiums that are perfect for individuals from all income ranges and financial backgrounds to avail.
Key Features:
Special rates – Women get preferential rates, which makes the plan more affordable and sought after.
Death of the life assured – If the life assured faces an unfortunate death during the waiting period, the beneficiary gets an amount equal to 100% of all premiums excluding taxes.
Lump sum payout – Payout in the form of a lump sum in the event of the life assured's demise.
Age Criteria

Minimum: 18 years

Max: 65 years

Maturity Age

Minimum: 23 years

Maximum: 70 years

Policy Term 

Regular pay: 5 years to 40 years

Single pay: 5 years to 40 years

5-year limited pay: 6 years to 40 years

10-year limited pay: 11 years to 40 years

Sum Assured 

Minimum: Rs. 5,00,000

Maximum: Rs. 25,00,000

Premium

Regular pay

Minimum: Rs. 2225

Single pay

Minimum: Rs. 6835

5-year limited pay

Minimum: Rs. 2515

10-year limited pay

Minimum: Rs. 2153

*Maximum premium shall be subject to Board Approved Underwriting Policy.
3. Kotak Term Life Insurance Plan
Your worries will be a thing of the past; get peace of mind with the assurance of Kotak Term Plan's extensive coverage designed to protect your loved ones when you're no longer there to support them. You'll get the tailor-made coverage suited to your specific needs, with this plan's customizable features.
Key Features:
Long-term coverage – With this plan, you can get protection for a long-term of up to 75 years.
Add-on critical illness rider – Opt for the critical illness rider and you can get coverage for 37 of the listed critical illnesses at a time of need.
Covert your plan – In case you don't want to continue with this plan, you have the option to change to a different Kotak Life Insurance plan. You can do this within the first 5 years.
Age Criteria
Entry age – Minimum: 18 years and max: 65 years
Maturity Age
Max: 75 years
Policy Term
5 years to 30 years
Sum Assured 

Minimum: Rs. 3,00,000

Maximum: Rs. 24,99,999

Premium Amount 

Annual Premium – Min: Rs. 2,000

Max: Based on Sum Assured

Single Premium – Min: Rs. 12,000

Max: Based on Sum Assured
Key Features of Kotak Life Term Insurance Plans
At Kotak Life, our term insurance plans are tailored to the individual needs of a person. You'll enjoy a plethora of benefits by availing of the Kotak Term Insurance as follows:
Affordable Premium Payments: Everyone has different budgets for life insurance. Keeping this in mind, Kotak Life Term Insurance has been designed to cater to individuals from all walks of life. You're sure to find the best Kotak term plan suited for your income level and requirements.
Diverse Range of Plans: As mentioned, Kotak Term Insurance was created based on the various individual requirements of each person. There is a plan for everyone to get the best benefits offered by Kotak insurance.
The Flexibility of Premiums: Premiums can be paid either monthly, quarterly, semi-annually, or annually. These options make it convenient for individuals to select the payment mode cycle they are comfortable with.
Family Benefits: Having the security of Kotak life term insurance will alleviate the financial burden of an already-grieving family, in case of one's death.
Tax Benefits: As per Section 80C of the Income Tax Act of 1961, you can get excellent tax benefits as a life insurance policyholder. In case of any unfortunate scenarios, Section 10 (10D) ensures additional tax benefits for your family on the life insurance received.
Rider's Benefits: Another great benefit to your Kotak Insurance Policy is the availability of adding riders to your plan. This is an optional add-on feature that can cover multiple individuals along with your basic policy. With Kotak Term Insurance plans, you're able to select optional riders on your plan to further protect you and your family.
Non-Smoker Benefits and Female-Insured: Kotak's Life Term Plan provides extra benefits to female insurers as well as non-smokers, such as offers, discounts, and affordable rates on premiums.
Online Availability: You and your loved ones can safely and securely access all information about Kotak term insurance, and even purchase the same via our website. Here, you'll find a range of detailed information including articles, premium calculators, online brochures, and much more.
Why Choose Kotak Life Insurance?
From its inception in 1985 to the present day, Kotak Mahindra has emerged as one of the most premier and reputable enterprises in the country. Here are some of the company's highlights:
Presence of over 1600+ branches across the nation
Helmed under the esteemed leadership of MD & CEO Uday Kotak, and Joint MD Dipak Gupta, having a combined experience of 60+ years in the financial services industry
3,23762+ (₹ in crore) Assets Under Management in FY 2022
One of the first Indian banks to launch innovative digital services such as Jifi and KayPay in the mid-2010s
Overseas subsidiaries in London, New York, Dubai, Singapore, San Francisco, and Mauritius
High claim settlement ratio of 98.50% for the year 2020 to 2021.
Riders Add-On Benefits With Kotak Term Insurance
Below are the types of benefits that Riders will provide on your term policy:
Kotak Critical Illness Rider: If the policyholder is diagnosed with a critical illness, they will receive an advance of the basic sum assured to provide sufficient financial assistance for the rider's treatment.
Kotak Permanent Disability Benefit Rider: If the insured member suffers an accident and as a result is handicapped, they will be paid the rider benefits via installments.
Kotak Accidental Death Benefit Rider: In case the insured member dies an accidental death, their family will receive an additional rider sum assured.
Exclusions Of Kotak Life Term Insurance
As with any type of insurance, there are certain limitations regarding specific circumstances. Below are some exclusions which the plans do not cover:
Alcoholism or Drug Abuse: This is a common exclusion that many insurers do not cover in term plans. Death caused by consumption of alcohol or drugs is not covered under a life term plan, and the insurance company would not be liable to compensate the dependents in such an event.
Suicide: Another common exclusion from term plans, dependents would not receive any compensation if the insured person commits suicide in the first year of availing of the policy.
Hazardous Activities: Death caused by dangerous scenarios such as scuba diving, mountain climbing, race car driving, etc. cannot be covered by a term plan. If you engage in these or similar activities, your beneficiaries would not receive any compensation in unforeseen circumstances.
Natural Disasters/Act of War: A death occurred due to natural disasters such as hurricanes, floods, earthquakes, etc. are not covered under term plans, nor are deaths caused due to acts of war.
How To Buy Kotak Term Life Insurance Plans?
Purchasing Kotak Life Insurance can easily be done online:
Visit the official Kotak Life insurance website
On the homepage, click the "New Customers" and then 'term insurnace.' 
A new page will open where you have to enter basic details and follow through with the steps.
Then you select your plan and make the payment. 
Alternatively, 
On the right section, click "Buy Online"
Select the plan you wish to purchase
Enter the details of the policyholder
You will be led to the payment page where you can pay via NEFT, debit/credit cards, UPI, or Net – Banking.
How To Claim Under Kotak Term Insurance Policies?
If you need to file a claim for a Kotak life term plan, don't fret about lengthy and tedious procedures. The process for filing a term Insurance claim is simplified for our customer's ease of experience:
1. Raise a Claim
File a claim report by visiting the Kotak insurance website or any of their office branches. Do remember to keep the required documents attached along with the claim form. These are:
Terminal illness claim form
Accidental disability form
Critical illness form
Natural death form
Accidental death form
The company will register and acknowledge the claim. They will also send the nominee additional claim documents to fill and will process the term insurance claim.
2. Submit Documents
You can either visit the Kotak life insurance head office or any branches to submit the necessary documents as follows:
Completed term insurance claim intimation form
Intimation letter
Original death certificate as issued by Municipality or equivalent authority
Nominee's KYC information (id and address proofs such as driver's license, utility bill, passport, Aadhar card, etc).
Nominee's bank details
The medical certificate with the insured's cause of death mentioned
Medical records of the insured person
Original policy bond
Settlement option form
Below is the Kotak life insurance claims office address:
Kotak Mahindra Life Insurance Company Limited, Kotak Infiniti, Building no. 21, 7th Floor, Zone 2, Infinity Park (off Western Express Highway) General A K Vaidya Marg, Malad East, Mumbai- 400 097.
3. Assessment and Final Decision on The Claim
The insurance company will contact the claimant for any other required details. The team then scrutinizes the claim's authenticity and accordingly approves the same.
4. Settlement Payment
Upon verification and approval of documents, the funds are transferred to the nominee via NEFT usually within 30 days.
Documents You Need to File Your Insurance Claim
You will require the following documents to file your Insurance claim:
Terminal illness claim form
Accidental disability form
Critical illness form
Natural death form
Accidental death form
Frequently Asked Questions