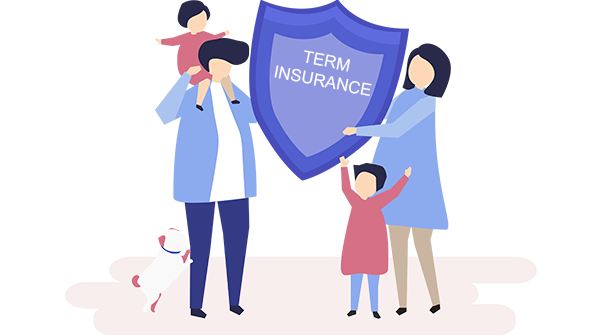 Canara HSBC Term Insurance Plans
Canara HSBC Term Insurance
Canara HSBC is a joint venture of three banks – Canara Bank, HSBC Bank, and Punjab National Bank. Officially launched in June 2008, the company stands strong on the founding banks' 300 years of combined experience in India's financial sector, and the global insurance expertise of HSBC Bank.
Based in Gurugram and having numerous branches across India, Canara HSBC has a firm distribution network that combines cutting-edge tech servicing avenues. The extensive portfolio of insurance products and solutions ensures customized financial solutions to customers' needs and preferences. In 2016, Canara HSBC has bestowed the prestigious Economic Times Best BFSI Brands award in the Life Insurer category.
Why Choose Canara HSBC Term Plan?
Whichever plan you decide on, you're sure to enjoy unlimited benefits.
Low, Affordable Premiums: Forget about exorbitant premiums; Canara HSBC Insurance premiums are economical and cost-effective for individuals from all walks of life. Regardless of income, the organization guarantees to have term insurance plans that meet your needs and budget.
Excellent Claim-Settlement Ratio: Canara HSBC has settled 97.1% of claims for FY 2020-21 which means you and your loved ones won't be let down in case of an unfortunate circumstance.
Easy Online Purchase Process: Avail of your term insurance plan online with a safe, secure, and simplified payment process. 
Flexible Payment Cycle: With Canara HSBC, you can select a payment cycle that suits your requirements. Choose from paying your premium on a monthly, quarterly, or yearly basis.
Choice of Payout Option: You also have the option of choosing your payout mode. Selecting the insurance sum on a monthly basis can reduce any potential financial mismanagement. Your dependents can easily budget the payout like a monthly income. Payout mode options include lump sum, monthly income, or part-lump sum + part-monthly. 
Special Offers & Discounts: Females and non-smokers can avail exciting discounts, offers, and attractive premium rates on their plans; and because Canara HSBC values its loyal customers, they also provide a special loyalty discount for existing customers.
Policy Coverage Duration: Select your desired coverage duration under Term Plans, whether for a select number of years or Whole Life coverage (up till age 99). 
Duration of Premium Payments: You can even select the duration in which you wish to pay your premiums, be it over the entire policy duration or a specific set of years. For example, you can make a lump sum for the entire term, or pay your premiums over the span of 5-25 years (in increments of 5 years). You can also choose to only pay during your working years, for example, only up till 65 years of age.
Return of Premiums: If you outlive your Canara HSBC Term Policy upon maturity, all your premiums paid are returned to you. 
Flexible Payments Cycle on Premiums: Customers can conveniently select their desired payment frequency on a Canara HSBC policy plan. Choose from making monthly, quarterly, and annual premium payments.
In-built coverage benefits: You can avail of special add-on options with their Term Plan including Child Support Benefit, Accidental Death Benefit, Accidental Total, and Permanent Disability Benefit. 
Riders Add-On: Insure your Spouse or other Rider with the add-on feature to your Term Plan.
Types Of Canara HSBC Term Insurance Plans
At Canara HSBC, you can choose from three life term plans below:
Saral Jeevan Bima
iSelect Star
POS- Easy Bima
PLAN
ELIGIBILITY CRITERIA
POLICY TERM
SUM ASSURED
Saral Jeevan Bima

Entry age: 18-65 years
Age at Maturity: 23-70 years

5-40 years

Rs. 5,00,000 to Rs. 25,00,000
(Sum Assured can be opted in multiples of Rs. 50,000)

iSelect Star

Entry age: 18-65 years
Age at Maturity: 28-80 years

5-62 years

Rs. 15,00,000 to Rs. 25,00,000 (for non-working spouse)
Rs. 25,00,000 to Rs. 1 Crore (for ATPD PPP)
Rs. 25,00,000 to Rs. 3 Crore (for ADB)

POS- Easy Bima

Entry age: 18-55 years
Age at Maturity: 28-65 years

10-20 years

Minimum of Rs. 50,000 to max. Rs. 15,00,000/-
Key Benefits Of Canara HSBC Term Life Insurance
Below are some of the key benefits of Canara HSBC term insurance plans, so you can compare and select your perfect policy:
1. Saral Jeevan Bima Saral Jeevan Bima
Saral Jeevan Bima is a simplified and affordable term insurance plan designed to ensure your family's financial security.
Benefits:
Low-cost insurance cover 
Accidental death benefit: Sum assured on death payable as a lump sum; policy terminates
Death (non-accidental): 100% of total premiums paid are returned (excluding rider premiums & taxes); policy terminates
Tax benefits under Section 80C and Section 10 (10D) of the Income Tax Act, 1961
Premium payment options for monthly, half-yearly, and annually (for regular and limited premium payments); lump sum payment available for Single Premium payment policy.
2. Canara HSBC iSelect Star Plan
iSelect Star term insurance plan offers a wide range of coverage options that can be customized to your needs and life requirements. 
Benefits:
Economical insurance premiums
Discounted premiums for higher Sums Assured, and for Females
Loyalty Discounts to existing Canara HSBC customers
Limited period or full lifetime coverage (till the age of 99)
Add-on coverage options including child support benefit, accidental death benefit, accidental total, and permanent disability benefit. 
Can increase life cover with every new stage of life (marriage, house purchase, the birth of a child, etc)
Add-on coverage for Spouse (with discounted rates for Spouse)
Terminal Illness cover with sum assured paid to a beneficiary upon diagnosis
Choice of the premium payment cycle, either monthly, quarterly, half-yearly or annually
Tax benefits under Section 80C and Section 10 (10D) of the Income Tax Act, 1961
Option to choose premium payment options, either over a limited span of 5-25 years (in increments of 5 years) or only during your working years.
Multiple options to receive benefits in either monthly, lump sum, or part-lump sum + part monthly income with either level or increasing income. 
Discounted premiums on availing Higher Sum Assured (HSA).
3. Canara HSBC POS- Easy Bima
POS-Easy Bima Term Insurance Plan provides hassle-free, affordable financial protection for your loved ones.
Benefits:
Affordable, low-cost premiums payable annually or monthly
Flexible premium payment terms of 5 and 10 years
No medical tests required
Tax benefits under Section 80C and Section 10 (10D) of the Income Tax Act, 1961
The death benefit payable (aside from accidental death)
Double sum assured in case of accidental death
Return of premium sum on the date of maturity.
Exclusions of Canara HSBC Term Insurance Plan
There are certain exclusions that are not covered in the Canara HSBC Term plans. In such scenarios, Canara HSBC is not liable to pay the sum assured. These exclusions are death due to:
Self-inflicted injuries
HIV/AIDS
Pre-existing health conditions
Driving under influence of alcohol
Driving under influence of drugs
Participation in adventure sports such as hiking, mountain climbing, scuba diving, etc.
Participation in racing events
Pregnancy and childbirth complications
Participation in illegal activities
Homicide (if policy holder's death occurs if nominee attempts murder)
Natural disasters
In case of suicide during the first 12 months of the Canara HSBC Term Policy commencement, the nominee is eligible to receive 80% of the premium paid if the policy is non-linked. For Linked Life Term Plans, the nominee will receive 100% of the premiums paid. However, after 12 months if the insured commits suicide, the Term Policy may be terminated.
If the insured's demise occurs within the first 2 years of the Term Plan's tenure, Canara HSBC may consider the case as per Section 45 of the Insurance Act, 1938.
Riders Offered With Canara HSBC Term Policies
Canara HSBC Insurance Policies have Rider coverage as an add-on option for policyholders. Their benefits are below as follows:
Income Rider: In case of the insured's death, this rider will ensure the dependents receive a regular income and sum assured.
Critical Illness Rider: If the policyholder is diagnosed with a severe health illness, the Rider provides a lump sum upon valid diagnosis of the illness.
Premium Waiver Rider: If the insured is unable to pay their premiums due to loss of income or disability, this Rider waives all future premium payments. The term policy will still remain active until the expiration date.
Accidental Disability Rider: In the event that the insured is unable to pay the premiums due to accident or disability, this rider pays the premium on the insured's behalf until the policy term is matured, or for a specific duration.
Accidental Death Rider: This Rider ensures that in case the policyholder suffers a terminal illness, their family will have sufficient funds received from an advance of sum assured.
How To Buy Canara HSBC Term Life Insurance Plans?
Ready to purchase your Canara HSBC Term Plan? You or your loved ones can easily avail the same in just a few easy steps below:
Log onto the Canara HSBC Insurance website page
Scroll down and you will find a section detailing the three available plans
Click the 'Buy Now' button under your desired plan
On the Application Page, enter your details. 
Also, enter your Sum Assured amount and desired policy term. You can also avail coverage, riders, spouse cover, benefit payout option, etc. 
Your premium inclusive of taxes will be displayed below. Click the 'Next' button to proceed.
Enter your Aadhar Number on the final confirmation page
On the same page, you can re-check your details below and confirm or re-calculate. Click the 'Proceed to Payment' button where you can purchase your Canara HSBC Term Plan via Net Banking, credit/debit cards, UPI, or NEFT.
Documents Required To Buy Canara HSBC Term Insurance
You will be required to submit valid personal documents to avail of a Canara HSBC Term Plan. They can be easily scanned and uploaded online while filling out your application form. Ensure you have these essential documents ready:
Income Proof: These are necessary for the Insurance Team to validate your yearly income. It also helps with further assessing whether the amount of live coverage you are applying for is adequate to meet your dependents' financial requirements, in the event you are no longer there to provide for them. Any one of the below can be submitted:
Salary slips of last six months
Bank statements of last six months
Recent income tax return
Form 16 provided by the employer
Address Proof: A valid address proof is required with your Canara HSBC Term plan application. Submit any of the below documents with your form:
Driver's License
PAN Card
Voter's ID
Electricity or Telephone bill
Aadhar Card
Passport
Bank statement/passbook with last six months' entries
Ration Card
Identity Proof: Along with the above, two identity proof documents are to be submitted: 
Passport Size photos
Photo ID proof (passport, PAN card, Aadhar Card, Driving license, Voter ID).
How to Renew Your Canara HSBC Term Insurance Plans?
If you are near the maturity date/expiration of your Canara HSBC Term plan, you can now easily renew it online in just a few clicks:
Log onto the Canara HSBC Account Management page
Enter your Customer ID and Date of Birth at Log in
Select the policy you would like to renew 
Choose the desired policy tenure
Select your payment option and enter payment details
Click submit button and save your renewal payment acknowledgment.
Claims Process of Canara HSBC Term Insurance Plans
In the unfortunate scenario that you need to claim your Canara HSBC Term Life Insurance, please follow the detailed process below.
1. File a Claim: Upon the insured's death, the nominee of the policyholder (or close relative of the nominee) must lodge the claim as soon as possible. You can fill out your Canara HSBC Life Insurance Claim intimation form online or download a hard copy. Enter relevant details such as the insured's name, date and place of death, cause of death, policy number, and name of the nominee.
2. Documents Required to Claim Canara HSBC
Photocopies of all required documents to claim the Canara HSBC Insurance payout must be self-attested by the nominee. Ensure the same and have these documents on hand to submit with the form.
Original Policy Document
Death Certificate
Medical Certificate with the cause of death mentioned
Certificates from all hospitals where the deceased has been hospitalized at
Employer Certificate by deceased's employer
Nominee's KYC details (photo id and address proofs)
3. Submission & Processing Claim Request: Send your physical documents and claim form to the following address:
Canara HSBC Head Office Address: 139 P Sector – 44, Gurugram – 122003, Haryana, India
Email address: customerservice@ canarahsbclife.in
Your claim form and relevant documents will be assessed by our team.
4. Payout Settlement: Upon document verification, the claim settlement will be transferred to the nominee's bank account.
Frequently Asked Questions
1. Which type of Canara HSBC Term Plan should I go for?
Aside from basic eligibility criteria, you may still be unsure which Canara HSBC Term Plan is the best for you. As a general guideline, POS- Easy Bima is an excellent choice for lower-income earners who want a simple and affordable term plan. 
If safeguarding your family's financial future is your top priority, we suggest exploring the Saral Jeevan Bima term plan. Individuals who desire more benefits and features can look into our best-selling term plan, iSelect Star. We would also recommend speaking to our Advisor who can further assist you in your selection.
2. When is the best age or time in life to purchase Term Insurance from Canara HSBC?
You can avail of your Canara HSBC Term Plan at any age, between 18-65. However, the younger you are, the better! Because at a younger age the body is healthier and your associated risk tends to be lower; therefore your premiums will also be very low cost.
You can always increase your coverage later on with each new phase of life such as marriage, the birth of a child, purchase of a house, etc.
3. What is the recommended cover to avail under iSelect Star Term Policy?
It is recommended to take a minimum of 12x your annual income, and up to 20x your annual income if required.
4. What happens when my Canara HSBC plan expires?
Upon maturity of your policy, all your premiums will be returned back to you, should you outlive your policy term. You can then easily renew your term plan online with just a few easy clicks.
5. What if I change my mind and want to cancel my Canara HSBC Saral Jeevan Bima Term Policy?
Canara HSBC Insurance provides a 15-day "free-look" period. This allows the policyholder to make changes or cancel their plan if they wish to do so. This 15-day free look period should be utilized wisely by the policyholder to carefully assess their choice of plan.
To cancel your term plan, you can apply for the cancellation prior to its maturity date and you will be required to pay a Policy Cancelation fee (except in Regular Premium Payment Policy). The amount you receive will be calculated as follows: 70% X Single Premium paid X (Unexpired Policy Term/Original Policy Term).
6. If I accidentally miss a payment, would my Canara HSBC iSelect Star Term Policy lapse?
In the event you fail to make a payment, Canara HSBC Insurance has a 15-day grace period on the monthly premium payment mode. For quarterly, half-yearly, and yearly premium payment modes, the grace period is 30 days.
7. Can I take a loan against any Term Policy offered by Canara HSBC?
No, there is no such facility and Canara HSBC does not allow loans against term plans.
8. Is there a maturity benefit with Canara HSBC Term Insurance plans?
No, there are no Maturity Benefits provided on the plans; however, if you outlive your Canara HSBC Term plan then all premiums paid will be returned to you.
9. I am an NRI, can I still purchase a Term Life Insurance Plan from Canara HSBC?
Absolutely, You can purchase a Term Life Insurance Plan from Canara HSBC.
10. If the nominee of Canara HSBC Life Insurance is not alive, what happens to the Insurance Policy?
In this scenario, the next legal heirs of the nominee can raise a claim on a Canara HSBC Term policy.
11. Under what circumstances would a claim be rejected by Canara HSBC?
With Canara HSBC's high claim settlement ratio of 97%, there is an extremely high probability of your insurance claim being approved. However, in the rare circumstances that claims get rejected, they are due to one or more of the following reasons:
Type of death: As mentioned earlier, certain types of deaths (caused by suicide, pre-existing health condition, and intoxication) are excluded from a term insurance claim.
Failure to pay premiums: The most important factor to keep your policy in good standing is to ensure your premiums are paid on time. The policy can lapse if the premium is not paid which can lead to claim rejection.
Details of Nominee: Your claim can become delayed if the nominee's details are not entered or updated by the insured.
False information: Should the policyholder or nominee deliberately falsify or conceal crucial information details when purchasing their insurance policy, Canara HSBC can reject the insurance claim after the insured's death.
12. My question is not here, how can I enquire more details about Canara HSBC Life Insurance Plans?
If you have any additional queries or doubts, please do not hesitate to reach out to us on our Toll-Free number: 1800-258-5899 (9 am to 6 pm). Our Advisors would be happy to assist you. 
You can also type and enter your query here. 
For any further information, you can contact us below:
Head Office Address: 139 P Sector – 44, Gurugram – 122003, Haryana, India
Email address: customerservice@ canarahsbclife.in