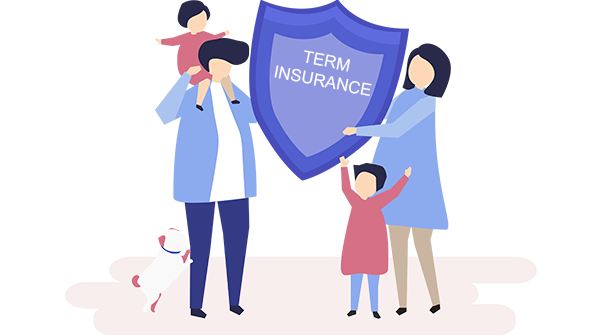 Birla Sun Life Term Insurance Plans
Birla Sun Life Term Insurance
Incorporated in 2000, Aditya Birla Sun Life Insurance Company Limited is one of the leading insurance companies in India. The firm offers a wide range of products that span a customer's life span, including children's plans, retirement, pension, life insurance, health plans, and many more. 
Aditya Birla Sun Life Insurance has one motto and that's to protect what's dear to their customer. The company aims to compensate for financial losses that may arise due to risk. And to serve this mission, they have the support of 17,000 employees and 200,000 agents.
Birla Sun Life Term Insurance - At A Glance
| | |
| --- | --- |
| Company Name | Birla Sun Life |
| Headquarters | Mumbai |
| Year of Establishment | 2000 |
| Company Type | Private |
| Parent Company | Aditya Birla Capital Ltd |
| CEO | Kamlesh Rao |
| Number of Agents | 2,00,000+ |
| Number of Branch Offices | 900+ |
| Claim Settlement Ratio (2019-20) | 99.81% |
What Exactly Is Term Insurance?
Well, technically, it is the insurance of life. If something were to happen, then having term insurance can be of great benefit to one's family. It provides financial security and makes it easier for the family to get through their life. 
Term Insurance is a type of life insurance, but one that is for a specified time. And if the policy is active in case of death, then the beneficiary is guaranteed payment. If the term has elapsed, the policyholder can renew it for another term or can terminate the entire policy. 
Usually, the premiums are calculated based on the policy owner's health, age, and gender. And just in case the policyholder dies, Birla Sun Life Insurance will pay the assured amount to the claimants. The amount isn't taxable. However, it is important to know that most term insurance policies don't have any savings component apart from insuring life. 
What Are The Benefits & Features Of Birla Sun Life Term Insurance?
Aditya Birla Sun Life Insurance has created its legacy; it offers a wide range of insurance policies for various stages of life. 
Financial Security – Life is truly unpredictable and in unfortunate circumstances, it's best to be prepared than sorry. One of the major benefits of term insurance is that it gives financial security and stability to one's family. It acts as a security blanket – it will protect family members to remain financially secure in one's absence. 
Tax Benefits – Policyholders can claim tax deductions under Section 80C of the Income Tax Act. The insurance premiums paid (up to Rs. 150,000) can be claimed. 
Flexible Payout Options – The payout on the sum assured is quite flexible. According to one's plans and requirements, the nominee can opt for monthly/annually/lumpsum payment after the policyholder's death. It helps the family in maintaining regular expenses and clearing out certain liabilities. 
Variety of Riders – Birla Sun term plans give the policy owner to make its insurance policy more secure by allowing ad-on. One can purchase one or more additional riders with their plans and provide further protection to the dependents.


Hassle-free Online Application – Purchasing a Birla Sun Life Term Insurance Plan is quite easy and hassle-free. One can easily compare different plans and choose the one that meets the requirements.
Birla Sun Life Term Insurance Plans 
Plan
Entry age
Maximum age at maturity
Policy term
Sum assured
Premium payment
Premium payment frequency
ABSLI Life Shield Plan
18 years to 65 years
85 years
10 to 55 years

Minimum: Rs.25 lacs

Maximum: No limit

Single Pay, Limited Pay – 6, 8, 10, Regular Pay
Monthly, Quarterly, Half-yearly, Annually
ABSLI DigiShield Plan
18 years to 65 years
85 to 100 years
5 to 55 years or 100 years

Minimum: Rs.1 to 30 lacs

Maximum: Rs. 20 lacs to no limit

 Limited Pay
Regular Pay, & Single
Monthly, Half-yearly, Annually & Single
ABSLI Saral Jeevan Bima
18 years to 65 years
70 years
5 to 40 years

Minimum: Rs.5 lacs

Maximum: Rs. 25 lacs

Single, Limited, Regular pay
Annual,
Semi-annual,
Monthly
Features Of Birla Sun Term Insurance Plans
1. ABSLI Life Shield Plan
With Aditya Birla Sun Life Insurance Life Shield Plan, you can choose from eight different options that work the best according to your needs, requirements, and preferences. 
You can cover your spouse under this plan. 
Have an option to get Return on Premium
This insurance policy has terminal illness benefit; if diagnosed with one then the company will pay 50% of the sum assured (max Rs. 2.5 crores) immediately and future premiums will be waived off
There are many additional rider options available to enhance the insurance plan.
Aditya Birla Sun Life Insurance DigiShield Plan has ten options that you can choose to protect your loved ones.
Flexible payout options (lump sum, monthly, or combination)
Can avail Survival benefit as monthly income 
Secure your life till you are 100 years old
On diagnosis of accelerated critical illness, the sum assured will be paid on the first diagnosis. 
There are many additional rider options available to enhance the insurance plan at nominal costs.
3. ABSLI Saral Jeevan Bima
Aditya Birla Sun Life Insurance Saral Jeevan Bima is a simple life insurance plan that provides your family a lump sum to ensure fulfillment of your family's long-term goals and aspirations, in case of your absence.
Simple & affordable plan to meet Your financial security goals
Flexibility to pay a premium just once or for a limited period or throughout the Policy Term.
Enhance your insurance coverage with Accidental Death Benefit Rider, on payment of additional premium.
Rider Options Available For Birla Sun Life Term Plans? 
ABSLI Accidental Death Benefit Rider Plus
ABSLI Accidental Death and Disability Rider
ABSLI Critical Illness Rider
ABSLI Hospital Care Rider
ABSLI Surgical Care Rider
ABSLI Waiver of Premium Rider
Exclusions Of Birla Sun Insurance That You Need To Know 
If the policyholder dies due to suicide within the first year of the insurance policy, then the company isn't liable to pay the sum assured. 
Murder of the policy owner if the nominee was involved in the crime or the policyholder was involved in any criminal activity. 
Death because of influence of drugs or alcohol
Demise due to partaking in adventurous sports or activities
Death because of a natural disaster
The policyholder passed away due to childbirth
If the policy owner withhold any pre-existing health conditions and passed away because of the very same conditions, then the company isn't liable to pay the sum assured
Death due to terrorist attacks
How To Buy Aditya Birla Sun Term Insurance Plan?
Buying a Sun Life Insurance plan is extremely simple. 
Go to the Birla Sun Life website.
Add your personal information, cover amount, and policy term. 
Check your cover amount and add any other rider options.
Select the payment mode and that's it. Pay and you are covered.
Documents Required To Purchase Birla Sun Life Term Insurance
Some of the documents you need to purchase Birla Sun Life Term Insurance are: 
For Age proof – Aadhaar card/Passport/Rental Agreement/Birth Certificate 
For Identity proof – PAN card/Aadhaar card/Passport/license,
The latest medical certificate
Income proof in the form of salary slips or income tax returns.
How You Can Claim Aditya Birla Sun Term Policies?
Step1:
The nominee has to intimate the company on their toll-free number or write an email at bsli.claims@ birlasunlife.com along with necessary documents. 
Step 2:
The team will check and review the documents.
Step3:
The team will then let the nominee know of its decision and on acceptance, will receive the payment.
Documents Required To Make An Insurance Claim
For Death Claim
Claim Form
 Original Policy Document
 Original/Attested Death Certificate 
 Beneficiary's current address proof
 Nominee's photo ID proof
 Claimant's bank statement canceled cheque, and printed Bank account number
Other Additional Documents
Medical certificate
 Hospital treatment certificate
 Employer's certificate (for salaried individuals)
 Copy of Panchnama Report/FIR/Post Mortem Report
 Copy of Inquest Report/Police Final Report.
Frequently Asked Questions
1. When should the claim be intimated for ABSLI Life Shield Plan?
No matter the Birla Sun Life Policy, claims should be intimated as soon as possible except in Critical illness rider claims in which there's a certain waiting period.
2. When is a claim rejected for Birla Sun Life Term Policies?
There are many reasons why a claim gets rejected. But majorly, if the documents are not genuine or during the review stage, the company found out the policyholder has withheld some information that impacted the assessment risk it leads to rejection.
3. What is the maturity benefit of a Birla Sun Life term plan?
If your policy has an option of 'return of premium' then the amount the owner receives on the termination of policy/end of the term is known as maturity benefit.
4. How long does it take to get the claim settled for ABSLI DigiShield Plan?
Usually, a claim gets settled within 2 to 3 business days post the receipt of the claim documents. If you want to raise a claim then you can fill the form online or call on toll-free number 1800 270 7000.
5. What is Joint Life Protection in Birla Sun Life term policies?
It's a type of benefit with Birla Sun Life in which two lives can be covered under an insurance policy. One will be considered as primary life insured, and the other will be secondary life insured. However, the sum assured to the secondary life will be 50% of the sum assured to the primary life. As of now, only spouses are allowed as a secondary life.
6. How can I revive my ABSLI Saral Jeevan Bima term policy?
You can revive your insurance policy within 5 years from the first unpaid premium date. But there are certain conditions. You will have to pay all the outstanding premiums together along with the interest and late fees. However, post 5 years, the policy will be terminated and no amount will be payable.
7. Can I change my ABSLI Life Shield Plan during the policy term?
No, as of now, you can't change the plan option. You will have to terminate the policy to change your option.
8. What is Enhanced Life Stage Protection with Birla Sun Life term insurance?
It's an optional benefit offered with Birla Sun Life that allows the policy owner to increase the sum assured due to certain major life events such as marriage, childbirth, or home loan. But the policy owner should have opted for this option at the start of the policy so that it can be exercised whenever the events do occur.