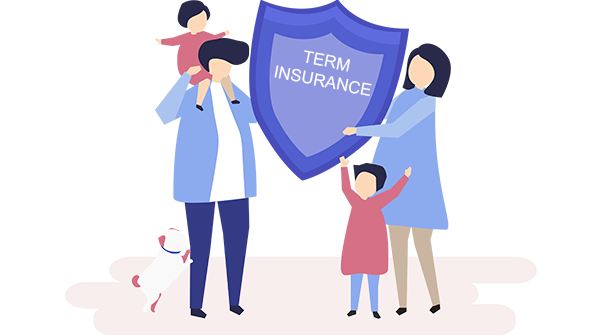 Aviva Term Life Insurance Plans
Aviva's insurance helps customers protect their family members with financial assistance and helps them look forward to the future with no hesitation. Aviva provides a wide range of insurance products that help an individual prepare for life's challenges and opportunities. 
Aviva India is a joint venture between Dabur Invest Corporation and Aviva Plc. Aviva was founded in 1696 and is actually one of the world's oldest insurance companies that are still existing and running well. And oh, Aviva was also one of the first insurance companies that set up in India in 1834. With a 300+ year legacy and serving more than 34 million customers, Aviva has upped the bar in the insurance industry.
Aviva Life Insurance - At A Glance
| | |
| --- | --- |
| Characteristics | Specifications |
| Company Name | Aviva India |
| Headquarters | Gurgaon |
| Year of Establishment | 2002 |
| Company Type | Private |
| Parent Company | Aviva & Dabur |
| CEO | Amit Malik |
| Claim Settlement Ratio (FY 20-21) | 98% |
| Number of Branch Offices | 93 |
Benefits & Features Of Aviva Term Insurance?
Aviva Insurance has some amazing features and benefits for its customers. Check out a few of them – 
Financial Protection – Term Insurance helps in protecting the family members financially after the death of the policyholder. It gives peace of mind to the family as the policy helps the family to be financially secured in case of the holder's demise. They can use the payout amount to not only get through daily expenses but also their goals. Additionally, the beneficiary can choose to receive the payout in a lump sum or in installments according to their financial needs.
Different Plan Options – Aviva India understands that everyone has different requirements and needs in their current stage of life. And that's why Aviva insurance policies are designed in such a way that each individual can opt for a plan that suits them the best. 
Affordable Premiums: One of the best benefits of owning an Aviva insurance policy is that they are extremely affordable with a decent cover amount. Most of their plans offer comprehensive coverage keeping in mind that anybody can easily purchase them without worrying about budget restraints. 
Multiple Premium Payment Modes: Aivia India understands that not everyone can pay the premium in one single go, some may have budget restraints and preferences. Keeping that in mind, the policyholder gets the flexibility to pay these premiums on a monthly/quarterly/half-yearly/yearly basis. 
Add Ons: The best part about Aviva Term Insurance is that one can choose 'Add-ons' that are available with basic plans. 
High Claim Settlement – Aviva Term Insurance is known for its high claim settlement ratio. In FY 20-21, the insurance company had a ratio of 98%. It simply means that you can trust the insurance provider to process and approve your claims with minimum problems. 
Tax Benefits – If you are paying a premium for term insurance whether it's monthly/yearly, you can claim a deduction under Section 80C and 10(10D) while filing your taxes.
Aviva Term Life Insurance Plans
Plans
Entry age
Maximum age at maturity
Policy term
Sum assured
Premium payment
Premium payment frequency
Aviva Lifeshield Advantage 
18 years to 55 years
65 years
10 to 30 years

Minimum: Rs.35 lakhs

Maximum: No limit

Regular pay
Single, monthly, quarterly, half-yearly, and yearly.
Aviva Jana Suraksha
18 years to 45 years
55 years
5 to 10 years
Minimum: Rs.25 thousand Maximum: Rs. 50 thousand
 Regular Pay, & Single
Single, monthly, quarterly, half-yearly, and yearly.
Aviva LifeShield Premium
18 years to 65 years
80 years
10 to 62 years
-*
Regular pay, Limited pay, and Single pay
Single, monthly, quarterly, half-yearly, and yearly
Aviva Saral Jevan Bima
18 years to 65 years
70 years
5 to 40 years
Minimum: Rs 5 lakhs
Maximum: Rs. 25 lakhs
Single and regular pay
Monthly, half-yearly, and yearly
1. Aviva LifeShield Advantage
Aviva LifeShield Advantage provides comprehensive financial protection for your family after the policyholder's death. 
Sum Assured will be paid to the nominee in the event of death. 
The policy owner can take an additional rider option to enhance the basic insurance cover at a nominal cost. 
Rebate is offered on one's premium if the sum assured is high. 
The policy owner can enjoy Survival Benefit at the end of the policy term
The policyholder can enjoy tax benefits under sections 80C and 10(10(D)) of the Income Tax Act, 1961 for the premium paid.
2. Aviva Jana Suraksha Plan
Aviva Jana Suraksha term insurance plan offers basic financial protection to the deceased's family
This insurance policy is extremely affordable. It was designed in such a way that everyone has an opportunity to have life insurance irrespective of the budget restraints. 
In case of the policy owner's death during the term of the policy, the company will pay the assured amount in a lump sum.
3. Aviva Life Shield Premium Plan
Aviva Life Shield Premium is a pretty good comprehensive term insurance policy that helps in securing your family financially in times of need. 
In this insurance policy, one has an option to choose from different basic covers that suit your needs. 
The nominee has the flexibility to choose the assured amount payout. They can opt for a lump sum/income/50-50/ or a combination of both. 
The policy owner can choose additional coverage such as Accidental Death Benefit, Waiver of future premiums due to permanent total disability, etc on their basic plan.
If the person whose life was insured suffered total permanent disability due to an accident then the future premiums shall be waived. 
If the policyholder dies due to an accident then an additional payout of up to Rs. 50 lakhs will be paid.
4. Aviva Saral Jevan Bima
Aviva Saral Jeevan Bima Plan is a pretty standard term insurance policy. The minimum amount assured is Rs 5 lakhs while the maximum amount assured is Rs. 25 lakhs respectively. 
The insurance policy aims in helping one's family members financially post-death of the policyholder. 
The policyholder can enjoy tax benefits under sections 80C and 10(10(D)) of the Income Tax Act, 1961 for the premium paid.
Exclusions Under Aviva Life Term Policy
If the policyholder commits suicide within a year of the policy date/reinstatement date then the nominee will receive up to 80% of the premiums paid. Post that, the policy will be considered void and the beneficiary won't be able to claim anything else. 
If the policyholder died due to certain pre-existing medical conditions that weren't mentioned in the policy then the insurance will be considered void. 
If the policyholder died due to any illegal activity then the policy will be considered void. 
If a terminally ill policy owner committed suicide within the first year of policy date/revival date then the policy will be considered void.
Exclusions for Accidental Death Benefit or Accidental Total & Permanent Disability(TPD) Add-On Covers: 
No benefits will be payable if death or disability occurs from, or is caused by, any one of the following: 
Self-inflicted injury/attempted suicide 
Drug Abuse
War/ civil war/rebellion/ revolution/ riot/strikes
Dangerous sports and other activities
Criminal Acts
How Can You Buy Aviva Term Insurance Plan?
It's pretty simple and convenient. 
Step 1: Choose the insurance plan that suits you the best.
Step 2: Select the level of protection you require (Amount assured on death of policy owner)
Step 3: Select the policy term (5-40 years)
Step 4: Choose the right frequency to pay your premium amount
Step 5: Fill in the other personal details
Step 6: If you are okay with the premium calculated then upload supporting documents
Step 7: Select the payment mode and pay.
Documents Required To Purchase Aviva Term Insurance?
For Age proof – Aadhar card/Passport/Rental Agreement/Birth Certificate
For Identity proof – PAN card/Aadhar card/Passport/license
Latest Medical certificate
And income proof – salary slips/income tax returns
How You Can Claim For Aviva Life Term Plans Online
In case of an unfortunate event of death of the policyholder, Aviva Insurance assures in doing its best in processing the claim at the earliest so that the family members don't have to worry about the financial strains.
Here's how you can claim the insurance – 
Step 1: Death Claim Intimation
You have to intimate a death claim to the company through any of the options – 
Online
Email at claims@avivaindia.com
Call toll-free customer service helpline (1800 103 7766)
Visit your nearest Aviva Branch Office
Write to them at
Claims Department,
Aviva Life Insurance Company India Limited,
Aviva Tower, Sector rd,
Opposite DLF golf course,
DLF Phase – V, Sector 43, Gurgaon – 122003
Step 2: The company assigns a Claim Personal Manager who will take care of the process until the very end. The name and contact details will be conveyed through letters, SMS, and call. 
Step 3: Submit the Documents 
Death Claim Handout
Employer Questionnaire if Salaried
CRS / FATCA Addendumis if the claimant is outside India
And bank details 
Step 4: The final settlement amount will be notified, processed, and transferred to the nominee's bank. 
Documents Required To Make An Insurance Claim?
Filled and signed Death Claim Form by the Nominee
Original Death Certificate 
Original Policy Document 
Address proof and photo identity of the nominee
Copy of canceled cheque
Last Medical report, if any
Discharge or any other hospital papers/reports, if any
Additional Documents to be Submitted
Accidental Death
Copy of First Information Report (FIR)
Final Police Investigation Report
Copy of Post Mortem Report
Newspaper cutting (If available)
Frequently Asked Questions
1. Does Aviva Term insurance cover death outside India?
Yes, it does. Deaths outside India are covered in your term insurance plans. But do note that the company may reject your claim if the death has occurred because the policyholder was traveling to an unsafe country. For more details, it's best if you talk to your financial advisor for finer details of each policy.
2. What is a terminal illness benefit provided by Aviva Life Insurance?
If the policyholder is diagnosed with a terminal illness then the company pays a lump sum amount to the owner. The illness needs to be confirmed by authorized medical practitioners.
3. What is the process to revive Aviva Life Shield Premium Policy?
You can revive your lapsed policy within five years from the date of the first unpaid installment. You need to submit proof of continued insurability of life. And if the premium isn't paid before the grace period then the policy will lapse and you won't be able to enjoy any benefits of the plan. And oh, to revive the said policy, the company charges a small revival fee.
4. How does the Aviva LifeShield Advantage term plan secure the financial future of the policy owner's family?
The plan does the follow to help you secure your future:
Flexible payouts either as a lump sum or regular monthly income
The term plan usually has a high sum assured so that family doesn't have a strain in the future
Provides tax benefits
Offers coverage against critical illness and disability
5. How do I add riders to my Aviva Jana Suraksha insurance policy?
Fill the Non-Financial Endorsement Form and submit it at any nearest Aviva Branch or courier it to Aviva's Head Office.
Head Office: Aviva Tower, Sector Road, Opposite Golf Course, DLF Phase-V Sector -43 Gurgaon-122003 Haryana, India.
6. Can I change my current Aviva Saral Jeevan Bima insurance policy plan?
Unfortunately, your existing plan cannot be changed. Although there's one thing you can do – opt for a new policy as per your current requirements.
7. How do I modify the Aviva life insurance cover in my policy?
Sadly, the insurance cover cannot be modified. However, you can apply for a new policy that best suits you according to your requirement. You can talk to the insurance plan experts (1800 103 7766) for more information.
8. How do I change my Aviva insurance policy's premium payment frequency?
Log in to MyAviva – 
Click on the "Manage my Policy" tab
Click on "Change payment frequency" and update
Please note that premium payment frequency options vary based on the policy.
9. What is the amount and due date of my premium of My Aviva Policy?
Log in to MyAviva:
Click on the "Manage my Policy" tab.
Click on "My Policy Details" to see all details.
10. Do I need to get a medical check-up done to renew my Aviva insurance policy?
It depends on your insurance and many other criteria. So try calling on the Toll-free helpline number 1800-103-7766 to know if you need to get it done.