* Subject To Underwriting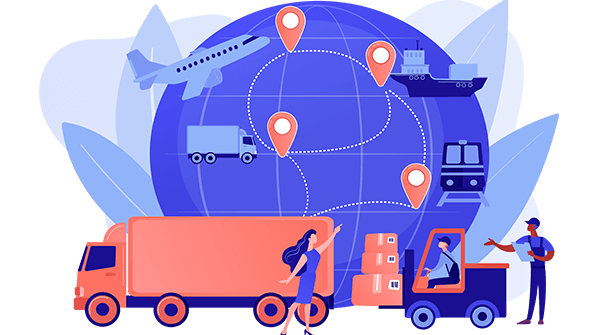 Multimodal Transport Operator Insurance
Multimodal Transport Operator Insurance
The Multimodal Transportation of Goods Act of 1993 establishes legal responsibility for cargo loss or damage. As a result of the foregoing, the MTO (licenced operator) is liable for any loss or damage to the goods entrusted to them for transportation.
MTO Liabilities Insurance is designed to protect transportation operators and freight forwarders from legal liability that may arise as a result of their operations. MTO's legal liabilities are covered by the policy. All marine liabilities of Freight Forwarders, MTOs, Haulers, In Transit Warehousing, Ship Agents, Clearing and Forwarding Agents, Custom House Agents, and Packing & Consolidating Agents are covered by the MTO Liability Insurance.
Why Choose Multi-Modal Transport (MTO) Insurance Policy?
The International Freight Forwarding market, over the past few years, has changed considerably with the emergence of Multi-modal Transporters (MTO).
In addition, a growing number of transportation providers, such as freight forwarders, shipping agencies, packaging and consolidating agents, clearing and forwarding agents, are now offering a variety of services to trading organisations, many of which operate on a global scale.
Many of these businesses have also changed to MTO status and obtained the necessary licence under the MTO Act. In order to obtain a licence from the Director-General of Shipping, the MTO operator must have its services insured.
Advantages of Multimodal Transport Operators Insurance
Here are the advantages of Multimodal transport operators insurance;
1. Meets Legal Requirements
Multimodal transport operator insurance assists MTO operators and businesses that have converted to MTOs in obtaining a licence by complying with the legal requirements outlined in Section 3 of the Multimodal Transportation of Goods Act of 1993.
2. All-inclusive Protection
A multimodal transport insurance policy protects you against losses caused by cargo damage or delays in delivery. It also covers losses resulting from errors and omissions, fines and duties, and third-party legal liability.
3. Transactions that are safer
Over the last few years, the number of multimodal transport operators has expanded. An MTO insurance policy makes transactions between transportation providers and trading organisations that operate globally safer and faster.
4. Fast Claims Settlements
An MTO insurance policy's claim settlement process is quick and easy. IRDAI is in charge of regulating turnaround times. Industry specialists handle the claim procedure and documentation to ensure that claims are processed quickly and efficiently.
Benefits of an MTO Policy
Here are the benefits of MTO policy;
1. Limits of Liability (Sum Insured)
Two restrictions must be specified: a) a limit for each individual occurrence, and b) an aggregate limit for the Policy Period.
The policyholder can set the liability limits in INR or USD according to the projected exposure.
2. Errors & Omissions
Legal liability arising from the insured's operations as a result of the insured's, his agent's, or sub-negligent contractor's act, error, or omission.
3. Third Party Liability
The policy also covers property loss or damage, as well as bodily death, injury, or illness that is legally recoverable as a result of the insured's operations.
4. Wide Territory & Jurisdiction
According to exposure, both the "Territory" and "Jurisdiction" might be in India or anyplace else in the world.
The policy provides coverage for legal claims deriving from:
Physical loss or damage to cargo while it is in the care, custody, or control of the insured or a party who has hired or subcontracted to perform transportation services.

Physical loss or damage to a subcontractor's or customer's vessel or equipment.

As a result of 1 above, there will be a consequential loss and/or business interruption.

The contribution of unrecoverable cargo to the overall average.

Fines and taxes are two things that come to mind when it comes to fines and taxes.

The Errors and Omissions extension would cover legal liabilities arising from the insured's operations as a result of the insured, his agent, or subcontractor's negligent act, error, or omission.

The Third-Party Liability extension would cover property loss or damage, bodily injury or disease, and legally recoverable consequential loss originating from the insured's operations.
Financial guarantee and insolvency are common exclusions in multimodal transporters liability insurance policies.
Infractions of the law

Acts of dishonesty and deception

Unprecedented losses or shortages

Fines

Penalties

Punitive and exemplary damages are available.

Claims stemming from any earlier known issues are also not covered by the policy.
The policyholder should notify the insurer's team and supply any relevant claim information. After that, you must provide all relevant documents, as well as a legally signed claim form. The claim will be settled after it has been examined and authorised.
A copy of the bill of lading, a survey report, an original invoice, and a packing list, as well as shipping specifications or weight notes, would be necessary.

Copies of any correspondence with transporters or bailees, as well as the claim bill, should be submitted.

If the insurer has any other criteria, such documents should be submitted as soon as possible to expedite the claim process.
To guarantee that claims are paid, you should provide all of the information requested by the insurer. To avoid, minimise, or reduce a Claim, one should take all reasonable efforts. Also, no criminal conduct, as well as dishonest and fraudulent acts, should be engaged in. Delivering hazardous cargo should be avoided at all costs.
Frequently Asked Questions
Here are frequently asked questions about MTO policy that you should know;
Other Corporate Insurance