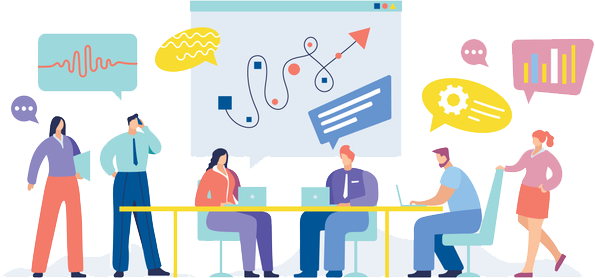 Export & Import Insurance Policy
Export & Import Insurance
The insurance needed to protect your company should consider your industry's particular requirements because export and import operations are distinct. Several different modes of transportation carry specific risks. Assessing a shipment's risk profile is more significant than determining the risk profile of most other sorts of commodities because of the wide variety of goods that travel to and from all parts of the world.
The participants in the trade may feel irritated by these situations unless there is a mechanism in place to minimise their losses and offer sufficient assistance to ensure the smooth continuation of trading activities. The best export and import insurance coverage can be obtained from various companies in India.
What is Export & Import Insurance and Why is it Important?
Your possessions are protected from any harm by import/export insurance while being transported to you or a buyer. In the long term, having insurance coverage for your things is advantageous, especially if they are expensive. Appropriate insurance coverage is crucial if your business exports, imports, or does both to assure its future success.
Most business owners know how important insurance is, but this particular sort of insurance offers protection for special problems that you won't find elsewhere. Working with cars, aeroplanes, and ships exposes you to a whole new level of risk and potential loss of revenue.
Knowing the specific dangers and contributing variables that may apply in this line of employment is more crucial than ever. Here are some instances of what can go wrong to help you comprehend the cover and your requirements:
Your products are lost or harmed in transit.
Your products cause damage to someone else's property while in transit.
Fighting a fire in a moving vehicle can be challenging and occasionally impossible.
Employee injuries sustained while handling your products in transit
You have very little control over any of these potential occurrences. It is crucial to have insurance on your items to protect you in the event that one of these calamities occurs.
How Does Import & Export Insurance Work?
Insurance companies provide a variety of policies and services. Yet, the majority of import/export insurance companies operate similarly to other insurance businesses.
You will be required to pay the company of your choice payments, sometimes known as premiums. Your insurer will compensate for any losses you could incur in exchange for these payments. The amount of your reimbursement for loss or damage to your items will depend on the premiums you pay or the level of coverage you select.
Types of Import & Export Insurance
Here are the different types of import/export insurance:
Export Credit Insurance
Credit insurance, often known as trade credit insurance, is the most widely used type of export insurance. The insurance ensures that the risk of failure associated with this type of trade will not prevent you from taking advantage of the rewards. It provides a cushion for retreating and gaining height when the worst happens. The benefit of credit insurance is that it gives the exporter peace of mind in knowing that they won't risk their business if something happens to the potential customer. Additionally, it enables them to extend credit to purchasers unknown to the company but seen favourably by the insurer. It safeguards them and gives them more confidence to create the balance sheet.
Marine Insurance
Despite its name, this sort of insurance doesn't only cover things that travel internationally. As soon as items leave the supplier's care and enter the buyer's care, marine insurance covers them.
There is always a chance that something could go wrong during an import or export whole trip. Because it will protect your items during their entire journey, marine insurance is the most versatile.
Political Risk Insurance
If you are conducting business in a foreign nation with an emerging economy, you should purchase this sort of insurance. There are a lot of risks involved with visiting these nations. Governmental officials frequently seize things. On other occasions, you could not get paid for the products you sell to developing nations.
International Product Liability
When exporting goods, you must ensure that they adhere to the import requirements of the destination nation. Despite your best efforts, there is a chance that your items won't pass the country's requirements and won't be allowed in.
The objective of international product liability insurance is to protect against the kinds of items that are not allowed to enter a nation. This does not imply that you can carelessly export whatever item you desire without investigating the laws of that nation.
How Much Does Import & Export Insurance Cost?
While we are unable to provide you with a precise figure for the price of premiums for each type of insurance, we can explain how to do so.
Export Credit Insurance: The cost of export credit insurance is determined by the proportion of sales you make.
Marine insurance: The value of your shipment is used to determine premiums. Then, you include 10% for escalation charges. After that, you double that sum by the premium estimate your insurance company provided.
Political risk insurance: Two elements are used in the calculation of premiums. There are two types of coverage: active coverage and a ceiling amount. The quantity of insurance that is currently in effect as of the date of your contract with the insurance provider will be utilized to determine your premium.
International Product Liability Insurance: Charge in dollars for the revenue you generate.
Inclusions Under the Export & Import Insurance Policy
Listed below are the things included under the Export & Import Insurance Policy.
Legal requirement
The export and import insurance satisfies the obligation of the letter of credit because the bank could ask for this insurance to release your funds if necessary.
Political Occasions
It will safeguard your company if a transaction is lost due to political events like social unrest, currency fluctuations, or expropriation.
Safeguard Your Accounts Receivable
If a client fails to pay you as a result of bankruptcy, prolonged default, or organisational financial collapse, the coverage will take effect.
Exclusions Under the Export & Import Insurance Policy
However, similar to any other insurance policy in India, export and import insurance coverage has a variety of exclusions that are not covered. The following is a list of the export and import insurance coverage exclusions.
Perils That Are Not Covered
India's import and export laws do not cover damage from earthquakes or warehouse damage. Your choice of an export and import insurance package will determine this.
Improper Packaging
It is wise to keep a careful eye on the packing. Online export & import insurance does not provide coverage for damage caused by incorrect packaging.
Fragile or Perishable Goods
Export and import insurance policies won't cover the damages if the goods you're importing or exporting have a very short shelf life and are likely to degrade or spoil on their own without the intervention of outside causes. For instance, coal self-combusts and oils get hard, both of which result in significant losses that may not be covered by India's export and import insurance.
Frequently Asked Questions
Here are some of the frequently asked questions that you must know.
Determining who is accountable for the products while they are in transit is crucial when transporting items. When each party involved has financial responsibility if something goes wrong with or during shipping is one of the most important factors decided by your insurance coverage conditions of sale. Verify that this obligation is expressly stated in any contracts you sign so that there are no misunderstandings afterwards.
The Institute Cargo Clause, also referred to as the "Perils Clause," protects against physical losses or damage to the cargo resulting from fire, explosion, discharge of cargo at the port of distress, stranding, grounding, sinking, or capsizing of the vessel or ship, as well as overturning or derailment of a conveyance other than a ship.
Obtaining insurance is a rather easy process. Simply locate a supplier of insurance and make an appointment. Talking to an insurance broker can be quite helpful because insurance is such a confusing topic.
Other Corporate Insurance