* Subject To Underwriting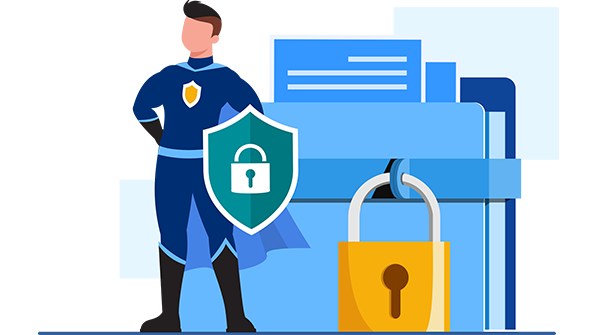 Every day, both large and small businesses collaborate with a vast network of people. While these relationships are built on trust, there is always a chance that some collaborations with customers, suppliers, and employees won't work out as well as others.
Even with the finest internal procedures and controls, workplace fraud still results in losses. Money and assets belonging to an organization might make appealing targets for criminal activity. Crime Insurance is a dedicated insurance policy that significantly protects a company against direct losses caused by the Forgery or Theft of Money, Securities, or Property by an employee or third party.
The purpose of commercial crime insurance is to serve the needs of businesses other than banks and other financial institutions. Forgery or alteration coverage, funds transfer fraud coverage, employee dishonesty coverage, computer fraud coverage, money and securities coverage, money orders and counterfeit money coverage, and kidnap, ransom or extortion coverage are a few of the different types of coverage against commercial crimes that are typically included in a commercial crime policy in India.
Thus, coverage against dishonest personnel is included in commercial crime insurance policies. In India, there are many commercial crime insurance providers from which you can easily purchase commercial crime insurance online. To receive the greatest commercial crime insurance coverage at a reduced premium price, it's equally necessary to compare the numerous commercial crime insurance policies offered by the various insurers present in India.
Features and Benefits of Commercial Crime Insurance Policy in India
There are undoubtedly a lot of unique advantages that commercial crime insurance policies can provide to their buyers. Learn about the main advantages and features of commercial crime insurance in India.
Those who meet the requirements for this insurance policy have access to four insuring clauses, each of which is supported by a cumulative limit of responsibility.
The commercial crime insurance plan's cost is determined by assessing the risks made using data from the company organisation.
If a loss is partially covered by a business crime insurance policy and partially by another policy, and the earlier policy had a deductible in place, the commercial crime insurance policy's deductible will be reduced by the amount of the earlier insurer's deductible.
The insurance policy provides a detailed definition of "employee," including temporary workers employed by an organisation.
Coverage for employee benefit plans is offered.
Access to coverage for operations in certain territories.
The availability of coverage for prior losses granted that the insured had previously, continuously, and continuously purchased fidelity or bond insurance policies from a previous insurer.
In line with the terms and circumstances, written notice may cancel the policy.
What is Covered Under Crime Insurance?
Listed below are the things covered under crime insurance.
Employee Theft Coverage
The theft or falsification of money, securities, or other property by a named employee of the Insured.
Premises Coverage
Losses resulting from wrongful abstraction, destruction, disappearance, or computer theft of cash or securities from the insured's premises.
Transit Coverage
Losses result from the theft, misappropriation, or destruction of cash or securities while they are being transported by the insured, an armoured car business, or another person with the insured's permission outside the insured's premises.
Coverage for Depositor Forgeries
Losses result from tools, like checks that were erroneously written by a third party on the accounts of the Insured.
Coverage of Computer Fraud
A broadening of coverage to include losses caused by the insured due to computer fraud committed by a third party, as well as expenses incurred by the insured as a result of a computer breach.
What is Not Covered Under Crime Insurance?
Here is the list of the things covered under crime insurance.
Losses brought on by armed conflict, civil war, insurrection, rebellion, or revolution, as well as by military intervention or expropriation.
Losses brought on or aggravated by the partner of the insured's theft or dishonesty.
The cost of recreating any information from lost or destroyed manuscripts, records, accounts, etc., is included in the loss.
The insured incurred costs to determine the presence or scope of any covered loss.
An income loss.
A leak of business secrets.
Costs associated with bringing a case or defending one.
Losses that are not reported within sixty (60) days of the policy's expiration or one (1) year after the insured voluntarily liquidates or dissolves.
How To Buy Crime Insurance?
If you are looking to buy crime insurance, then you can simply buy it via offline or online mode.
Buy Online:
To purchase crime insurance online, all you need to do is visit the company's website. Also, you can consider third-party insurance providers like Probus Insurance to buy the best crime insurance.
After that, you must adhere to the directions, offer the necessary data, and generate the necessary amount of cash to complete the transaction.
Buy Offline:
If you wish to purchase insurance coverage in person, visit the nearest branch. When you visit the branch, you can obtain all the information you require regarding crime insurance. However, if the issues continue, you might get assistance by getting in touch with the insurance company.
Frequently Asked Questions
Other Corporate Insurance