Renew in just 5 mins.
No Inspection.
No Paper Work
* Subject To Underwriting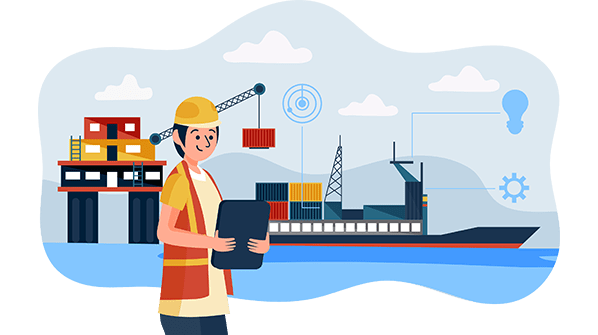 What is Marine Insurance?
Since the ages, the ship is one of the popular modes of transportation, not only for trade and commerce purposes but also for traveling, especially in the pre-aeroplane era. But the sea routes are full of danger and perils that often meet with unforeseen unfortunate events like accidents, bad weather, collisions, sinking, burning, and even hijacking by the pirates. For this reason, marine insurance was facilitated by different insurance companies and this policy is also regarded as one of the oldest insurance policies.
Today, a marine insurance policy is used to cover a wide range of watercrafts such as hull coverage, cargo, and liability related to various marine activities that include the transportation of goods via water route, coverage for the vessel or ship, and so on. The marine insurance policy covers any damages due to certain reasons, from the point of origin to the point of destination. A wide number of water vehicles are eligible for this policy, like cruise liners, pleasure yachts, huge container ships, tugboats, and many more. Even marine insurance also provides protection to offshore oil rigs.
Though marine insurance policy is highly popular among the owners of vessels or ships, it can be bought by anyone with an interest in insurable property that is exposed to maritime dangers or perils. In this scenario, a marine insurance policy might appear as an important one for those who have landlocked businesses. Marine cargo insurance is mandatory for all the owners of ships or vessels who use it for commercial or transportation purposes.
Key Benefits/Features of Marine Insurance
A marine cargo policy provides comprehensive protection to the insured goods against material damages. Here are some key benefits/features of this policy below.
Comprehensive protection – This insurance policy offers comprehensive coverage against all the potential dangers or perils that your goods are exposed to while they are in transit.
Effortless customization – As every business has different needs, this policy is client-oriented and can be customized and adjusted according to your business requirements.
Dynamic and flexible – Marine insurance policy is flexible enough to suit your needs and convenience as it offers a wide range of options that can cater to the requirements of the policy seeker.
Mark up value – In the marine industry, this policy is also known as mark up which allows a portion of the profit of the insured to be included in the insured value.
Easy overseas claim settlement process – Marine insurance policy is hassle-free as it provides worldwide claim settlement assistance along with a claim survey and thus frees the insured from the tensions of the claim process.
Additional Coverage – Different companies offer various extensions or add-ons under this policy. So one can extend his policy according to his convenience and also can cover the risks arising due to riots, strikes and etc.
Different Types of Marine Insurance and Their Brief Descriptions
There are multiple types of marine insurance policies that are available with different companies to cater to the needs of the policy seeker. The common policy types that fall into the broad category of marine insurance include Hull Insurance, Marine Cargo Insurance, and Yacht Insurance, and some more. However, the types of marine insurance policies vary from one company to another. Here are the common types of this insurance policy.
Marine Cargo Insurance
The consignment owners face the risk of their cargo being damaged, lost, or mishandled during the journey. So, marine cargo insurance is there to protect their cargo against such risk that may lead to a heavy financial loss. It provides coverage against the damages at the port, ship, railway track, or while loading and unloading your goods.
This type of marine insurance also covers third-party liabilities that may arise from any loss or damage is done to the ship, port, or other transport forms from the insured cargo. Marine cargo insurance is mostly beneficial for tankers and other heavy cargo shipments as it provides financial protection to the ships or vessels.
Liability Insurance
The ship along with its cargo is always exposed to different types of perils such as crashes, collisions, attacks, or other kinds of risks that may lead to huge financial loss. These unforeseen accidents are beyond the control of the ship-owners. In that case, the liability marine insurance policy protects the owners against the claims made by cargo owners.
Hull and Machinery Insurance
Hull is the main structure of the ship or vessel. This hull insurance policy offers coverage to the ship along with its torso, furniture, and some other articles of the ship against any unanticipated damages to it. For a ship, not only the vessel but also the machinery and tools that are used or functioning, are also important components.
So, the hull insurance is often coupled with machinery and is termed as hull and machinery insurance. It is advisable for the ship-owners to go for this type of marine insurance.
Freight Insurance
In case of damage or loss to the freight, that financial loss is compensated by this type of marine insurance. Freight insurance safeguards the interest of the shipping company in this regard.
Different companies function in multiple different ways and the risks associated with their businesses are often non-identical. Therefore, their requirements for insurance coverage depend on multiple factors and are dissimilar from each other. Hence, different other types of marine insurance are available with various insurance companies.
Here are the mentions of few other common types of marine insurance, below.
Open marine insurance policy
This type of marine insurance policy is issued for a specific duration of time. Throughout that active policy period, this insurance provides continuous coverage for all shipments and transactions.
Time plan
When a marine insurance policy is purchased for a specific period of time, it is called a time policy. This type of marine policy generally remains valid for one year or so.
Voyage plan
This plan is effective and usually purchased by those who want to safeguard themselves for a specific sea voyage. It is only valid during that voyage. The moment the journey ends, the plan will be expired.
Mixed Plan
Mixed plan refers to that policy, which provides the benefits of both a voyage plan and a time plan.
Port Risk Plan
When a ship is positioned at a port, it is exposed to different types of risks too. There, a port risk plan becomes useful as it offers protection against those risks.
Valued Plan
In the case of a value plan, the value is determined either by the cargo or the shipment which is mentioned in the Policy Wordings in advance. If the cargo or the shipments get lost in any case, this helps to determine the insurance value.
Floating Plan
This type of marine insurance is best suited for those who regularly go for cargo shipment trips. Under this plan, the amount of claim is specified in advance. But it has to be remembered that, until the ship begins the journey, the other details cannot be disclosed.
Wager Plan
Under this plan, there are no fixed repayment terms specified beforehand. But, if the safety net provider finds any damage or harm deserving of cases, in that scenario, compensation is provided. If the damages or the losses are not worthy of consideration, no reimbursement will be provided, in that case.
What Are The Inclusions of The Marine Insurance?
There are abundant numbers of coverage that are available with the marine insurance policy to protect the insured from the unanticipated perils. The general inclusions of this insurance policy are mentioned below.
Marine insurance provides coverage for the financial loss arising out of appalling situations such as fire, explosion, sinking, stranding during a transit.

If any damages occur due to collision, overturning, or derailment of land conveyance, the insurer takes care of those expenses.

If cargo is discharged from a port that is under distress or disturbed condition, in that situation, compensation will be provided for the financial loss by the insurance company.

Coverage is offered for general average sacrifice salvage charges.

If the ship or the cargo meets any natural calamities such as earthquake, lightning and suffers financial loss, that expense is compensated by this policy.

The marine insurance policy takes care of the expenses such as survey fees, forwarding expenses, costs of reconditioning, and the charges of sue.

If any financial loss occurs due to jettisoning and washing overboard, that expense is covered under this policy.

If any package is totally lost overboard or dropped during loading or unloading time, that loss is covered under this policy.
What is Not Covered Under Marine Insurance?
Not all losses or damages are covered under marine insurance. The general inclusions of this insurance policy are as follows.
If your ship or cargo is damaged due to some intentional loss, the company does not provide any compensation for that.
If you package your goods poorly and due to inappropriate packaging quality you suffer a loss, in that case, this policy does not reimburse.
If the damage or loss arises due to bankruptcy, liquidation, failure, or collapse in the finances, the company does not provide coverage for that.
If your commodities or merchandise suffer any damage due to wear and tear while those are in transit, marine insurance will not cover that loss.
This insurance does not provide any coverage if the loss occurs due to a delay in the cargo.
It has to be remembered that not all insurance companies offer coverage for the loss arising out of extreme unpredictable risks like war, strikes, riots, and civil unrest.
Any loss or damage arising due to insolvency is not covered under this policy.
If there is any contamination due to radioactive waves, the policy does not compensate for that loss or damage.
What Do The Institute Cargo Clauses Cover?
The institute cargo clauses constitute the coverage of any marine insurance. The coverage that is available under these standard clauses includes the below-mentioned loss or damages.
Constructive total loss.

Actual total loss.

Particular average that is partial loss by an insured risk

General average

Collision liability

Expenses such as reconditioning costs, survey fees, forwarding expenses, sue, labour, and a few more.
How Can You Find The Best Marine Insurance For You?
There are various insurance companies in India that provide marine insurance policies with a wide range of types and benefits. As there are multiple options to chose from, it becomes an enormous task to find out a proper company and the right type of marine insurance that can cater to the requirements of your business.
The first step to select the right company is to jot down the requirements of yours. Then it becomes easier to find out a proper company. After that, it would be advisable to compare different marine insurance policies online that are available with various companies. Then, according to your convenience select a plan. It is simpler and easier to select online from a wide range of variants available in the marine policies. The correct method is to compare and contrast, analyze the coverage, understand the needs, and then only go for any marine insurance policy.
Claim Settlement Process of Marine Insurance
For availing a smooth and easy claim settlement process you can follow the below-mentioned steps:
If your cargo or ship suffers any loss or damage, you need to intimate the insurer immediately, at least within 24 hours.

A surveyor will be appointed on the behalf of the insurance company to assess the damage or loss and to make a report on that. It would be advisable to keep a copy of that report as it may help you in future reference.

All the proofs, witnesses, and required documents are needed to be submitted along with the duly filled claim form.

Your claim approval highly depends upon the report of the surveyor. So do not produce any wrong or misleading information. And, cooperate with the surveyor and the insurer.

For a missing package, the insured must lodge file a monetary claim with the insurance provider and get an acknowledgment for it.

In some cases, a police FIR is mandatory. If the damage is caused by the fire, a report by the fire department is also necessary.

It is advisable to keep a copy of the Marine Insurance policy and to produce it before the insurer and the surveyor.

If the company finds the case fit and genuine, it would approve the claim, else the claim would be rejected.

You can also raise an objection in writing if you find any discrepancy in the report or do not agree with the report. In case you are not satisfied with the case, you can approach the court of law.
Here is a list of documents that are required for the claim settlement process
Duly filled claim form

Original insurance certificate with the policy number

Copy of billing landing

Survey report

Missing certificate, damage certificate or F.I.R

Original invoice, packing list, shipping specification.

Copies of correspondence exchanged

KYC (above 1 lakh)

Letter of subrogation

Photographs

NEFT mandate duly filled and stamped by the bank or canceled cheque with the name of the policyholder, account number, IFSC code.
Frequently Asked Questions
Other Corporate Insurance