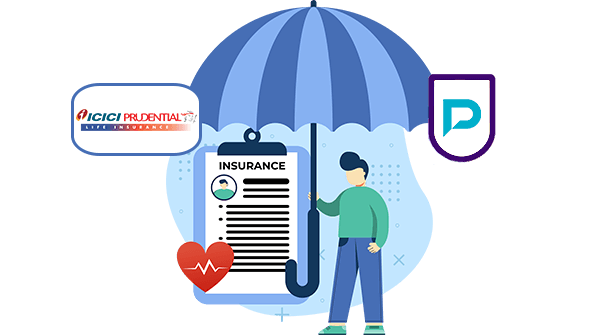 ICICI Pru iProtect Smart Policy (UIN-105N151V07)
ICICI Pru iProtect Smart Plan
ICICI Pru iProtect Smart Plan (UIN-105N151V07) is a term insurance policy that offers you many possibilities to improve your family's and your own protection through reasonable premium payments. The customizable alternatives under the plan's all-inclusive protection can assist secure your family's financial stability after you pass away. 
The plan also gives you the choice of benefits for critical illnesses. It includes a tonne of features and advantages, which makes it a term insurance plan that is both wise and deserving.
| | |
| --- | --- |
| Minimum Entry Age | 18 Years |
| Maximum Entry Age | 65 Years |
| Minimum Maturity Age | 23 Years |
| Maximum Maturity Age | 75 Years |
| Policy Term | 5 To 40 Years |
| Minimum Premium Amount | Rs. 2400 |
Features & Benefits Of ICICI Pru iProtect Smart Plan
Some of the key features and benefits of the plan are discussed below:
You are eligible for coverage under the plan up to the age of 85, and you also have the option of purchasing full life insurance up to the age of 99. However, it is advised that you purchase term life insurance throughout your earning years because by that time you will have paid off your debts and may not be supporting a family.
There are three ways to receive a death benefit under the plan: (a) the entire sum is paid in one lump sum; (b) 10% of the Sum Assured will be paid annually for 10 years in equal monthly instalments; and (c) benefits will be paid out in monthly instalments at an increasing income basis, with 10% simple interest starting to apply on pay-outs in the second year.
For your child's schooling, for example, you may make lump sum payments at times. Other times, though, you may only require monthly income, like in the case of home loan EMIs. When purchasing the policy, you can choose the payout choice based on your requirements. The plan has the following payout options:
Life
Life Plus
Life & Health
All-In-One
Cover 34 Critical Illnesses
Your family's security is best served by term life insurance. But what happens when you are faced with a life-threatening illness? For an additional cost, ICICI Pru iProtect Smart provides health insurance coverage for 34 critical illnesses. The finest feature is that it pays out claims after the initial diagnosis of any of the 34 critical illnesses that are covered. No medical bills are necessary. Only medical records proving a serious disease diagnosis must be presented.
Flexibility In Choosing Policy Term
With ICICI Pru iProtect Plan, you can choose your own policy term and pay low premiums. The maximum policy term with ICICI Pru iProtect Smart is up to age 85, and you also have the option to get whole life insurance up to age 99.
Special Benefits For Women
The premium rates for the plan are 18% lower for female candidates. Moreover, the plan also provides cover for critical illnesses, such as cervical cancer and breast cancer.
Under Sections 80 C and 80 D of the Income Tax Act, the policyholder is eligible to avail of various tax benefits. No tax is due on Section 10 (10 D) claim amount.
Under this benefit, the claimant will receive full or total life insurance coverage as soon as the life assured is identified as having a terminal condition, such as AIDS.
Waiver Of Premium Benefit
All upcoming premiums will be covered by the employer under this benefit in the event of permanent incapacity resulting from an accident, while the life insurance remains in place.
In this benefit, the nominee or legal heir will receive additional money if the life assured dies in an accident. During or even after the purchase, you can add an accidental cover of your choosing. There is a Rs. 2 crore maximum accident cover available with this benefit.
After receiving the policy paperwork, the policyholder has the choice to review it. The policy document must be returned to the company for cancellation if the policyholder is dissatisfied with the terms and conditions of the policy within the: 
15 days from the date of receipt of the policy document.
In the case of electronic or distance-sourced policies, 30 days following the date of receipt of the policy document.
Functioning Of ICICI Pru iProtect Smart Plan
Let's say Mr. Kumar has a 30-year contract and is 32 years old. He has a basic cover of Rs. 1 crore and a Rs. 25 lakhs Critical Illness benefit. In the eighth policy year, he receives a critical illness diagnosis. As a result, he will receive a lump sum payment of Rs. 25 lakhs and the policy will continue at a lower Sum Assured benefit of Rs. 75 lakhs. 
His premiums have also been decreased from their previous level of roughly Rs. 15,000 to Rs. 7,000. In the terrible event that Mr. Kumar passes away in the 20th policy year, his nominees will be given a lump sum payment of Rs. 75 lakhs, and the policy will be cancelled. The parties may also agree to make the payment on a monthly basis.
What's Not Covered Under ICICI Pru iProtect Smart Plan?
The following expenses are not included in the plan:
HIV, AIDS, and their associated sequelae are sexually transmitted diseases (STDs).
Suicide, self-inflicted wounds, mental illness, and purposeful involvement of the life insured in unlawful or criminal conduct.
Consuming alcohol, using drugs, or using any of these things without a trained medical professional's guidance
Participation in a war, whether or not it has been proclaimed, civil unrest, and criminally motivated law violations.
Adventure sports include any type of racing, scuba diving, and aerial activities that intentionally expose athletes to risk.
Nuclear accident-related radioactive pollution.
Frequently Asked Questions