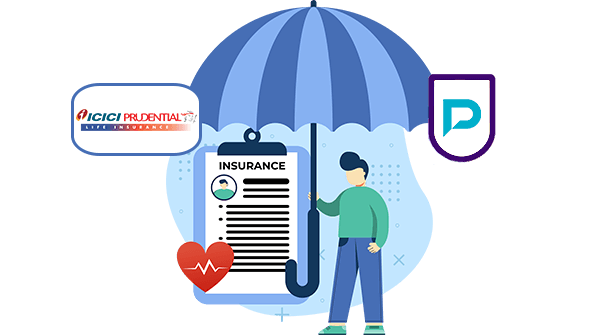 ICICI Pru Sukh Samruddhi Policy
ICICI Pru Sukh Samruddhi Plan
ICICI Pru Sukh Samruddhi is a participating savings-oriented life insurance plan that gives you the assurance to meet all of your objectives for yourself and your loved ones. Through bonus participation, the plan increases your savings and gives you the freedom to choose whether you want the benefits as a one-time lump payment or as regular income, enabling you to reach milestones at various stages of your life.
Minimum Entry Age
0 Years
Maximum Entry Age
60 Years
Minimum Age At Maturity
18 Years
Maximum Age At Maturity
72/75/78/85/90 Years
Policy Term

For Income Option: PPT + Income Term

For Lump Sum Option: 10/12/15/16/18/20/24/25/30 Years
What Makes ICICI Pru Sukh Samruddhi A Perfect Plan For You?
There are many reasons why you should choose this plan. Some of its key features and benefits are discussed below:
Choice Of 2 Plan Options:
The plan has two alternatives that can be customized to meet your savings needs.
Lump Sum: Receive a lump amount at policy maturity at the conclusion of the policy period.
Income: After the premium payment term is complete, receive a regular Guaranteed Income (GI), as well as a lump sum upon maturity at the conclusion of the policy term.
Guaranteed Income:
The life guaranteed will receive a Guaranteed Income at the end of each month or year, in arrears, following the completion of the premium payment term, until the policy's term has expired. For the desired Income Term that you selected at inception, you will receive the Guaranteed Income. This feature is available only for the Income option of the plan.
Maturity Benefit:
A Maturity Benefit will be provided in addition to the final GI payout for a fully paid policy if the life insured survives until the end of the policy term.
Maturity Benefit (For Income Option): Accrued Reversionary Bonus (if declared) + Terminal Bonus (if declared).
Maturity Benefit (Lump Sum Option): Sum Assured On Maturity + Accrued Reversionary Bonus (if declared) + Terminal Bonus (if declared).
Death Benefit:
The following will be paid upon the death of the life assured throughout the period of the policy (for a premium-paying or fully paid policy):
Life Insurance/Death Benefits will be higher of:
Sum Assured on Death + Accrued Reversionary Bonus, if declared + Interim Reversionary Bonus, if declared + Terminal Bonus, if declared;
OR
105% of total premiums paid up to the date of death.
Additional Flexibility:
The plan offers you additional flexibility in terms of:
Save The Date: You have the option of choosing to receive your Guaranteed Income (GI) on a special occasion, such as a birthday or anniversary. Only the Income Plan option and the yearly Income mode support this functionality.
Savings Wallet: During the insurance term, you have the choice to accrue Guaranteed Incomes (GIs) and let them grow rather than using them as payment. The accrued GIs can also be withdrawn in full or in part at any moment during the Income Term. Only the Income Plan option offers this functionality.
Tax Benefits:
As permitted by the current tax legislation, tax benefits can be accessible. The regulations of the Income Tax Act of 1961 provide restrictions on the policy's tax benefits. Goods and Services Tax and Cesses, if applicable, will be added on top of the price at the time of purchase. The laws governing taxes may occasionally be amended. For more information, please visit your tax advisor.
Working Of ICICI Pru Samruddhi Plan
Let's understand the functioning of the plan with the help of an example.
Mr. Singh, a 35-year-old man, wants to make sure that his son has the greatest education possible. He chooses to receive income for 10 years and decides to save Rs. 50,000 each year for 10 years under the Income plan option. The policy term he chooses is 20 years.
Mr. Singh will pay Rs. 50,000 for 10 years, which means the total premium amount he will pay is Rs. 5 lakhs. From the end of the 11th year, he will get guaranteed income every year. In case he survives the policy term, he will also get a maturity benefit.
Let's look at the benefits payable:
| | | |
| --- | --- | --- |
| Benefits | @ 4% PA | @ 8% PA |
| Guaranteed Income (Per Annum) | Rs. 45,450 | Rs. 45,450 |
| Accrued Reversionary Bonus (If Declared) | – | Rs. 1,57,646 |
| Terminal Bonus (If Declared) | Rs. 1,81,164 | Rs. 4,52,456 |
| Lump Sum On Maturity | Rs. 1,81,164 | Rs. 6,10,102 |
How Does the ICICI Pru Smart Life Insurance Plan Work?
In a private bank, Sarita holds a senior management position. She looks after her relying parents. She wants to make plans for their well-being because she is aware of life's uncertainty. She purchases ICICI Pru Smart Life to start a fund for her parents and make sure they can support themselves.
Unfortunately, Sarita passes away in an accident 5 years later. Although her departure will always be felt, her parents' financial independence is assured thanks to ICICI Pru Smart Life. Her parents are given a lump sum death payment that covers their daily expenses. The corporation also receives the maturity benefit after the insurance term and pays future premiums.
Age at entry
Premium payment option
Amount of installment premium
Premium payment mode
Sum Assured
Policy term
Total Premiums Paid
Assumed investment returns
35 Years
Regular
Rs. 50, 000
Annual
Rs. 5, 00, 000
15 Years
Rs.7,50,000

4% P.A

Rs. 8,53,629

8% of P.A.

Rs. 11, 93, 782
Frequently Asked Questions
Beginning with the sixth policy year, guaranteed loyalty adds units will be distributed annually. It is 0.25 percent of the average daily fund value plus any top-ups.
Depending on your financial priorities and outlook for saving, you have the freedom to swap between the various funds whenever you like. Changes are permitted as long as the money is not in the DP Fund. This function is only accessible if your whole account balance is in the Fixed Portfolio Strategy at the time of switching, and the move must be at least Rs. 2000 in value.
You only need to pay the premium once, for a little period, or the whole of the policy term.