Cover Your Health in 5 mins
Compare Premium.
Buy Now.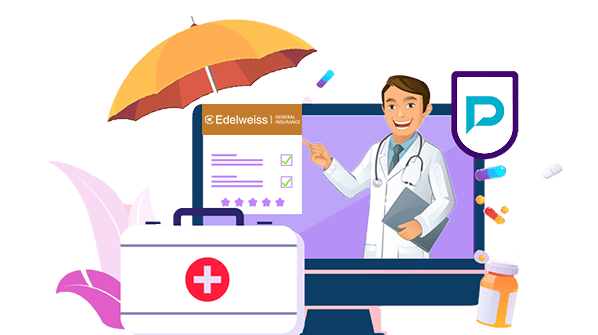 Compare

Individual Health Insurance Plans
Edelweiss Health Insurance Top-Up Policy
Due to escalating healthcare costs, a basic health insurance plan will not be sufficient to cover all your medical needs. No matter how prepared you believe you are, unexpectedly high hospital expenses can still catch you off guard. 
That's the reason why Edelweiss Top-Up Plan is specifically crafted to provide its policyholder with significant coverage at reasonable premiums. The plan comes into force after the sum assured of the basic plan is exhausted. You can only use this coverage when a single claim exhausts your deductible amount. The plan will not be in effect if you are hospitalized once more during the same policy year and you do not pay the same deductible again.
This post will help you discover more about the plan!
| | |
| --- | --- |
| Minimum Entry Age | 18+ |
| Maximum Entry Age | No Limit |
| Policy Period | Up To 3 Years |
| Sum Insured | Rs. 1 To 20 Lakhs |
Key Attributes Of Edelweiss Top-Up Plan
The following expenses are covered under the plan:
| | |
| --- | --- |
| Category | Status |
| In-Patient Hospitalization Expenses | Covered |
| OPD Treatment | Covered |
| Room Rent | Covered |
| Maternity Cover | As An Add-On |
| Baby Care | As An Add-On |
| Pre-Hospitalization Expenses | Covered |
| Post-Hospitalization Expenses | Covered |
| AYUSH Treatment | Covered |
| Daycare Treatment | Covered |
| Domiciliary Hospitalization | Covered |
| Organ Donor Expenses | Covered |
| Emergency Ambulance | Covered |
Why Should You Zero In Edelweiss Top-Up Plan?
Edelweiss Top-Up Plan provides a wide range of benefits, some of which are discussed below:
As a No Claim Bonus for each complete and continuous policy year, the company will increase the Sum Insured at the end of each policy year, provided that no claim has been filed or paid by the company in the preceding policy year.
Pre-existing Disease Waiting Period Waiver/ Reduction
Pre-existing waiting periods shall be shortened or eliminated upon payment of additional premium. Any permanent exclusions listed in the policy schedule will not be covered by this coverage.
Base Policy Co-Pay Support
The plan will cover the costs associated with co-payment deductions (voluntary co-pays or mandatory co-payments in the base policy) up to the sum allowed by the policy schedule. Payable will be the amount withdrawn solely for the base policy's co-payment expenses.
Base Policy Higher Room Rent Support
Up to the sum allowed under the policy schedule, the plan will cover the costs associated with the base policy's deduction for associate medical expenditures and excess room rent. You will be responsible for paying the amount withheld from your base insurance only for the associated medical bills and excess room rent.
The plan offers the following discounts to the policyholder:
Family discount: 5%
Long-term discount: 7.5% for 2 years and 10% for 3 years
Online discount: 15%
Renewal discount: 5%
Edelweiss group employee discount: 5%
Edelweiss customer discount: 5%
Loyalty discount: 5%
Double Sum Insured For Critical illness (CI)
By selecting this coverage, the company would compensate the policyholder twice the basic sum insured that is listed in the policy schedule for the payment under the basic covers of the policy. The insured will receive compensation up to base SI if the Double Sum Insured for Critical Illness option is not selected.
Once every policy year, on an indemnity basis, the company will restore 100% of the sum insured if the total sum insured, including earned No Claim Bonus is not sufficient due to claims accepted or paid during the policy year.
With the exception of domiciliary hospitalization, this policy's coverage will be extended throughout the entire world upon payment of an additional fee. For any treatment received outside of India, the waiting time will be applied again if the insured chooses to renew with worldwide coverage.
What's Not Included Under Edelweiss Top-Up Plan?
Here are some typical Edelweiss top-up health insurance plan exclusions to consider:
Treatments for obesity and weight loss are not covered by this plan.
The plan does not provide coverage for changes in gender.
Plastic and cosmetic surgery
This top-up plan does not cover illnesses or injuries brought on by self-harm or alcohol usage.
Premium Chart Of Edelweiss Top-Up Plan
Let's check out how much will Edelweiss Top-Up Plan cost you!
| | | |
| --- | --- | --- |
| Sum Insured Chosen | Deductible | Premium Amount |
| Rs. 1 Lakhs | Rs. 0.5 Lakhs | Rs. 2,074 |
| Rs. 5 Lakhs | Rs. 1.5 Lakhs | Rs. 2,433 |
| Rs. 8 Lakhs | Rs. 2 Lakhs | Rs. 2,275 |
| Rs. 10 Lakhs | Rs. 3 Lakhs | Rs. 1,950 |
| Rs. 20 Lakhs | Rs. 5 Lakhs | Rs. 1,720 |
Frequently Asked Questions