Cover Your Health in 5 mins
Compare Premium.
Buy Now.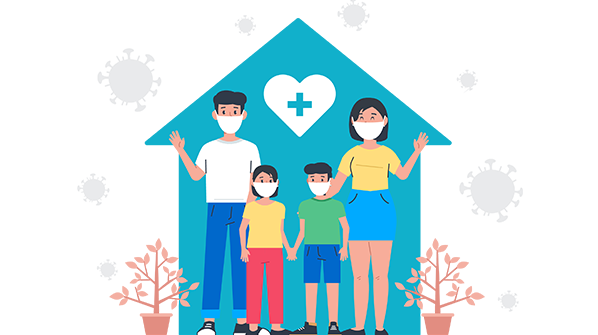 Health Insurance For Parents
Parents become more reliant on their offspring as they age. It is now your turn to offer them the finest life possible, just as they worked hard to provide you with the best living possible. To avoid this, develop a robust financial safety net with parent-specific health insurance coverage. These plans differ from standard health insurance policies in a few ways.
Health Insurance for Parents refers to health insurance plans that are tailored to the needs of aging parents. These health policies are specifically designed to meet the needs of adults over the age of 45 or 50. Because the market is swamped with a plethora of health insurance options, you must select the one that best suits your parents' requirements.
Importance of Health Insurance Plans for parents
Let's take a look at the importance of health insurance plans for parents:
Complementary health check-ups: 
Preventative medical examinations are critical, especially as your parents' age. In light of this, the finest medical insurance for parents will include free check-ups at regular intervals. This will assist your parents in staying on track with their health and fitness.
Illnesses Make You Prone to Old Age
After a certain age, a person aspires to retire and live off of a pension or savings interest. However, as you become older, you're more likely to develop illnesses and diseases.
The Family's Debt Crisis
A sudden medical emergency can be a financial disaster for your family. If the elderly person does not have access to a senior citizen health insurance plan, the family's breadwinner will have to work longer hours to pay off medical bills, manage home expenses, and return any liabilities. This adds to the guilt of the sick and elderly individuals, making them feel like a burden on the family.
Health Insurance Schemes Provide Stress-Free Planning
Even though getting sick is an unavoidable part of growing older, you can prepare ahead to guarantee that all of your essential medical expenses are handled systematically and painlessly.
Coverage for critical illnesses:
As you become older, your chances of contracting a life-threatening illness grow. With this in mind, it's crucial to choose a health insurance policy for parents that includes critical illness coverage. It will ensure that people may receive the therapy they require for such illnesses without having to worry about the cost.
Best Health Insurance For Parents
The following are the best health insurance for parents that you can consider to safeguard their health and future. Let's discuss these health insurance plans in detail!
1. Activ Care Senior Citizen Health Plan
If you are looking for a plan that may cater to your parents' health without the need to pay a higher premium, then you can consider Activ Care Senior Citizen Health Plan. It is specifically designed for senior citizen insurance that helps your loved ones at every stage of their lives: while they're healthy when they're in the hospital, and when they're healing. This plan provides the entire care people need in their golden years, from nursing at home to AYUSH coverage to a dedicated, personal health coach.
Features of Activ Care Senior Citizen Health Plan:
Listed below are the salient features of Activ Care Senior Citizen Health Plan
With the feature, the policyholder is likely to receive an extra 10% of the sum insured that would eventually act as a Bonus for each claim. The maximum may go up to 50% of your sum insured.
One of the biggest features of the plan is that you are likely to receive nearly 21% of your premium as "HealthReturns". It's up to you how you want to use the amount; either you can use it to pay for medicine or diagnostic tests or renewal premium.
With the plan, you are likely to get comprehensive medical, nutritional & wellness counseling and sessions that would ultimately enhance your lifestyle to a whole different level.
Eligibility:
Eligibility
Minimum
Maximum
Age
55 Years (Minimum)
80 years (Maximum)
Sum Insured (S.I.) Options Rs
3L ,4L, 5L, 7.5L, 10L (Standard)

5L, 7.5L, 10L, 25L

(Premier)
2. Digit Health Insurance
Looking for a plan that may cover your parents in case of your absence? If so, this plan has got you covered! In the event of an emergency, Digit health insurance policies prevent you and your family from losing all of your funds on medical expenditures. Pre- and post-hospitalization charges, psychiatric support, yearly health check-ups, severe illnesses, and maternity-related expenses, among other things, are covered under your tailored health insurance plan.
Features of Digit Health Insurance:
The following are the crucial features of Digit Health Insurance
One of the biggest features of the plan is that the health insurance does not charge a copayment based on your age. This implies you won't have to spend anything out of pocket when filing a health insurance claim.
Staying healthy earns you a prize! Yes, when you choose the plan, you are likely to receive a yearly cumulative bonus for the claim-free years.
With the plan, you can choose from 6400+ network hospitals in India where you can either select cashless treatment or opt for a reimbursement.
3. Kotak Mahindra Health Shield
It is a fixed benefit health insurance plan that covers early or advanced stages of illnesses/conditions related to Cancer, Cardiac, Liver, and Neuro, as well as financial protection against Personal Accident – death or inability due to an accident. The plan even covers some of the severe ailments that include cardiac difficulties, liver ailments, cancer, and neurological disorders are among the most common life-threatening health conditions in India.
Features of Kotak Mahindra Health Shield:
Let's take a look at the features of Kotak Mahindra health Shield that you should know:
To obtain the coverage amount, Kotak Health Shield does not need you to submit medical and hospitalization expenses. Your claim will be approved based on the medical test report that validates your diagnosis, allowing you to get your cash immediately.
The Personal Accident cover protects you against loss of life, limb loss, and disability, among other things. It safeguards your family against financial ruin in the event of disability or the death of a loved one as a result of an accident.
You can utilize the pay-out amount to pay off any remaining debts or even supplement your household wages, in addition to covering your treatment expenditures.
Eligibility:
| | | |
| --- | --- | --- |
| Eligibility | Minimum | Maximum |
| Entry Age | 18 years | 65 years |
| Policy Term | 5 years | 40 years |
| Sum Assured | Rs. 10,00,000 | Max – Rs. 50,00,000 |
4. Future Health Suraksha Individual Plan
Are you finding a health plan for your parents that is affordable and may offer maximum protection? If so, your search ends here! Future Generali's Future Health Suraksha is an affordable health plan that covers you and your family completely. This health insurance plan is an ideal solution for an individual and their loved ones, including their spouse and up to three dependent children. It leaves no stone left in ensuring that exceptional health care is even more approachable.
Features of Future Health Suraksha Individual Plan:
Looking to buy a Future Health Suraksha Individual Plan? Let's take a look at the additional features that it offers.
With the insurance plans, you can easily make the payment of premiums in installments on a monthly, quarterly, or half-yearly basis. On regular premiums, loadings of up to 5% will be applied depending on the installment frequency selected.
Section 80-D of the Income Tax Act allows for the tax credit on premiums paid by any method other than cash.
Though claims can be easily adjusted, there will be no premium adjustment if you have had a terrible claim scenario.
| | | |
| --- | --- | --- |
| Eligibility | Minimum | Maximum |
| Age | 18 Years | 70 Years |
| Policy Term | 1 Year | 3 Year |
5. Tata AIG Medi Senior Citizen Mediclaim Policy
If you are looking for an excellent health insurance policy for individuals over 60 years of age, then our Senior Citizen Insurance plan may be an ideal policy for you. Tata AIG's Health Insurance for Senior Citizens includes coverage for a wide range of health-related difficulties, including those connected with ageing, and comes with a low premium.
Features of Tata AIG Medi Senior Citizen Mediclaim Policy:
The following are the features of choosing Tata AIG Medi Senior Citizen Mediclaim Policy:
You can get cashless insurance at more than 7,200 hospitals across the country if you choose the Tata AIG senior citizen Mediclaim policy.
The Tata AIG Senior Citizen Health Insurance Plan includes hospitalization coverage, allowing you to receive necessary medical care without worrying about the costs of hospital beds, Intensive Care Units, medications, and other fees.
This senior citizens' health insurance includes coverage for Covid-19, in light of the ongoing global pandemic concern.
Eligibility:
| | | |
| --- | --- | --- |
| Eligibility | Minimum | Maximum |
| Age | 60 Years | NA |
If you are looking for a policy that may provide you with enhanced protection at a low premium without breaking your bank, look no further than SBI Arogya's top policy. This insurance plan by SBI enables you to add an extra shield of protection for your family to meet mushrooming medical costs.
Features of SBI General Arogya Top-up Policy:
Here are the features of SBI General Arogya Top-up Policy:
After a claim, the sum insured under this policy can be reinstated by paying extra premium expenses.
People who buy this insurance can get a tax benefit under Section 80D of the Internal Revenue Code.
Pre-hospitalization expenses are covered for up to 60 days if the hospitalization is for the same reason.
Eligibility:
| | | |
| --- | --- | --- |
| Eligibility | Minimum | Maximum |
| Age | 3 months | 65 years |
| Sum Insured | 1 Lakh | 50 Lakhs |
Benefits of Choosing Medical Insurance Policy Online For Parents
Traditionally buying insurance can be a time-consuming process. Instead, choosing online can offer you a multitude of benefits in addition to saving time. Let's discuss them in detail!
Lower Premium
Traditional insurance has higher operational costs and commissions for agents. These are no longer available through online insurance. You purchase the policy straight through the insurer's website or mobile app. As a result, you can purchase a health insurance policy for a discounted price. Health insurance purchased online is very simple to comprehend. This allows for a faster transaction while still maintaining openness.
Less Documentation
When purchasing health insurance through an agent, you may be required to provide a lengthy number of documents. You must submit numerous copies of documents such as proof of age, identification, medical reports, and so on. When purchasing your health insurance coverage online, you can supply soft copies or details. This data is saved in the insurer's database and can be retrieved for renewals or claim settlements.
Easy Comparison
Manually comparing health insurance coverage is exceedingly unlikely. Instead, you'd ask your insurance agent to help you pick health insurance for your parents. This is not the best way to get insurance because an agent has a financial stake in the most expensive policy you purchase. This may lead to the purchase of a plan that is not required. Comparing health plans is simple with online health insurance. You can compare your parents' health insurance premium features, coverages, exclusions, and cost.
Things To Look For While Buying a Health Insurance For Parents in India
Here are the things that you need to consider while looking for health insurance plans in India for your parents.
Location of network hospitals
A cashless facility is available at a network hospital. As a result, you must be aware of the exact location of your insurer's network hospital. The best treatment can be had at a minimal cost in this manner. Furthermore, cashless claims allow you to enjoy a simple and rapid claim settlement process.
Whether or not ambulance costs are covered
Ambulance costs are astronomical, particularly for emergency services. It is offered by many health insurers as part of their family health insurance plans. Don't forget to check with your insurance company to see whether they will cover the cost of air ambulance service.
The procedure for settling claims
The insurer's claim settlement procedures should be seamless. The insurer's claim settlement ratio is a good indicator. The claim settlement ratio is determined by dividing total claims paid by total claims submitted. It's best to choose a company with a greater settlement percentage.
Search for health insurance that can be renewed indefinitely. When you're older, you're more likely to contract diseases and illnesses than when you're younger, so you should invest in a health plan that can be renewed for the rest of your life.
Value-added services in health insurance have risen in popularity over the last decade. Teleconsultations, free health checks, health surveillance systems, and other benefits can help you keep your parents happy and healthy for a long time.
How Do You Quickly Buy Health Insurance For Parents?
Online Method: Gone are the days when buying a health insurance plan used to be potentially daunting. Time has changed, and so has technology. If you are planning to choose health insurance for parents, then you must go to the respective company's website to buy the plan and make the payment as they have secured gateways.
Offline Method: If you are not comfortable buying health insurance for parents online, you can consider the offline method. Here, you will need to visit the company's branch address nearby to your location and then buy the plan accordingly.
Note: If you face problems, then you may call their customer support to get the details of the plan you wish to buy.
Frequently Asked Questions