Cover Your Health in 5 mins
Compare Premium.
Buy Now.
* Subject To Underwriting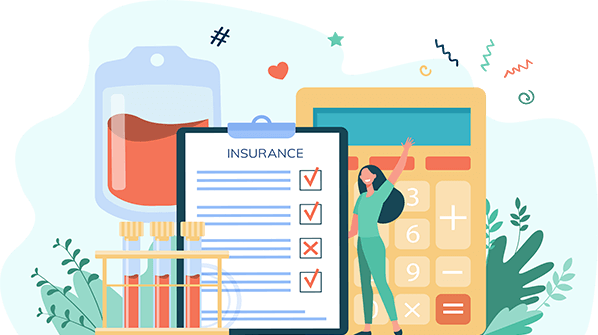 Compare

Individual Health Insurance Plans
What is Health Insurance Premium Calculator?
As medical expenditures are skyrocketing day by day, calculating the premium has become extremely pivotal. A health insurance calculator is an online tool that assists a potential health insurance buyer to estimate the amount of premium he or she will have to pay for a particular health insurance plan.
In addition to calculating health insurance premiums, the tool can also be used to compare and study various medical insurance policies given by renowned insurers online. Age, gender, profession, number of members covered under a policy, and other criteria can all be used to compare health insurance policies. You can also customize your health insurance coverage and see whether your health insurance rate changes. Using a health insurance calculator in this manner aids in making a better purchasing decision.
Importance Of Health Insurance Calculator
In today's world, health insurance calculators are really useful. Insurance policies are intricate by nature and contain hidden fees in their terms and conditions, making them difficult to comprehend at times.
As a result, policyholders must pay more than they anticipated. Health insurance calculators were created to prevent policyholders from paying unnecessary premiums. These calculators are a very useful tool for figuring a person's premium amount ahead of time and allowing them to plan their finances accordingly.
In addition, there are numerous health insurance firms that offer a variety of health insurance policies, and selecting the correct insurance plan among the many options available can be difficult. A health insurance calculator can help you to conduct extensive research, comparison, and analysis of various terms and conditions.
Let's understand this with a simple example!
Savita is a salaried employee who earns a respectable wage. Due to the rising medical costs, she considers purchasing a health insurance plan. She is presented with a variety of health plans after much research, but she is unable to choose the best one. She then seeks out the assistance of an agent, but this does not work out.
A few days later, Savita learns about the health insurance calculator and decides to give it a try. She fills in the necessary information and calculates the premium. She is certain about how much she should invest in health insurance coverage based on the results and basic study. She then clicked on the 'compare' button on the same page, where she could compare numerous plans offered by the leading health insurance companies on the basis of cost, features, benefits, etc. She then chooses a plan that is suitable for her budget and requirements. She saves roughly 30% with the use of a health insurance calculator when compared to the policies given by the agent.
What Are the Key Benefits of a Health Insurance Calculator?
Below are the reasons how a health insurance calculator helps to purchase an appropriate health insurance plan:
Simple & Easy Decision-Making Process
You may compare numerous health insurance plans based on your budget and requirements in one convenient location. As a result, the decision-making process becomes much easier and less time-consuming.
Want To Get the Right Idea? – Health Insurance Calculator Is the Key!
Prior to making a final decision about the insurance you want to buy; you will get an accurate estimate of the amount of premium you'll have to pay based on your financial goals and healthcare needs.
The health insurance premium calculator enables you to undertake thorough research on your own, without having to contact various insurance providers or representatives. As a result, the process of choosing a health insurance plan becomes more fluid, and it also aids you in making an informed decision.
How About Having Some Flexibility?
The premium calculator also displays the suitable riders or add-ons that are available to match your specific needs. It not only allows users to browse the riders at a glance, but it also allows them to choose them without having to visit the websites of numerous insurance carriers individually.
Because you enter the relevant facts carefully, online medical insurance premium calculation helps avoid the potential of errors when calculating health insurance premiums.
Want To Save Yourself from Complex Terms & Conditions?
It is an excellent tool for keeping track of your medical insurance premium liabilities without being confused. It saves you from the trouble of deciphering complicated insurance terms and clauses, which often leads to people proceeding without knowing all of the facts and paying extra.
Reduces The Likelihood of Non-Payment of Premiums
Keeping oneself educated about health insurance premiums ahead of time reduces the chance of defaulting on health insurance premiums since you will only purchase coverage that you can afford.
How To Use Health Insurance Calculator?
After you've learned everything about a health insurance calculator, the next step is to learn how to utilize it. A step-by-step guide on using a health insurance calculator is provided below.
Look for the best health insurance calculators and select the most appropriate and well-known one.

Now go to the health insurance premium calculator page.

Fill in the form with all the necessary details. Generally, the calculator page will ask you for the following details:
Age

Pre-existing medical conditions or medical history in the family

Status of intake of specified substances such as alcohol, cigarettes, and other tobacco products

Job title

Address
Choose whether you want an individual or a family floater plan. Mention how many people will be covered by the plan.

If you've chosen a family floater plan, select your family members. Enter the eldest member's and eldest child's ages.

Decide on the amount of the insurance policy.

Once you've filled out all of the fields, click the 'calculate' button to get an estimate of the premium for the health insurance plan you've chosen.
Which Factors Have an Impact on Health Insurance Premium?
Age & Gender: When it comes to health insurance premiums, the general rule is that the older you get, the higher your premium will be. There are undeniably other considerations that could outweigh age.

For example, someone who is 30 years old yet has had diabetes from childhood. They are more likely to pay a higher premium than someone who is 40 years old and has no pre-existing medical conditions. Moreover, female applicants pay cheaper rates than male candidates due to a lower risk of heart attack, stroke, and other illnesses.
Medical History: If you have a family history of certain diseases, such as cancer, heart disease, or high blood pressure, you are more likely to need medical treatment for them in the future. As a result, you'll have to pay a larger premium.
Type Of Occupation: There are some professions that have more danger of injury or disease. Individuals working in warehouses may be hurt by heavy machinery, those working at desks may suffer from a variety of limb and back ailments, and even artists may be exposed to toxic compounds in their paints. The riskier the profession is, the higher will be the premium.
Policy Tenure: A one-year health insurance plan will have a lower premium than a two-year plan. If you acquire long-term coverage, the insurer may give you a discount.
Health-Related Habits: Regular smokers must pay higher health insurance premiums because smoking is extremely harmful to one's health. Stroke, asthma, cancer, heart disease, hypertension, and other diseases are more common in smokers.
Location: Your residency may have an impact on the amount of premium you must pay. Some zip codes are more expensive than others.
How Can You Reduce Your Health Insurance Premium?
Premiums for health insurance might be a barrier for persons who have higher coverage. While more people are becoming aware of the need of obtaining health insurance, the cost of premiums continues to be a source of anxiety for many.
Here are some suggestions for those who are having trouble paying expensive health insurance premiums:
Choose Co-payment & Higher Deductibles
After the insured is required to pay a specified amount of their treatment costs, the insurance company covers the balance when the claim is settled. This is known as co-payment. The deductible, on the other hand, is the fixed payment you must make for treatment costs before your insurance policy kicks in. Therefore, it is always recommended to choose higher deductibles and co-payment so that you can reduce your premium amount.
Choose A Family Floater Plan
Individual health insurance premiums are determined by the total covered and the age of each member added to the policy. Family floater health insurance policies, on the other hand, charge a premium depending on the eldest family member covered by the policy. Family floater policies are more cost-effective than individual health insurance plans because their premiums can be up to 20% lower.
Opt For a Multi-Year Health Insurance Plan
A yearly health insurance plan has a greater premium than a multi-year plan that is acquired for two or three years. The cost for the entire tenure is paid once, and the insurance provider offers various discounts on health plans purchased for a period of more than one year.
Compare Various medical Insurance Quotes
The premium rates for health insurance range from one insurance company to the other. Furthermore, the premiums charged for various health insurance policies vary. A thorough analysis of the various insurance plans given by various insurance providers can assist you in selecting the proper health plan that will match your budget and healthcare needs at a reasonable cost.
Purchase A Health Policy at A Young Age
Buying a health insurance policy at a young age is one of the proven ways to save money on premiums. This is because as you get older, you become more susceptible to illnesses and so must pay a greater premium. As a result, you must make the decision to get health insurance as soon as possible.
Keep Your Health Insurance Plans at Equilibrium
Depending on your needs, you may have more than one health insurance policy. You may have a group health insurance plan through your employment, an individual health insurance policy, and a family floater health insurance plan. In such circumstances, you must use an individual health insurance policy, despite the fact that you may be eligible for benefits under other policies. You will be able to better manage health insurance premiums in this manner.
Top-up plans are the best option for getting excellent coverage at a low cost. When your medical insurance claim exceeds the threshold limit, the plan comes to your rescue.
Choose a Policy with a Lower Sum Insured
Health insurance policies with a cheaper sum insured have lower premiums. To save money on premiums, get insurance with a lower sum insured.
Frequently Asked Questions