Best Travel Insurance Plans.
Compare Premium.
Buy Now.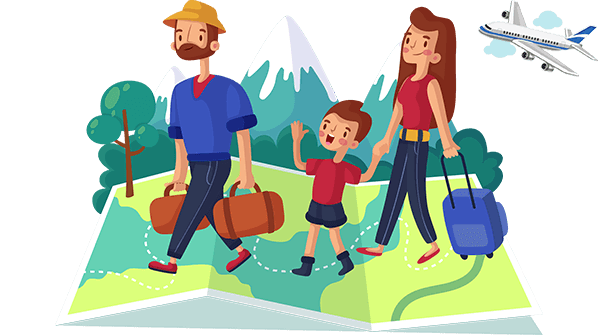 Compare

Family Travel Insurance
Travel has merged into the fabric of modern corporate life as organisations grow more and more global. Although this is undoubtedly good news for a firm, they would also need to consider any potential travel-related issues, such as lost luggage, misplaced crucial documents, or even cancelled flights. Thus, it makes sense for businesses to spend money on group travel insurance. Understanding group travel insurance policies might be easier if you are familiar with individual or family travel insurance coverage.
What is Group Travel Insurance?
Insurance for groups of people is exactly what it sounds like. It is essentially a method of getting travel insurance coverage that will cover a sizable group of people—who aren't necessarily family members—for travelling abroad on tour at the same time. You might be travelling with friends to attend a wedding abroad, participate in activities with a club abroad, or you might just get together to take a wonderful trip. In either case, you'll undoubtedly save thousands of dollars by purchasing travel insurance for the entire group rather than having everyone purchase their policy.
Inclusions & Exclusions Under Group Travel Insurance
Inclusions:
Here are the things included under Group travel insurance.
Cover for emergency medical deportation: This is essential while travelling in a group in a new city, especially if there are elderly individuals and persons with other health issues present. Investigate the costs of the hospital, medications, and repatriation and get insurance accordingly.
Insurance against trip cancellation: This coverage must be equal to what you paid for the trip. Make sure you have enough insurance for the highest claim that could arise for a group plan. Don't forget to also account for the costs associated with paid activities.
Luggage Cover: The luggage and the bags' contents are frequently covered by the luggage cover. Having said that, each policy will have a unique set of provisions and coverage. This insurance can assist your fellow travellers in receiving compensation when their luggage is lost or delayed.
Coverage for individual accountability: You must also have a substantial personal accountability cover per individual on your chosen scheme. Also, the luggage insurance must be sufficient to replace or reimburse you for all of your clothes and other possessions in the event that your luggage is lost.
Cover for key documents: Losing your passport can be a major inconvenience while travelling. Being without one is uncomfortable and extremely dangerous and a surefire way to run afoul of the law. Obtain coverage that will replace your passport for free as soon as possible and will cover.
Accidental hijacking and other catastrophes: There is no end to problems when circumstances are hard. And depending on where you are going and how prone that place is to natural calamities, take insurance against them.
Exclusions:
It is best to read the complete policies, including the fine print, to make sure there are no unpleasant surprises, such as being denied coverage on certain grounds, only to find out later that it is accurate.
Age is more to insurance companies than just a number. In a few instances, the age of some troop members—typically those 65 and older—might prove to be a cause for worry. Even if an insurance company does offer an all-inclusive policy for them, it will likely be very expensive.
If, by chance, some of the people in your group live in another nation and you intend to meet up at a common location, you can also find it difficult to find a group cover.
Other usual exclusions represent those you can anticipate when purchasing individual insurance policies. They include unreported robberies that occurred within the previous 24 hours, pre-existing medical conditions, and accidents brought on by drug or alcohol usage, among other things.
What Are The Add-On Covers in a Group Travel Insurance?
The Insured can opt for the following Add-On Covers when purchasing a Group Travel Insurance Policy:
Pre-Existing Illness cover: Generally speaking, pre-existing disease-related expenses are not covered by group travel insurance policies. The Insurance Company, however, has the right to waive this requirement under specific conditions.
(H3) Adventure-Sports: Group travel insurance policies include medical expenses resulting from injuries sustained when participating in adventure sports like mountaineering, sea sports, etc.; these expenses are typically excluded.
High-Risk Countries: When acquiring a group travel policy for business travel, a list of nations with a high likelihood of conflict, terrorist attacks, or natural disasters can be covered with the prior consent of the insurance company.
Documents Required for Group Travel Insurance
Here is the list of documents required for claiming your group travel insurance policy.
Duly filed claim form
Copy of passport in case of international travel
FIR copy from police in case of thefts and loss
A valid ID proof
In the event of flight delays, booking confirmations, a letter indicating the delay, boarding permits, and ticket copies will be sent.
Original bills and invoices and proof of emergency travel are needed in case of emergency travel obligations.
The original receipt for any medical expenses and bills in case of emergencies.
How To Make a Claim under a Group Travel Insurance Policy?
The method for submitting a claim under group travel insurance is as follows:
Claim Intimation: As corporate insurance plans offer round-the-clock support, the first step is to contact the insurance provider, notify them of the claim, and obtain a claim reference number.
Documentation: Be aware of the paperwork needed for the emergency you are claiming for. To file a claim under a group travel insurance policy, provide the necessary paperwork with the completely completed and signed claim form.
Frequently Asked Questions
Most frequent questions and answers about Family Travel Insurance
Other Corporate Insurance