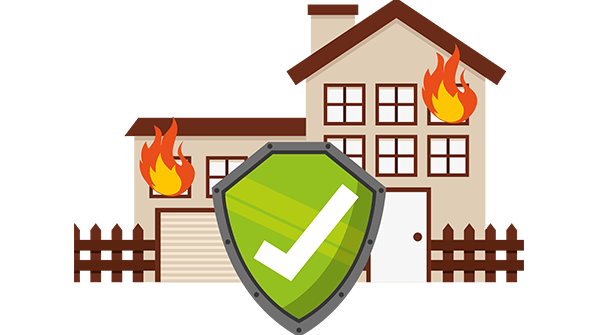 Standard Fire And Special Perils Policy
Standard Fire And Special Perils Policy
Business is like a child to its owners as they build it with their maximum efforts fulfilling their dreams. But any business, be it small, medium, or big, is exposed to lots of perils and risks, especially fire may bring a maximum average effect to the business resulting in a huge financial loss. To protect your business from such risks and damages, Standard Fire and Special Perils Policy (SFSP) has been introduced that acts as a messiah for the business owners.
The Standard Fire and Special Perils Policy (SFSP) is a kind of traditional insurance product that is specially designed to protect your property and its articles from the unforeseen unfortunate accidents caused due to fire and the allied perils. With multiple extensions, this policy not only keeps your property secure but also lessens the extent of the loss or damage that you may suffer causing a huge financial burden, and thus, it provides you relief from such anxiety.
Key Features of Standard Fire and Special Perils Policy
This policy offers a wide range of benefits to the insured. Let's have a look at the key highlights of this policy below.
Wide Coverage – The policy covers the building articles such as household goods, furniture, machinery, electrical fittings, and stock as well.

Protection Against Multiple Risks – This policy safeguards your property and its contents against the loss or damage arising due to fire, explosion, natural disasters, public unrest, aircraft damage, and many more.

Flexible Eligibility – This policy is not only for the business owners but also it can be taken by the owners of individual houses, shops, commercial buildings, manufacturing units, godowns, and so on.
Long-term Policy – While most of the insurances of such type are available only for 1 year, this policy is available for up to 3 years with multiple insurance companies.

Multiple Add-ons – If you want to extend your policy adding additional benefits to keep your insured property more safe and secure, this policy is ideal for you as it offers a great number of extensions like debris removal, forest fire, loss of rent cover, spoilage material damage cover and many more.

Facilities – Facilities like floater policy, declaration policy, floater declaration policy, and many other advantages are available with most of the insurance providers of this policy.
Flexibility – This insurance policy is flexible enough and the coverage can be adjusted according to the requirements of the insured.

Comprehensive Coverage – This policy provides comprehensive coverage for industrial and commercial organizations against the risks of fire and other allied perils.

Smooth and Easy – The Standard Fire and Special Perils Policy features are customer-friendly and easy to avail of. The Policy Wordings are written in lucid and placid language.

Value for Money – The SFSP Policy vows to protect your property and its contents from losses or damages against fire and many other allied risks. So the amount of money you pay as the premium for this insurance is totally worthy.
Eligibility Criteria of Standard Fire and Special Perils Policy
The SFSP Policy keeps itself open for a wide range of people. Here are the mentions of its eligibility criteria below.
Owners of the building and the content inside the building such as furniture and other household objects are eligible for this insurance.

Hospitals, clinics, hotels, diagnostics, lodgings, and many such service providers can avail of this policy.

This policy is open for the shopkeepers, manufacturing enterprises, even the godown keepers.

Those who own educational and financial institutions and research centers can also go for this policy.

Mortgagors, the lessor who provide mortgagees and lessees are eligible for this policy too.

The policy welcomes transporters, stock traders.

The people who run charitable trusts and trustees can avail of this policy.
Covers of Standard Fire and Special Perils Policy
The Standard Fire and Special Perils Policy provide multiple coverages to keep your possessions safe and secure against the loss and damages arising due to fire and other related risks. Here are the mentions of the inclusions under this policy.
Fire – If your insured property gets damaged by Fire, excluding its own fermentation, or natural heating, or spontaneous combustion fire, the company will cover that loss. Even bush fire is covered under this policy.

Explosion or implosion – Any damage or loss that occurred due to explosion or implosion is covered under this policy.

Natural catastrophes – The Standard Fire and Special Perils Policy Bharat protects your property and its articles from natural disasters like lightning, and few other convulsions of nature.

Unfortunate calamities – This insurance policy offers coverage for different unfortunate calamities such as typhoons, tornadoes, tsunami, floods, cyclones, storms, hurricanes, tempests, and some more.

Unexpected perils – Your insured business property is protected under this policy against subsidence of the land on which Your Home Building stands, Landslide, Rockslide.

Public commotions – If you face any loss or damage due to different public unrest such as riots, strikes, or any other public unrest, the company will bear that loss.

Aircraft damage – Loss, Destruction, or damage caused by aircraft, other aerial or space devices, and articles dropped therefrom excluding those caused by pressure waves are covered under this policy.

Damage due to transportation – Any Impact by any Rail/ Road vehicle or an animal belonging to third parties will be taken care of by the company.

Missile testing operation – If you suffer any loss or damage due to the missile testing operation, that financial loss will be compensated by the insurer.

Leakage – If you suffer a loss due to leakage from automatic sprinkler installations, bursting or overflowing of water tanks, apparatus, and pipes, the company will compensate for that.

Pollution or contamination – If any pollution or contamination occurs to your insured property due to the aforesaid incidents and if there is any insured peril resulting from pollution and contamination, the loss will be reimbursed by the insurer.
Add-on Covers Available With Standard Fire and Special Perils Policy?
Additional benefits that are available under this policy are mentioned as follows.
Architects, Surveyors, and Consulting Engineers' Fees up to 3 % of the claim amount.

Expenses incurred for the removal of debris to clear the site up to 1 % of the claim amount.

Machinery and equipment temporarily removed for repairs, cleaning, renovation, or other similar purposes for a period of 60 days

Debris removal (a certain percentage of cost is usually covered depending on the policy terms)

Forest fire

Spontaneous combustion

Deterioration of cold storage stocks

Spoilage material damage cover

Leakage and contamination cover

Startup expenses cover

Loss of rent cover

Alternative accommodation cover

Impact damage due to insured's own vehicle, forklifts, and the like and articles dropped there from.

Omission to insure Addition, Alteration, and Extension

Acts of terrorism cover
It has to be remembered that the above list is indicative in nature and not exhaustive. The aforesaid list of add-ons may differ from the insurer to the insurer.
Major Exclusions of Standard Fire and Special Perils Policy
There are some exclusions that are not covered under this policy and the important mentions are as follows.
Willful damage – If you suffer any loss deliberately or intentionally, the policy does not bear that loss.

War – If due to war, war-like operations, or invasions, you suffer loss, the company does not take responsibility for that.

Nuclear activities – Any damage caused due to radioactive rays or nuclear activities or by ionizing is not covered under this policy.

Theft or burglary – If you face any loss or damage rose out of theft, burglary, or housebreaking, the company will not compensate for that.

Change of temperature – Loss, destruction, or damage to the stocks in cold storage premises caused by the change of temperature is not covered under this policy.

Precious possessions – Loss, destruction, or damage to bullion or unset precious stones, any curios or works of art for an amount exceeding Rs.10000/-, goods held in trust or on commission, manuscripts, plans, drawings, securities, obligations, or documents of any kind, stamps, coins or paper money, cheques, books of accounts or other business books, computer systems records, explosives unless otherwise expressly stated in the policy will not be compensated by the insurer.

Electrical things – Loss, destruction, or damage to any electrical machine, apparatus, fixture, or fitting arising due to over-running, excessive pressure, short-circuiting, arcing, self-heating, or leakage of electricity is a part of the exclusion.

Loss of earnings – Loss of earnings, loss by delay, loss of market, or other consequential or indirect loss or damage is not compensated by the company.

Missing property – In case of property is missing or has been mislaid will not be covered by the policy.

Action of Government – Temporary or permanent dispossession, confiscation, commandeering, requisition, or destruction by the order of the government or any lawful authority will not be covered.

Removal of contents – Loss or damage to any insured property removed from your home or the business premises to any other place is not included under the policy coverage.
How Is The Sum Insured Calculated?
The sum insured of this policy is determined on the basis of the few factors and they are as follows.
Market Value Basis – It is a requirement of this Insurance that the sums insured stated in the Schedule, as declared by the insured shall not be less than the "Market value" of the property insured.

Reinstatement Value Basis – The policy seeker may also avail of an option to insure the property (except for stocks) on a "Reinstatement value basis", which shall be the cost of replacing or reinstating on the same site or any other site with the property of the same kind or type but not superior to or more extensive than the insured property when new as on date of the loss, subject to special provisions contained elsewhere in this Policy.
Claim Settlement Process of Standard Fire and Special Perils Policy
For availing a smooth and easy claim settlement process you can follow the below-mentioned steps:
If your insured property or the contents of it suffer any loss or damage, you need to intimate the insurer immediately, at least within 24 hours from the commencement of the incident.

A surveyor will be appointed on the behalf of the insurance company to assess the damage or loss and to make a report on that. It would be advisable to keep a copy of that report as it may help you in future reference.

Do not dispose of or initiate any repairs for the damaged contents or goods without the consent of the surveyor or insurer.

All the proofs, witnesses, and required documents are needed to be submitted along with the duly filled claim form.

Preserve and collect evidence, take and preserve photographs and produce wherever required.

Your claim approval highly depends upon the report of the surveyor. So do not produce any wrong or misleading information. And, cooperate with the surveyor and the insurer.

Whenever required report to police (FIR), and appropriate concerned legal authorities and provide a copy of that to the surveyor and insurer.

It is advisable to keep a copy of the Standard Fire and Special Perils Policy and to produce it before the insurer and the surveyor.

If the company finds the case fit and genuine, it would approve the claim, else the claim would be rejected.
Required Documents For The Claim Settlement Procedure.
Address of the insured property

Policy number

Date and time of the accident and the location of loss and any proof to support it

The police report: It should include copies of your written complaint to the police and the First Investigation Report (FIR) and the report of any other appropriate concerned legal authorities if any.

Fire brigade report

Duly filled and completed claim form in all respects

Detailed claim bill with necessary bills and vouchers

Documentary evidence about the value of property damaged through an invoice, bill, books of account, etc.

A final survey report as made by the surveyor

Copy of your Standard Fire and Special Perils Policy certificate

Photographs, if any
Few Insurance Companies That Provide Standard Fire and Special Perils Policy in India
There are multiple insurance companies in India that provide different types of burglary insurance policies with various benefits and the mentions are as follows.
HDFC ERGO

Tata AIG Insurance

The Oriental Insurance Company Limited

Reliance General Insurance

National Insurance

Future Generali

SBI General

ICICI Lombard

Chola MS General Insurance

Bharti AXA General Insurance Company Limited
Frequently Asked Questions