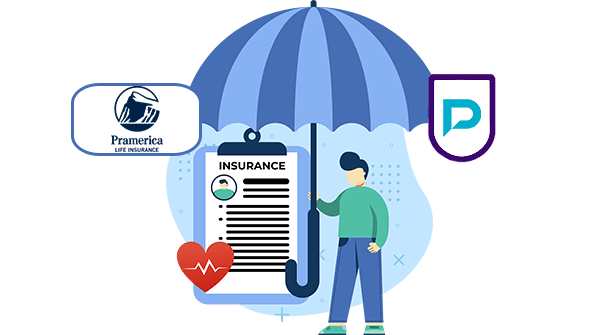 Check LIC Policy Status Online & Offline
Life Insurance Corporation provides a variety of online services to ensure that its customers' needs are met quickly. LIC's e-services provide access to nearly all of the features that were previously only available through the branches. 
In order to keep the policyholder informed about LIC payments as well as other important events, the company provides the option of keeping track of the LIC statement online and other policy-related information. There are various means through which you can check LIC policy status, which is explained in detail as we move along the article. 
The options listed below, along with relevant information, will ensure that you never miss a payment for your LIC policy premium.
How To Check LIC Policy Status Via Online Method?
The ways to check LIC policy status via the online method are discussed in the subtopics below.
By logging on to the LIC India website with their username and password, users can view information about premium payments, group schemes, accumulated incentives, and more. If you are a registered user, follow the procedures below to check the status of your LIC policy:
Open the LIC India website and select "Customer Portal" from the "Online Services" menu.
It will take you to the login screen, where you should pick "Registered User" from the drop-down menu.
To begin the session, enter your username, date of birth, and password, and then click "Go".
This will take you to a page that lists all of the policy tools available to registered clients.
Now choose "View Enrolled Policies" from the list of alternatives.
This will take you to a page that lists all of the plans you've enrolled in, as well as the date of enrollment, premium amount, and vested bonuses.
By clicking on the policy number, you can now see the status of your coverage.
If you're a first-time user, you'll need to complete the online registration form and select your login credentials. A confirmation email will be sent to your registered email address following successful registration. Click on the link in the confirmation email to be taken to a page where you can link your policy to your user account. Enter the date of your policy, such as the policy number, premium amount, date of birth, and so on, on this page, and then click the submit button. If the information submitted is correct, the policy's status will be displayed immediately. If the information you submitted is wrong, you will receive an error message and an email reminder.
How To Check LIC Policy Status Via Offline Method?
Customers can also check their policy details without logging in to the LIC website using the SMS and phone call service. So, even if you aren't registered with the user portal, you may still check the status of your policy via the LIC's call and SMS services.
For special needs, send an SMS to 56767877 or 9222492224 with one of the predetermined codes shown in the table. Get policy updates on your phone without trouble!
| | |
| --- | --- |
| Inquiry Type | SMS Code (Send To 56767877) |
| To Check The Amount Of Loan Available | Type ASKLIC<Policy Number>LOAN |
| To Know About Installment Premium | Type ASKLIC<Policy Number>PREMIUM |
| To Know About Revival Amount | Type ASKLIC<Policy Number>REVIVAL |
| To Know About Bonus Amount | Type ASKLIC<Policy Number>BONUS |
| To Check The Status Of Nomination Details | Type ASKLIC<Policy Number>NOM |
LIC offers specialized customer zones that can assist you with any LIC policy-related questions you may have. The customer zones are open from Monday to Saturday and offer individualized support with all of your insurance-related questions, information, and service requests.
Here are the contact details of various cities:
Name Of The City
Contact Number
Address & Email
Agra
0562-2524912

Jeevan Prakash Building,

Sanjay Place, M. G. Road,

P. B. No. 1022,

Agra-282002

Email: customerzone_agra@licindia.com

Ahmedabad
91-7927461662/27461032/27490619

Maruti Complex, Subhash Chowk,

Gurukul Road, Memnagar,

Ahmedabad- 380052

Email: customerzone_ahmedabad@licindia.com

Amritsar
+91-1832560673, 1832226004

SAINIK BHAWAN,

OPP. G.P.O., COURT ROAD,

AMRITSAR – 143001

Email: customerzone_amritsar@licindia.com

Bangalore
+91-8022966528, 22966553

No.13, 39th A Cross, 9th Main Road,

5th Block, Jayanagar,

Bangalore- 560 041

Email: customerzone_bangalore@licindia.com

Bangalore II
+91-82122966896, +91-82122966836

No. 817, Girija Complex, KORAMANGALA 8TH BLOCK, Bangalore-560095

E-mail: customerzone_banglr2@licindia.com

Belgaum
+91-8312443857, 2443856

LIC Of India, Jeevan Prakash

Divisonal Office, Basaveshwar circle (Goves)

Belgaum-590 011

E-mail: customerzone_belgaum@licindia.com

Bhagalpur
+91-6412610011, 2610033, 2610099

Mani Complex, Jail Road, Tilkamanjhi,

Bhagalpur-812001

Email: customerzone_bhagalpur@licindia.com

Bhubaneshwar
+91-6742573910, 2573911

Plot No-654, Bomikhal, Puri Cuttuck Road,

Bhubaneswar – 751006

E-mail: customerzone_bhubaneswar@licindia.com

Bhopal
+91-7552570043, 7552676254, 7552576254

M.F 19 & 20, B-Block, Mansarovar Complex,

Nr HABIBGANJ RAILWAY STATION,

Bhopal-462016

Email: customerzone_bhopal@licindia.com

Chandigarh
+91-1722631075

S.C.O 107, First Floor, Sector 47-C, Chandigarh – 160047

Email: customerzone_chandigarh@licindia.com

Chennai
+91-4428611912

DO-1, LIC Building, No.153, Anna Salai, P.B.No. 324

Chennai-600002

Email: customerzone_chennai@licindia.com

Chennai-II
+91-4425331915/4425331914/4425331912

No 47, Armenian Street, Oriental Insurance Building,

Chennai – 600001

Mail ID: customerzone_ch-2@licindia.com

Coimbatore
+91-4222303318/2304255/2303565

UNITED INDIA BUILDING (GROUND FLOOR), AVINASHI ROAD,

Coimbatore 641 018

Mail ID: customerzone_cbe@licindia.com

Cuttack
+91-6712307883, 6712307889

1st Floor Of State Bank Of India, Kanika Square,

Cuttack – 753008

Email: customerzone_cuttack@licindia.com

Delhi
+91-1123310868, 1123711806

H-39, New Asiatic Building,

Conn.Circus,

New Delhi-110001

Email: customerzone_delhi@licindia.com

Delhi – II
+91-1122785929, 1122785930

G-2/B-15, LSC, Mayur Vihar Ph-2,

DELHI-110091

Email: customerzone_delhido2@licindia.com

Dhanbad
+91-3262225344, 2225345

Sri Ram City, 1ST FLOOR, SARAIDHELA, DHANBAD.

Jharkhand 828127

Mail Id: customerzone_dhanbad@licindia.com

Dwarka
+91-1128042583, 1128042584, 28042585

FIRST FLOOR, SUDEEP PLAZA

PLOT NO-3, SECTOR-11

DWARKA – 110075

Mail ID: customerzone_dwarka@licindia.com

Ernakulam
+91-4842363680, 2364680

DIVISIONAL OFFICE, 8th FLOOR,

Jeevan Prakash,

M. G. Road,

Ernakulam – 682 011

P.B. No. 1133

Mail Id: customerzone_ernakulam@licindia.com

Gandhinagar
+91-7923240083/23240383

104 and 105, Hotel Arcade, Above Radhe Sweets,

Sector -11, Gandhi Nagar, Gujrat – 382011

Email: customerzone_gandhinagar@licindia.com

Goa
+91-8322434404/2230760

Upper 1St Floor, 'B' Wing, Sushila Building,

18Th June Road, Panji, Goa – 403 001

Email: customerzone_goa@licindia.com

Gulbarga
+91-8472233030

No. 3-218/219, Rukmini Chambers,

Behind Super Market, Ghazipur,

Gulbarga – 585101

Email ID: customerzone_gulbarga@licindia.com

Guntur
+91-8632211476, 8632211562

D.NO.12-21-58, 1st Floor,

Gouri Shankar Theatre Road, Kothapet,

Guntur-522001

Email ID: customerzone_guntur@licindia.com

Guwahati
+91-3612450389

TRIBENI COMMERCIAL COMPLEX,

FIRST FLOOR, BHANGAGARH, G S ROAD,

Guwahati – 781007

Email: customerzone_guwahati@licindia.com

Gwalior
+91-7512448641, 7512448611

Madan Tower,

Sanatan Dharm Mandir road (SDM Road)

Jaynendraganj, Laskar, Gwalior (MP) – 474009

Email: customerzone_gwalior@licindia.com

Gurgaon
+91-1242576060, 2570060, 257806

SCO 60, First Floor, District Centre, Sector-56, Gurgaon – 122011

Email ID: customerzone_gurgaon@licindia.com

Hubli
+91-8362212621, 8362212622

Opp. Samyukta, Karnataka Press, Koppikar Road,

Hubli-580020

E-Mail: customerzone_hubli@licindia.com

Howrah
+91-3326374387/88

6/5, G.T.Road (South), Near Howrah Maidan, Pin-711101

E-Mail: customerzone_howrah@licindia.com

Hyderabad
+91-4023420730, 23420740, 23420761

6-3-1090/C/4, Hosanna Towers, 1st Floor, Above Andhra Bank,

Somajiguda,

Hyderabad – 500082.

Email: customerzone_hyderabad@licindia.com

Indore
+91-7312535567, 7312533523

15/2, Race Course Road,

Shop No. L G -5, Darshan Mall,

Indore – 452002

Email: customerzone_indore@licindia.com

Jabalpur
+91-7612404606, 7612403194

JEEVAN JYOTI,

SCHEME NO 18, CIVIC CENTRE, MARHATAL,

Jabalpur- 482001

Email: customerzone_jabalpur@licindia.com

Jaipur
+91-1412744342, 1412742845

CF/O 3 and 4,

Central bank First Floor,

Nehru Place, Tonk Road,

Jaipur – 302015

Email: customerzone_jaipur@licindia.com

Jalandhar
+91-1812480967, 1812480968

S.C.O. 3, Crystal Plaza,

Chhoti Baradari,

Jalandhar – 144022

Email: customerzone_jalandhar@licindia.com

Jamshedpur
+91-6572443228, 6572443229

Ganpati Complex, Near Ram Lila Maidan,

Kashidih, Sakchi,

Jamshedpur- 831 001

Email: customerzone_jamshedpur@licindia.com

Jammu
+91-1912479791

Flat No 62, Sector No. 8,

Trikuta Nagar,

Jammu – 180012,

Email: customerzone_jammu@licindia.com

Jodhpur
+91-2912657117

Ummed Hospital Road,

Shanicharji Ka Than, Jodhpur – 342001

E-MAIL ID: customerzone_jodhpur@licindia.com

Kanpur
+91-5122333998, 2313821

16/275, M.G.Marg,

Kanpur -208001

Email: customerzone_kanpur@licindia.com

Karnal
+91-1842266024, 1842268444

3, GuruTeg Bahadur Market, Near Ambedkar Chowk, Karnal – 132001

Email ID: customerzone_karnal@licindia.com

Kolkata
+91-3322124172, 22124175, 22124176

HINDUSTHAN BUILDING, GROUND FLOOR,

4, CR Avenue,

Kolkata- 700072,

Email: customerzone_kolkata@licindia.com

Kolkata(S)
+91-3323370642

KSDO, Jeevan Prabha, DD-5, Sector-1, Salt Lake City, Kolkata-700064

E-Mail Id:

customerzone_KOLKATA-SUB@licindia.com

Kolkata II
+91-3324198476, 3324198845, 3324198540

MERLIN LINK BUILDING, 1ST FLOOR

166B, S.P. Mukherjee Road,

Kolkata- 700 026

Mail: customerzone_kolkata-do2@licindia.com

Kottayam
+91-4812302408/2581422/2585411

JEEVAN PRAKASH, KURIAN UTHUP ROAD, NAGAMPADAM, Kottayam-686001

E-Mail Id: customerzone_ktm@licindia.com

Kozhikode
+91-4952725581/82

Mas Arcade, 1st floor, Vaikkom Muhammed Basheer Road, Kozhikkode-673001

E-Mail ID: customerzone_kkd@licindia.com

Lucknow
+91-5222614782

Shop Nos. 9 & 10

Jeevan Bhavan -1

(Ground Floor) 43- Hazaratganj,

Lucknow – 226001

Email: customerzone_lucknow@licindia.com

Ludhiana
+91-1612771438, 1612771310

Opp. Old Dandi Swami Mandir,

Civil Lines,

Ludhiana – 141001

E-Mail: customerzone_ludhiana@licindia.com

Madurai
+91-4522372395, 4522372737

79 TPK Road,

Ramalinga Complex

Andalpuram

Madurai-625003

Email: customerzone_madurai@licindia.com

Mangalore
+91-8242426255, 2425955

Ground Floor,

LIC Popular Building, K.S.Rao Road,

Hampankatta, Mangaluru – 575001

E-Mail: customerzone_mangalore@licindia.com

Mumbai – I
+91-2226788943

9, Mayfair Meridian, Caesar Road, Amboli, Near St.Blaise Church,

Andheri(W),

Mumbai-400058

Email: customerzone_mumbai-do-1@licindia.com.com

Mumbai – II
+91-2227723592/27725968

Shop No. 1, 2, 3, 20, Om Sai Dutta,

Plot No-32/A, Sector – 20,

Nerul (West),

Navi Mumbai – 400 706,

Email: customerzone_mumbai2@licindia.com

Mumbai – III
+91-2220891214 /20891215

First Floor, Jeevan Bima Nagar, Shopping Center,

Above Karnataka Bank, Borivli (W)

Mumbai – 400103

Email: customerzone_mumbai-do3@licindia.com

Mumbai – IV
+91-2228482906 /28482907

Madhuram Hall, First Floor,

Harishankar Joshi Road, Dahisar – East,

Mumbai 400 068

Email: customerzone_mumbai-do4@licindia.com

Muzaffarpur
+91-6212281023

Nilu Complex, Near Pani Tanki Chawk,

Ramna ,

Muzaffarpur.

Pin Code – 842002.

Email ID: customerzone_muzaffarpur@licindia.com

Mysore
+91-82124341096, 2341099

NO.2910,

Kantharaj Urs Road, Saraswathipuram,

Mysore – 570009

Email ID: customerzone_mysore@licindia.com

Nagpur
+91-7122450080/2450083

Andhra Insurance Building, Besides Sule High School, Near Mehadia Square, Dhantoli,

Nagpur 440012

Email: customerzone_nagpur@licindia.com

Nerul
+91-27725968

Shop No 1,2,3,20, Om Sai Dutta, Plot No 32/A Sector 20 Nerul(W) Navi Mumbai.

E-Mail: customerzone_mumbai2@licindia.com

Noida
+91-1202485028, 2485399

B1A/14, Sector-51

G.B.NAGAR

Noida – 201301

E-Mail: customerzone_noida@licindia.com

Patna
+91-6122332033

1st Floor, BSFC Building,

Fraser Road,

Patna-800001

E-Mail: customerzone_patna@licindia.com

Pune
+91-2025539790

6/7, Jeevan Prakash Building,

Shivajinagar, Pune

411005

Email: customerzone_pune@licindia.com

Raipur
+91-7712255008, 4912812, 4028622

Shop No. 110/111,

Guru Ghasidas Plaza, Amapara,

Address 3 G.E. Road, Raipur (C.G.),

Raipur- 492001

Email: customerzone_raipur@licindia.comLIC

Rajkot
+91-2812581318/2581319

Akshar Complex, Nr. G. K. Dholakiya School,

Opp. Patel Kanya Chhatralaya, Uni. Road

Rajkot-Gujarat,

360005

Email: customerzone_rajkot@licindia.com

Salem
+91-4272410588/4272420589

JOHNSONPET, OPP. ATC DEPOT

SALEM-636007

P.B.No. 776

Mail ID: customerzone_salem@licindia.com

Secunderabad
+91-4027820146, 27820136

D.No. 12-8-422/3, Main Road, Mettuguda,

Secunderabad-17

E-Mail: customerzone_secunderabad@licindia.com

Siliguri
+91-3532545737/2545739

Diamond Plaza, 1st Floor, DONBOSCO MORE (Near Bhaktinagar Check-Post), P.O. SEVOKE ROAD, SILIGURI,

E-Mail Id: customerzone_Siliguri@licindia.com

Surat
+91-2612770227

Aditya Complex,

Opposite Prime Arcade,

Anand Mahal Road Adajan,

Surat – 395009

Email:

customerzone_surat@licindia.com

Thane
+91-2225423226/25421474/25421475

Pinak Galaxy, 1st floor,

Kapur Bawdi, Ghodbunder-Bhiwandi Road, Thane

400607

Email: customerzone_thane@licindia.com

Thrissur
+91-4872436911, 2436922, 2436933, 2436944

Jeevan Prakash, Thiruvambady, Kovilakathumpadam,

Thrissur – 680022

E-Mail ID: customerzone_thrissur@licindia.com

Tirunelvelli
+91-4622577070

No.11, Tiruchandur road, Palayamkottai, TIRUNELVELI – 627002

Email ID: customerzone_tvl@licindia.com

Trichy
+91-4312741735

D-72, 7th Cross, North East Extension, Thillai Nagar, Trichy 620 001

Email: customerzone_tcy@licindia.com

Trivendrum
+91-4712322622, 4712322333

LIC Divisional Office

Jeevan Prakash, Pattom,

Trivandrum

Kerala-695004

Email: customerzone_tvm@licindia.com

Varanasi
+91-5422220457

C 32/2, Prem Complex,

ChanduaSatti, Opposite Bharat Mata Mandir,

Sigra, Varanasi- 221001,

E-Mail Id: customerzone_vns@licindia.com

Vellore
+91-4162255658, 4162256615

263B, RTO ROAD, PHASE II, POWER PLAZA COMPLEX, SATHUVACHARI, VELLORE, TAMIL NADU – 632009

Email ID: customerzone_vlr@licindia.com

Vijaywada
+91-8662499595, 2499596

D NO: 59-14/2, GAYATHRI NAGAR,

Upstairs of Lakshmi Vilas Bank,

BENZ CIRCLE,

Vijaywada – 520010,

Email: customerzone_vijaywada@licindia.com

Visakhapatnam
+91-8912558254, 2513404

47-14-3, Potluri Classic, 1st Floor,

Dwarakanagar,

Vishakhapatnam- 530 016

Email: customerzone_vizag@licindia.com

Warangal
+91-8702574034, 2574038

Ist Floor, Opp Arts & Science College, Subedari, Hanmakonda, P.B. No. 1,

Warangal-506001

Email ID: customerzone_warangal@licindia.com
Why Check Your LIC Policy Timely?
Here's why it's crucial to monitor the status of your LIC policy:
A life insurance policy protects you from unanticipated disasters, but it's important to check on the status of your policy on a regular basis to make sure it's giving you the greatest potential returns. After all, there's no purpose in having insurance that hasn't been renewed. If you haven't checked yours recently, set aside some time today to do so.
You will also be aware of the interim bonus and other pertinent information if you evaluate your insurance on a regular basis. While reviewing the policy online, you'll see the 'Feedback' option, which you can use to offer queries and essential recommendations.
If the premiums are not paid in time, there will be a lapse in your policy, and you will not be able to leverage the benefits offered by your policy. Therefore, checking the status of your LIC policy is important for enjoying the benefits of the plan.
What Are The Things To Consider While Checking LIC Policy Status Online?
While checking the policy status online, you should always keep your policy details, such as policy name and number, along with you.
The enrolling process is required to provide permitted access to the LIC's specialized functionalities, such as a request to update the address.
When you enter your policy premium details while enrolling your LIC policy on the LIC portal, remember to enter the premium amount without considering tax.
After you've completed the necessary checks with your policy's agenda, you'll be able to validate all of your policies.
Make sure to submit a valid email address when enrolling in the LIC portal, as it will be utilized for future contact.
Frequently Asked Questions