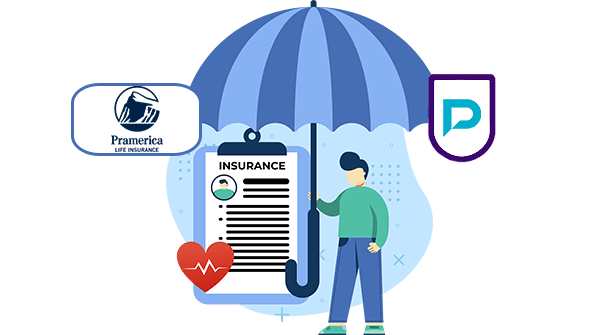 Pramerica Life Insurance Claim Settlement Process
Pramerica Life Insurance Claim Settlement
If you are looking to potentially safeguard the financial future of your family or even your own life against evolving medical needs, you cannot overlook the importance of life insurance. No matter how much life insurance you have purchased, if you don't know how to file a claim, you could end up paying a price.
If you own the Pramerica life insurance policy, then you may rest assured that the claim process shall be hassle-free and convenient within just a few simple steps. With 133 branches and over 1.5 million lives secured, the company features a high claim settlement ratio, ensuring your claims will be settled in the most convenient manner. If you want to file a claim, then you can rest assured that Pramerica will easily settle your claim without any difficulty.
Steps To Claim Your Pramerica Life Insurance
Here is the list of the following steps to claim your Pramerica life insurance policy.
Step 1: Go to the official website of Pramerica life insurance.
Step 2: After that, you will need to scroll down to the end and you will see "Claims" along with different options.
Step 3: Simply click on it.
Step 4: You then be directed to the page wherein you need to fill in details under "Online Death Claim Intimation". Enter your personal details like your name, phone number, email id, city, state, and address.
Step 5: After filling in details, click on "Next".
Step 6: You will need to enter your claim details like policy number, name of the life assured, your relationship with life assured, type of claim, date of birth, cause of the event, and then enter the captcha code.
Step 7: Finally, click on the Submit button to proceed with your life insurance claim.
Documents Required For Pramerica Life Insurance Claims
The following are the documents required for making claim against your Pramerica life insurance.
Completely filled Death Claim Form
Death Certificate (A)
Original Policy Document
In case of Accidental Death
FIR (A)
Post-Mortem Report (A)
Mandatory Documents of Nominee:
Photo Identification Proof, Address Proof and Relationship Proof with LA (A)
Original Cancelled Cheque bearing name OR
Photocopy of Passbook or Bank Statement (Bank Attested/ OSV by PLIL Branch Operations) (not more than 3 months old)
Here is the list of the additional documents that could help process Claims faster.
For Non-Accidental Death Claim
Last Medical Attendant's Report
Hospital treatment records (A)
Admission note, Discharge/ Death Certificate summary from Hospital/Nursing Home/ Clinic etc.
All records from the date of admission till the date of death
Hospital Authority Letter
Cremation Certificate
For Accidental Death Claim
Newspaper cuttings (A)
Police Inquest Report / Panchnama
Final Police Investigation Report
For Critical Illness Claim
Critical Illness Claim Form
All past and current Discharge Summary
All past and current medical/ hospital records – consultation notes, admission notes & test reports
For Salaried:
Employer Leave records for last year
* (A) – Attestation – documents OSVed by a PLIL Branch Operations
In addition to the above-listed documents, Pramerica Life Insurance Limited reserves the right to call for any additional documents. Submission of claim form/ any other documents should not be construed as acceptance of the claim.
How Does a Claimant Communicate His/ Her Dissatisfaction With Regards To Pramerica Life Insurance Claim Decision?
For any clarification, complaint, or dissatisfaction claimant/nominee can contact Grievance Redressal Procedure Customer Service Help Line: 1800-102-7070 (Toll-Free) (9:30 AM to 6:30 PM from Monday to Saturday)
Email: contactus@pramericalife.in 
Website: https://pramericalife.in/ContactUs
Communication Address:
Customer Service,
Pramerica Life Insurance Limited,
4th Floor, Building No. 9 B, Cyber City,
DLF City Phase III, Gurgaon – 122002