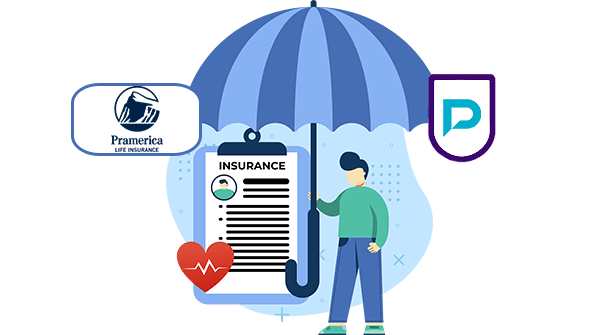 Pramerica Life Insurance Customer Support
Pramerica Life Insurance Customer Care
Pramerica Life Insurance is committed to delivering a positive customer experience for all policyholders all the time. The company's customer service is specifically designed to ensure they can solve their queries within no time. To enhance the convenience of its customers, Pramerica offers many services so that they can save their precious time without visiting the branch. To get your concerns answered, remove any uncertainty, and find out more about the life insurance policies that interest you, get in touch with their insurance customer care team.
Read on to know more about Pramerica life insurance's customer support.
How To Contact Pramerica Life Insurance Company?
Here are the different ways in which you can contact Pramerica life Insurance customer care executives:
Parameters
Details
Call

1860 500 7070 (Local charges apply)

9:30 AM to 6:30 PM (Monday-Saturday)

SMS

SMS: 'LIFE' to

5607070 or +91 9289207070

Email
contactus@pramericalife.in
Social Media Handles

Facebook:

https://www.facebook.com/PramericaLifeInsurance/

Twitter:

https://twitter.com/PramericaLife

LinkedIn:

https://www.linkedin.com/company/pramerica-life-insurance/

Instagram:

https://www.instagram.com/pramerica_lifeinsurance/

Registered Address

Pramerica Life Insurance Limited,

4th Floor, Building No. 9 B,

Cyber City, DLF City Phase III,

Gurgaon-122002
Pramerica Life Insurance Branches & Their Office Contact Details
Although there are definitely many more Pramerica life insurance branches around India, we have selected a few of the more important ones so that you can get an idea and save time. If you want to locate the nearest branch https://www.pramericalife.in/LocateUs today!
| | |
| --- | --- |
| Branch Location | Branch Address |
| New Delhi | Pramerica Life Insurance Limited, Third Floor, Arunachal Building, Office No. 303, 19 Barakhamba Road, Pin Code – 110001. |
| New Delhi | Pramerica Life Insurance Limited, Plot No. 6, Second Floor, Unit No. 201, Aggarwal Plaza, Sector- 12 Dwarka, Pin Code – 110075, New Delhi |
| Andhra Pradesh | Pramerica Life Insurance Limited, HRT Plaza, Fourth Floor, D. No-40-1-100B/1, Nara Chandrababu Naidu Road, Benz Circle, Vijayawada, Pin Code – 520010, Andhra Pradesh |
| Chandigarh | Pramerica Life Insurance Limited, First & Second Floor, SCO No. 2941 & 42, Sector 22 C, Pin Code -160022, Chandigarh |
| Goa | Pramerica Life Insurance Limited, Fourth Floor, Unit No. 407, Plot No. 8, Patto Plaza, Tuluka Tiswadi, Panjim, Pin Code- 403108 |
| Haryana | Pramerica Life Insurance Limited, Fourth Floor, Building No. 9, Tower -B, Cyber City, DLF City Phase-III, Gurgaon, Pin Code – 122002, Haryana |
| Himachal Pradesh | Pramerica Life Insurance Limited, Ground Floor, Butail Complex, College Road, Near KCC Bank HQ., Dharamshala, Pin Code – 176215, Himachal Pradesh |
| Jammu & Kashmir | Pramerica Life Insurance Limited, Ground Floor, Elaf Residency, Khewat No. 114, Khasra No. 1449, Gogjibagh, Narsingh Garh Teh Khas (Wazir Bagh), Srinagar, Pin Code – 190008, Jammu & Kashmir |
| Jharkhand | Pramerica Life Insurance Limited, Fourth Floor, Dhiren Tower, Q-Road, Sakchi Boulevard Shop Area, Bistupur, Jamshedpur |
| Kerala | Pramerica Life Insurance Limited, Third Floor, Printek Towers, Panavila Junction, Bakery Junction Road, Thiruvananthapuram, Pin Code -695014 |
| Ladakh | Pramerica Life Insurance Limited, Second Floor, Antilope Complex, Above YES bank, Main Market, Leh, Pin Code- 194101, Ladakh |
| Madhya Pradesh | Pramerica Life Insurance Limited, First Floor, CP Square, Opposite Old Vidhan Sabha, Malviya Nagar, Bhopal, Pin Code -462003 |
| Maharashtra | Pramerica Life Insurance Limited, Office Unit No. 01, Ground Floor, Building No. 11, Solitaire Corporate Park, CTS No-131A/1-A, Chakala, Andheri-Ghatkopar Link Road, Andheri-East, Mumbai, Pin Code-400093, Maharashtra |
| Manipur | Pramerica Life Insurance Limited, First Floor, Ancelin Palace Building, Mantripukhri, Opposite CRPF Camp, Imphal East, Pin Code -795002, Manipur |
| Punjab | Pramerica Life Insurance Limited, Second Floor, Unit 3 & 4, Plot No. 49, JK Tower, The Mall, Amritsar, Pin Code -143001, Punjab |
| Rajasthan | Pramerica Life Insurance Limited, Second Floor, Unit No. 205 & 206, City Corporate Building, Malviya Marg, C-Scheme, Jaipur, Pin Code – 302001, Rajasthan |
| Sikkim | Pramerica Life Insurance Limited, Shop No. 1, Sixth Floor, Rai Niwas, Near Valley Vista Resort, Penlong Block, Gangtok, Pin Code – 737103, Sikkim |
| Tamil Nadu | Pramerica Life Insurance Limited, Third Floor, Door No. 1073 & 1074, A-Block, Raheja Centre, Avinashi Road, Coimbatore, Pin Code – 641018, Tamil Nadu |
| Telangana | Pramerica Life Insurance Limited, 314/A, Third Floor, Bhuvana Towers, Commercial Complex, Sarojini Devi Road, Secundrabad, Pin Code – 500003, Telangana |
| Uttar Pradesh | Pramerica Life Insurance Limited, First Floor, Commercial Plot No. 121/1, Mangal Pandey Nagar, Meerut, Pin Code- 250004, Uttar Pradesh |
| Uttarakhand | Pramerica Life Insurance Limited Second Floor, NCR Plaza, Hathibarkala, Rabindranath Tagore Marg, New Cantt. Road, Dehradun, Pin Code – 248001, Uttarakhand |
| West Bengal | Pramerica Life Insurance limited, Fourth Floor, Krishna Building, Plot No. 697, Anandapur, Opposite Manovikas Kendra, Kolkata, Pin Code – 700107, West Bengal |
Services Offered by Pramerica Life Insurance Customer Care
The following are only a few of the services offered by Pramerica Life Insurance's customer service division:
Settle claims and queries
Transfer ownership of a policy
Change in address of the policyholder
Change of telephone number
Tracking a claim
Requesting a hard copy of the policy