Renew in just 5 mins.
No Inspection.
No Paper Work
* Subject To Underwriting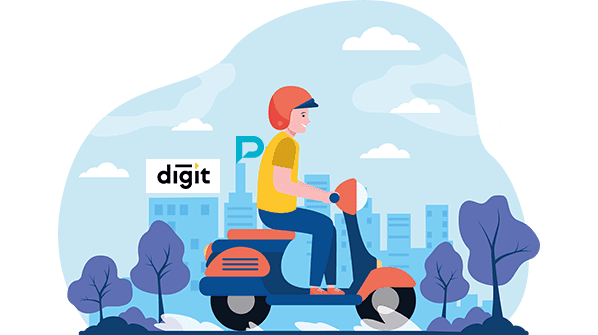 Compare

Bike Insurance Plans
Renew Digit Bike Insurance Policy
If you think that buying a bike insurance policy for the protection of your two wheeler would end your responsibilities, you are highly mistaken because after purchasing a policy, the next important thing to do is to remember the renewal date and to know the detailed renewal process. If you have a bike insurance policy under Digit General Insurance Company, then your job has already become easier as this insurer has built its official website in such a way that even an internet blind can renew his/her policy without any hassles. Digit Insurance has been popular among consumers for its customer-friendly approach. On top of that, introducing the online method has made it more convenient. To know more about the renewal process of your bike insurance plan under this company, have a look at the following mentions.
What Are The Steps of Digit Bike Insurance Policy Renewal?
If you follow the below steps properly, your two wheeler policy will be renewed within just a few clicks. Have a look at the following steps.
Go to the official website of Digit General Insurance Company.
On the top of the homepage, you will find the Renewals tab. Click on that.
On the landing page, you need to put your registered mobile number in the right place to log in to your online customer portal under this company. You can also sign in with your policy details.
Once you log in to your account, put the required details as demanded by the insurer, and click on the Renew option. In this stage, be careful while you are putting the details because a single piece of wrong information can bring errors to the entire renewal process.
Once you are done with putting the necessary details, the renewal amount will be displayed before you. Check it twice.
If no discrepancy is found, pay the amount by choosing one of the most convenient methods of payment available with the insurer.
Upon successful payment, you will receive a notification about the same in your registered mobile number and/or email ID.
Save the document for future reference. You can also print it out to be on the safer side.
Apart from the online procedure, you can also renew your bike insurance policy under this insurer by visiting the nearest official branch of the company. their customer executives are experienced and knowledgeable enough to guide you through the entire renewal process.
Facing Digit Bike Renewal Problems? Just Contact Digit Insurance
You can contact the insurer by choosing any of the following methods in case you have problems renewing your Digit bike policy.
You can get connected to the company by directly calling their phone number, 18002585956.
You can also write to the company availing of their email facility at hello@godigit.com. In that case, you need to provide some additional details, such as policy details.
You can WhatsApp the insurer at 7026061234. This number cannot be used for calling.
Apart from the above online methods, you can also contact the company offline by visiting one of its official branches of it. Their customer executives always remain at your service.