Renew in just 5 mins.
No Inspection.
No Paper Work
* Subject To Underwriting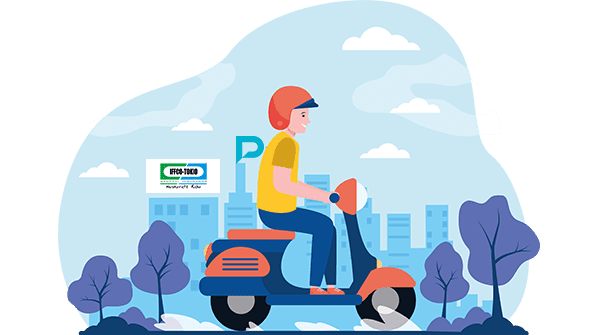 Compare

Bike Insurance Plans
IFFCO Tokio Two Wheeler Insurance
Incorporated in the year 2000, IFFCO Tokio is a joint venture between Indian Farmers Fertiliser Cooperative Limited and Tokio Marine Group, a name brand in Japanese general insurance. The company offers a range of insurance products at attractive and competitive prices. With over 20,000 branches and agents, IFFCO Tokio is spread all across India and makes its presence is known in rural areas as well as tier 2 and 3 towns.
Quick View Of IFFCO Tokio Two Wheeler Insurance
IFFCO Tokio offers a host of features and benefits to its policyholders and prospective customers.
| | |
| --- | --- |
| Features | Benefits |
| Vast network of garages | IFFCO Tokio has tie-ups with over 4300 network garages where policyholders can avail of cashless facilities |
| Hassle-free claims process | Simple documentations and swift processing of claims makes getting insurance easier. You can file a claim on the app and have it processed in a mere 4 hours. |
| High claim settlement ratio | 92.65% of all filed claims have been smoothly settled till date |
| Claim assistance | Policyholders can seek counsel for claim-related inquiries around the clock. |
| No claim bonus | Policyholders can avail up to 50% discount on their premiums owing to no claim bonuses. |
| Third-party liability cover | Coverage offered against third-party liability protects policyholders from liability involving a third party – person, vehicle, or property. |
| Own damage cover | Coverage offered for damage to policyholder's two wheeler in the event of an accident. |
| Value add-ons | Choose from add-ons to upgrade your two wheeler insurance coverage. |
| Online purchase and renewal | Seamlessly purchase or renew your existing policy online with just a few clicks. |
Salient Points Of IFFCO Tokio Two Wheeler Policy
IFFCO Tokio's two wheeler insurance aims at providing financial coverage to the insured in the event of damage arising from accidents to the vehicle and in the event of a third party's involvement in the situation.
Cashless claims in the 4300+ network garages spread around the country.
Beneficial and one-of-a-kind add-ons.
Claim settlement ratio of 92.65% in FY2019.
Discounts of up to 50% with no claim bonus.
Swift, digitally enabled processes as well as doorstep services.
Quick and efficient claim settlement via the app.
Exceptional customer service which is round-the-clock.
Efficiently trained surveyors who will attend to claims instantly.
Branches all across the country with more than 20,000 agents.
Coverage Includes And Excludes With IFFCO Tokio Two Wheeler Insurance
All two wheeler insurance policies come with a standard list of inclusions and exclusions.
Inclusions
Damage caused due to natural calamities like floods, cyclones, hurricanes, typhoons, self-ignition, lightning, thunderstorms, landslides, hailstorms, frost, and earthquakes
Damage caused due to riots, strikes, malicious acts, and accident by external means
Loss due to burglary and theft
Loss or damage while in transit via air, road, inland waterways, or elevator
Personal accident cover of up to INR 15 lakh for owner driver and optional cover for pillion rider up to INR 1 lakh
Third-party liability cover in the event of damage, injury, disablement, or death of third party
Reimbursement of towing expenses
Exclusions
Loss or damage due to regular wear and tear of the vehicle.
Mechanical or electrical breakdown or malfunction of the vehicle.
Damage or loss caused by war or warlike situations like invasion and terrorist attacks.
Damage caused to any electrical or non-electric accessories of the vehicle.
Accidents occurring in regions outside India.
Accidents caused by the negligence of the driver.
Loss arising from accidents where the vehicle is driven without a valid licence.
Driving under the influence of alcohol or any other intoxicants.
Value Add-Ons For Enhanced Protection With IFFCO Tokio Two Wheeler Insurance
IFFCO Tokio's two wheeler insurance policy can be enhanced by opting for some add-on covers that are on offer.
How To Purchase A New Policy Or Renew Your Existing One?
With IFFCO Tokio two wheeler insurance, purchasing a new policy or even renewing your existing one is easy. While you can always reach out to the insurance provider in person by visiting any of its branches or call on of the agents, online purchase and renewal has made the entire process smooth and seamless.
1. Apply or Renew via Probus
Step 1
Visit the Probus website.
Step 2
Provide your name and contact information – your mobile number and email address – along with your vehicle's registration number, make, model, and the year in which it was registered.
Step 3
Mention whether the vehicle was previously insured. If yes, provide the previous policy number.
Step 4
Browse through the two wheeler policies provided by various insurance companies and pick the one that matches your requirements.
Step 5
Choose from a range of add-ons to enhance coverage.
Step 6
Mention whether the vehicle was previously insured. If yes, provide the previous policy number.
2. Apply or Renew via The Official IFFCO Tokio Website
Step 1
Visit the official website and login using your credentials. If this is your first time visiting the website, register for an account.
Step 2
Pick the insurance type for which you wish to purchase the policy and click on 'CHECK PREMIUM.'
Step 3
Fill in the required details, select add-ons if you would like to, and then submit the form.
Step 4
On the payments page, pay the premium amount. Once the amount is cleared, the policy document will be mailed to your email address.
3. Apply or Renew via IFFCO Tokio App
Step 1
Download the IFFCO Tokio app from the app store on your phone and login using your credentials.
Step 2
Pick your insurance type and choose from the list of add-ons to boost your policy coverage.
Step 3
Fill in the required details and attach the required documents.
Step 4
Make the payment and receive the policy document in your mailbox.
IFFCO Tokio Two Wheeler Insurance Claims Process
An insurance policy is purchased to safeguard yourself against expenses arising from an untoward incident. If such an incident does occur, then filing a claim becomes necessary. With IFFCO Tokio, you can file a claim one of two ways.
1. The Traditional Way
Contact the insurance provider and intimate them of an impending claim.
If a third party is involved, note down the registration number of the vehicle or vehicles.
File an FIR with the nearest police station.
Note down the names of the witnesses.
Provide the necessary documents for processing the claim.
2. QCS app
Register your claim by calling the toll-free number or via the app.
Upload the necessary documents, along with photographs and videos of the damage to your two wheeler.
Once the claim is approved, disbursal of the amount happens within minutes.
Claims that are registered on the app have an upper limit of INR 20,000. Any claim above that amount must be intimated directly to the company.
What Is A Premium? What Does The Insurer Do With It?
Insurance is a product provided by companies. And as with all products, a payment needs to be made in order to use it. A premium is nothing else but that. It secures your policy, against which you can file a claim when needed. A premium indemnifies you as a policyholder from expenses and losses incurred due to an accident.
When premiums are collected, the insurance provider may pool the money in an investment. These investments are usually low-risk or guaranteed securities. In the event of a claim, the insurance provider uses this pool to disburse the required funds.
Frequently Asked Questions