Renew in just 5 mins.
No Inspection.
No Paper Work
* Subject To Underwriting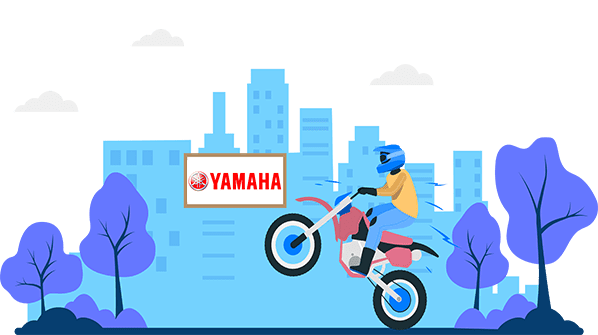 Compare

Bike Insurance Plans
Yamaha's motorcycle division was incorporated in Japan in 1955 and expanded into India in 1985 under the name India Yamaha Motor Pvt Ltd. The company became a wholly-owned subsidiary of Yamaha Motor Company Ltd in 2001, and Mitsui & Co Ltd jointly invested in India Yamaha Motor Pvt Ltd in the year 2008.
Many of Yamaha's bikes have been received with much love in India, including the RX 100, RX 135, RX-Z, RZ 350, YZF R15, FZ-X, FZS-FI V3, Fascino, FZ 25, and the MT 15 to name a few. The company manufactures motorcycles, scooters, ATVs and snowmobiles, powerboats, sailboats, utility boats, custom boats, marine engines, personal watercraft, electric bicycles, automobile engines, industrial-use unmanned helicopters, power products, electric wheelchairs, and wheelchair electric drive units, accessories, apparel, helmets, motor oil, and industrial robots.
Sneak Peek At India Yamaha Motor Pvt Ltd
| | |
| --- | --- |
| Brand Name | India Yamaha Motor Pvt Ltd |
| Owned By | Yamaha Motor Co Ltd |
| Head Office (India) | Surajpur, Gautam Buddh Nagar, UP |
| Registered Office | New Delhi |
| Manufacturing Facility | Surajpur, Faridabad, Kanchipuram |
| Dealerships | 299 |
| Area Served | India |
| Vehicle Types | Motorcycles., Scooters, and CBUs |
Yamaha YZF R15 V3 – Available in four colors, the Yamaha YZF R 15 V3 is BS6 compliant and comes with a 155 cc four-stroke engine and a 6-speed manual transmission. Other features include front and rear disc brakes, tubeless tires, alloy wheels, an LED headlight, taillights, and turn signal lamp.
Yamaha MT 15 – The Yamaha MT 15 comes with a 6-speed manual gearbox and a 155-cc petrol engine that is BS6 compliant. It also offers features like alloy wheels, transistor-controlled ignition, front and rear disc brakes, Deltabox chassis, tubeless radial tires, 10-liter fuel tank, and LED taillights and turn signal lamps.
Yamaha FZ-X – This BS6-compliant bike is available in two variants – standard and Bluetooth and is available in 3 different colors. It comes with an air-cooled 4-stroke 149-cc petrol engine and a 5-speed manual transmission gearbox. Some of its other features are alloy wheels, tubeless radial tires, transistor-controlled ignition, LED turn signal lamps, and 10-liter capacity fuel tank. The Bluetooth variant offers mobile connectivity via Bluetooth.
Yamaha FZS-FI V3 – This BS6 compliant petrol bike comes in two different colors – Dark Knight and Vintage Edition – and is available in standard and Bluetooth variants. It comes with a 149-cc air-cooled 4-stroke engine and a 5-speed manual transmission gearbox. Its other features include front and rear disc brakes, bulb turn signals and taillights, 13-liter capacity fuel tank, alloy wheels, and tubeless radial tires.
Yamaha Fascino 125 – The Yamaha Fascino 125 petrol scooter is available in 4 variants – Drum, Drum DLX, Disc, and Disc DLX – and comes with a 125-cc air-cooled 4-stroke engine that is BS6 compliant and V-belt automatic transmission. Other features include a unified braking system, tubeless radial tires, alloy wheels, and bulb turn signal lamps and taillights.
Coverage Included With Yamaha Two Wheeler Insurance Policy
Coverage can vary according to the insurance company, but the best insurance providers offer some standard coverage.
Third-party liability and comprehensive cover – All insurance companies provide policies covering third-party liability. You also have the option to add own-damage cover to get a comprehensive package to protect your bike.
Riots and strikes
Lightning, fire, and self-ignition
Floods
Storms – thunderstorms, hailstorms, tempest
Cyclone, hurricane, or typhoon
Malicious acts
Earthquakes
Landslides or rockslides
In-transit damage – transit through the air, inland waterway, road, and elevator
Simply put, yes. Insurance companies have a standard list of circumstances that are not covered under the bike insurance policy.
Expenses of repairs to own vehicle if policyholder on has third-party liability coverage
Wear and tear due to regular use
Electrical and mechanical failure
Expenses for damage caused while driving without a valid license
Expenses for damage caused when driving while under the influence of alcohol or drugs
Using the vehicle in a manner other than that outlined in the agreement – e.g. using a private bike for commercial purposes
Expenses caused while riding the bike without a helmet.
All two-wheeler insurance providers offer add-ons that you opt for with your insurance policy.
Zero-Depreciation – A regular insurance policy deducts the cost of depreciation from the cost of replaced spare parts. With the zero-depreciation add-on, you will be covered for the depreciated value and receive the full amount on a claim.
Return To Invoice – Any bike insurance policy provider covers only the insured declared value or IDV in case of theft or loss of the bike. The return to invoice add-on protects the invoice amount of the bike and ensures you receive the full amount in the event a claim is filed.
Personal Accident Cover – The personal accident cover add-on protects the owner-driver and an optional add-on can also protect an unnamed pillion if either sustains an injury in an accident or dies.
No-claim Bonus Protection – You receive a no-claim bonus discount on your premium at the time of renewal if you haven't filed a claim during the previous policy term. The longer you go without filing a claim, the higher your no-claim bonus discount is. However, you can lose this perk if you file a claim. A no-claim bonus protection add-on keeps your no-claim bonus secure even if you file a claim.
Add-on for Consumables – During a claim, this add-on covers the cost of replenishing, replacing or repairing consumables such as engine oil, screws, nuts, bolts, brake oil, lubricants, distilled water, and washers. However, fuel is not covered.
Roadside Assistance – If your bike happens to break down in the middle of the road, this add-on provides free roadside assistance including towing, fuel, and mechanical or electrical repairs among others.
Type of Plans Available For Yamaha Bike
Bike insurance policies offered by companies provide different types of coverage.
Third-party Liability – As per the Indian Motor Vehicles Act, any vehicle plying on Indian roads must be insured with a third-party liability cover at the very least. A third-party liability policy covers the expenses that may arise due to an accident that involves a third person, property, or vehicle.
Stand-alone Own-damage cover – If your bike is already insured with a third-party liability cover, you can opt for a stand-alone own-damage cover. This type of policy covers the expenses incurred due to damage to one's own vehicle, which is otherwise not covered under a third-party liability only cover.
A Comprehensive Package – A comprehensive package combines the third-party liability and own damage covers to give you the best of both worlds. You receive coverage in case a third party is involved as well as for expenses arising from damage to your own two-wheeler.
What's The Difference Between Comprehensive and Third-Party Liability Cover?
Third-party liability and comprehensive covers have a few similarities as well as differences.
| | | |
| --- | --- | --- |
| Parameter | Third-party Liability | Comprehensive Insurance |
| Features | Protects against financial liability when a third party is involved | Protects from expenses arising from damage to own vehicle; covers against third-party liability |
| Pros | If a third person, property, or vehicle is involved in an accident with the insured bike, the financial liability to this third party is covered; personal accident cover if the owner-driver sustains an injury or dies | Covers financial liability to third-party, cost of damage to policyholder's bike, and damage or loss due to theft, natural and man-made disaster, etc. |
| Cons | Coverage against damage to policyholder's vehicle is not covered | Premium amount is higher |
| Add-ons | Add-ons unavailable | Can customize the policy and enhance coverage by choosing add-ons |
| Mandatory | Yes | No |
Did you Know Bike Insurance Is Important? Here's Why
Purchasing bike insurance for your two-wheeler has several benefits.
Expenses from an unforeseen event involving your bike can put a dent in your finances. Bike insurance protects against such expenses.
With the Motor Vehicles Act in force, having a bike insurance policy makes sure you're in compliance with the law and protects you from legal fines.
With a bike insurance policy, you can access the cashless claims at your insurance provider's network garages, making your claims process experience seamless.
By contacting your insurance provider, you can receive assistance at the time of an emergency involving your bike.
Online purchase and renewal make insuring your bike easier than ever.
A simplified claims process ensures that filing your claim and its settlement is smooth.
Did You Know Comparing Bike Insurance Online Has Benefits?
While purchasing bike insurance, it's important to get a clear picture of what to expect from your insurance policy. Apart from this, you may also have a few requirements that you would like in your policy. Comparing bike insurance policies online is the best way to ensure all your criteria are met.
Online comparison of bike insurance policies also helps you get the best value for your money. Some providers offer discounts that you may be eligible for. By comparing these policies, you can tailor the insurance policy as you like. Plus, by cutting out the middleman, you save on money.
The best way to narrow down an insurance provider online is to go through customer reviews and the company's settlement ratio. The reviews give you an idea of the service you can expect from that company, while the settlement ratio gives you a realistic picture of whether you can expect a settlement for a valid claim.
So, What Do You Have To Compare?
One of the easiest ways to get an estimate for your premium is to use online calculators. Just fill in your name, mobile number, and email address along with the details of your bike – its make, model, and variant, year of registration, and the place where it was registered. You can tailor the type of coverage you want and select add-ons.
Here's what you need to keep in mind while selecting the best policy for your bike.
Familiarise yourself with the policy wording and make sure you understand the terms and conditions.
Check out the benefits, inclusions, and exclusions of your Yamaha bike insurance policy.
You need to pay your premium on time to avoid a lapse in your bike insurance coverage.
Only choose the add-ons you need, or your premium amount will rise substantially.
Go For Probus For Your Bike Insurance
Probus is a great site to compare as well as purchase and renew bike insurance policies. The easy-to-use interface helps you make the decision that is best for you.
Browse through different insurance providers
Compare inclusions and exclusions
Receive and compare quotes from different insurance companies
Easily select add-ons and types of policy
Instant online purchase and renewal
Instantly receive the policy document
Dedicated experts to guide you through your claim
Great customer service
Renew Yamaha Two Wheeler Insurance By Probus Insurance
Probus makes renewing your bike insurance policy quick and easy. Just follow these steps.
Log onto the Probus website
Click on 'renewal' and select 'motor insurance renewal' from the drop-down box
Select the insurer and you will be redirected to their renewal page
Add details of your Yamaha bike – make, model, variant, registration number, place of registration, date of registration
Provide the details of your previous policy – policy number and its date of expiry
Choose from the type of coverage and select from the list of add-ons.
Pay the premium and receive the policy document in your email inbox
Premium – What You're Looking To Pay When You Purchase A Policy
Premiums are calculated after taking into account the details of you and your bike and combining it with the assessed risks. A premium seals the deal between you and your insurance provider. It is the cost of purchasing the policy from the company.
Some examples of premium quotes for your Yamaha bike insurance are –
| | | | |
| --- | --- | --- | --- |
| Type | Variant | IDV | Estimated Premium |
| YAMAHA FAZER FI V 2.0 | Petrol – BS-IV | INR 44822 | INR 3097 |
| YAMAHA RAY-Z | Petrol – UBS | INR 25709 | INR 2266 |
| YAMAHA YZF R15(2009-2017) | Petrol – V 2.0 | INR 59419 | INR 3732 |
| YAMAHA RX 100 | Petrol – 100 | INR 10000 | INR 1582 |
| YAMAHA ESCORTS ACE | Petrol – Escort Ace 175 (173 CC) | INR 43069 | INR 3635 |
| YAMAHA CYGNUS RAY | Petrol – DARKNIGHT-UBS | INR 29400 | INR 2426 |
*Disclaimer: The insurer used for this calculation is Edelweiss Two Wheeler Insurance and the place of registration is Bhopal, in the year 2017 and NCB is 45%. Based on your specifics, the rates may vary.
Frequently Asked Questions
Most frequent questions and answers about on Yamaha bike insurance