Renew in just 5 mins.
No Inspection.
No Paper Work
* Subject To Underwriting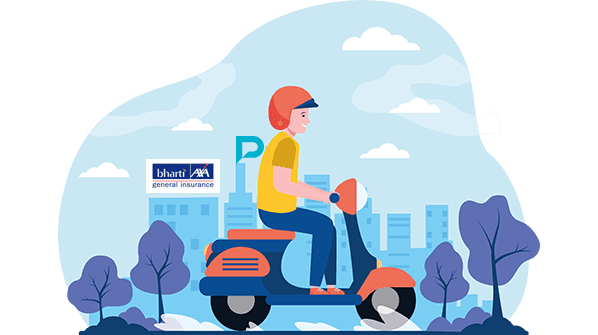 Compare

Bike Insurance Plans
Bharti Axa Two Wheeler Insurance
Bharti AXA General Insurance Company Limited is a joint venture between Bharti Enterprises and AXA. The joint venture company has a 51% stake from Bharti Enterprises and 49% stake of the AXA Group. 
With a PAN India presence through 135 branches, Bharti Axa offers insurance solutions for motor and two wheeler, health and critical illness, property and student, individual and family travel and crop insurance.
Quick Look at Bharti Axa Two Wheeler Insurance
Bharti Axa's Two Wheeler Insurance provides a host of benefits such as:
| | |
| --- | --- |
| Features | Benefits |
| Comprehensive policy | A 360-degree cover providing security to the owner, the vehicle, as well as against third-party liability. |
| Third-party liability policy | Mandated by law in order to cover damages caused to a third party by the vehicle. |
| Standalone own damage | Protects financial losses caused to your two wheeler during a collision or an accident. |
| Customize with add-ons | Purchase add-ons like depreciation cover and roadside assistance among others. |
| Online purchase | You can purchase the policy easily online in the matter of just a few clicks. |
| Claims process | Easy to file claims process takes the load off in your time of need. |
Key Features of Bharti Axa Two Wheeler Insurance
Long-term Protection: Along with an annual plan, Bharti Axa also provides two wheeler insurance cover for 2 to 3 years.
Online facility: While buying through the plan is always an option, you can also choose to purchase or renew your two wheeler insurance online.
Basic cover + personal accident cover for passengers: Along with the basic cover, Bharti Axa also offers a personal accident cover to the owner driver. Additionally, the policy also covers an amount of INR 1 lakh for the pillion rider.
Add-ons: You can upgrade your Bharti Axa two wheeler policy with essential add-ons such as zero depreciation cover, roadside assistance cover, invoice price cover, and more. 
Comprehensive coverage: Bharti Axa's two wheeler insurance provides your vehicle with a complete comprehensive cover and protects you from expenses rising from own damage as well as third-party liability.
Coverage With Bharti Axa Two Wheeler Insurance
Bharti Axa's two wheeler insurance can be tailored to suit your requirements. You can choose a comprehensive cover for greater coverage, or own damage and third-party liability covers.
1. Comprehensive Cover
A comprehensive insurance policy works the best if you are looking for a 360-degree cover that provides security to not only the vehicle but also the owner. Comprehensive insurance policies automatically cover:
Third party liabilities
Own damage
Injuries or death under personal accident cover to owner driver as well as the pillion
Theft or burglary
Natural calamities like earthquakes, landslides, floods, hailstorms, cyclones, and thunderstorms
Riots or terrorist activity
Damage caused during transit via inland waterways, road, air, or elevator.
2. Third-party Liability Coverage
Mandated by the law, a third-party coverage is something that every two wheeler owner must possess. This basic bike insurance policy only covers liability to the third party in an event of.
Injury to person
Damages to property or vehicle
Disability
Death due to an accident, natural disaster, or theft that involves the insured vehicle
3. Standalone Own Damage Cover
A standalone own damage coverage protects you from financial losses or damages caused by
Collision or an accident
Natural calamity such as floods, etc.
Theft
Add-Ons Coverage By Bharti AXA
Bharti AXA provides a host of add-ons that can enhance the coverage of your two wheeler insurance policy.
Discounts Offered On Bharti AXA Two Wheeler Insurance
Bharti AXA two wheeler insurance offers discounts on its premiums in the following scenarios.
1. Voluntary Excess
If you are a confident driver, you can pay a voluntary excess amount over and above the compulsory excess and opt for bearing a certain amount of loss for every claim. This makes you eligible for a discount on standalone own damage premium.
| | |
| --- | --- |
| Voluntary Deductible  | Discount |
| Rs. 500 | 5% on the OD Premium of the two wheeler, subject to a maximum amount of INR 50 |
| Rs. 750 | 10% on the OD Premium of the two wheeler, subject to a maximum amount of INR 50. |
| Rs. 1000 | 15% on the OD Premium of the two wheeler, subject to a maximum discount of INR. 50 |
| Rs. 1500 | 20% on the OD Premium of the two wheeler, subject to a maximum discount of INR. 50 |
| Rs. 3000 | 25% on the OD Premium of the two wheeler, subject to a maximum discount of INR. 50 |
2. No Claim Bonus
For every claim-free year you can avail an NCB discount, which starts with 20% for the first year and can go up to 50% over 5 consecutive claim-free years. This discount can be retained even if you wish to sell the current bike and purchase a new one.
While most plans of Bharti Axa two wheeler insurance provide exhaustive coverage, there are certain exclusions or certain damages that are excluded from the scope of coverage of the plans such as:
Normal wear and tear of the vehicle due to regular usage and general ageing.
Mechanical or electrical breakdown of the vehicle.
If the vehicle was used in any way other than that outlined in the policy document.
General depreciation or any consequential loss.
Damage to the vehicle because of intoxicated driving.
Damage to the vehicle if the rider was riding without a license.
Damages occurred outside the geographical boundaries of the country.
Buy or Renew Bharti AXA Bike Insurance Policy
To buy a new policy:
Call the toll-free customer care and speak with the customer service officer
You can also write to the company at customer.service@bhartiaxagi.co.in
Send an SMS to 5667700 using keywords such as service, renew, call back.
You can visit the company website, provide your contact. details, and request a callback
Or simply visit the nearest branch.
Alternatively, you can also purchase or renew your policy online.
1. Buy/Renew with Probus Insurance Broker
2. Purchase on The Official Bharti Axa Website
How Do I File a Claim With Bharti AXA?
Filing a claim on your insurance policy when needed is imperative. With Bharti Axa, this is made easier with a seamless claims process.
 To file a claim:
Register the claim by contacting the insurance provider on 1800-103-2292 within 24 hours of the incident.
Submit the documents that the insurance provider asks for.
Once the documents and claim are verified, the vehicle will be sent to one of the network garages to gather an estimate of the repair costs.
The claim amount is disbursed upon evaluation of the damage and estimated repair costs provided the circumstances are covered by the policy.
You will need to submit documents along with your claim. These documents vary with the type of claim being filed.
Documents Needed For Filing a Claim
Documents You Need For an Own Damage Claim:
Filled and signed claims form.
Registration certificate of your vehicle.
Driving license of the person driving the vehicle at the time of the accident.
A copy of the first two pages of your policy.
FIR – if a third party was involved or in the case of damage due to riots, malicious acts, terrorism, or strike.
Repair estimate.
Invoice of repairs and payment receipt. If the vehicle was repaired at a network garage, only the invoice and a satisfaction letter are required for a cashless claim.
Documents you need for a theft claim:
Filled and signed claims form.
Registration certificate of your vehicle.
All original keys.
A copy of the original policy document.
The original copy of the FIR filed at the police station.
Signed RTO transfer papers with Form Nos 28, 29, 30, and 35 if required.
A no trace report from the police.
Documents you need for third-party claims:
Filled and signed claims form.
A copy of the FIR.
Driving license of the person driving the vehicle at the time of the accident plus a self-attested copy.
A copy of the original policy document.
Registration certificate of your vehicle.
Satisfaction letter from the network garage if availing cashless facility.
How Can I Reduce My Premium Amount?
In order to secure an insurance policy, you are required to pay an amount, which is known as a premium. Failure to pay your premium results in a lapse of this policy.
There are ways to reduce your premium amount.
Compare insurance plans before you buy one. Go through what is covered and what isn't and choose wisely.
Opt for a higher voluntary deductible – while this sounds expensive, you need to realize that you will be paying the deductible only at the time of a claim. By choosing this, you essentially save quite a bit in the long run.
No claim bonuses can help reduce your premium amount, too. The longer you go without filing a claim, the higher the discount offered. So, where possible, avoid filing claims for smaller amounts.
Only buy add-ons that will benefit you. The beauty of opting for add-ons is that you can customize it according to your requirement. If you use your vehicle extensively, then it makes sense to purchase add-ons that will provide coverage for situations most likely to occur. But if you do not use your vehicle too often, you can limit the number of add-ons to only essentials.
Renewing your existing policy on time can have its perks. It is the perfect way to ensure that the benefits you enjoyed during the previous term are carried on and / or enhanced when you renew on time.
Go for policies that offer long term protection. Instead of purchasing an annual policy, you can consider buying coverage for 3 or 5 years. This reduces the amount you pay as a premium.
Frequently Asked Questions