Renew in just 5 mins.
No Inspection.
No Paper Work
* Subject To Underwriting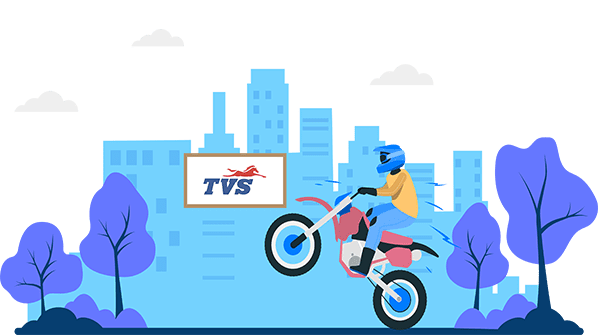 Compare

Bike Insurance Plans
TVS Motors is one of the major two wheeler manufacturers in India. The company was established by T.V. Sundaram Iyengar in 1911, dealing particularly in road transport. Soon, the company formed an alliance with UK based company Clayton Dewandre Holdings in 1962 to form Sundaram Clayton. Then in 1978 they opened a manufacturing plant and in 1980, they built the well-known TVS 50 moped. In 1982, Sundaram Clayton Ltd joined forces with the Japanese firm Suzuki Motor Corporation and embarked on manufacturing motorcycles in 1984. At the end of the collaboration in 2001, the company became TVS Motors.
If you own a TVS Bike, you must get insurance for enhanced protection of the vehicle. Let's learn more about insurance for your TVS two wheeler.
Quick Look To Understand TVS Brand
With the help of a few quick details of the brand you will understand more about your bike and insurance for it.
| | |
| --- | --- |
| Type | Public |
| Industry | Automotive |
| Founded | 1978; 43 years ago |
| Founder | T. V. Sundaram Iyengar |
| Headquarters | Chennai, Tamil Nadu, India |
| Area served | Worldwide |
| Key people | Venu Srinivasan (Chairman & Managing Director), K. N. Radhakrishnan CEO (Aug – 2008) |
| Products | Two wheeler, Three-wheeler, Automobile parts |
| No. of employees | Approximately 7,885 across all locations |
| Parent | Sundaram – Clayton Limited |
Five Most Popular TVS Motorcycles
Here are a few top models by the brand. Whether you own one of these or not, ensure you read on to learn more about insurance for your two wheeler.
TVS Apache – One of the brand's premium and flagship motorcycle range consists of five models – Apache RTR 160, RTR 180, RTR 160 4V, RTR 200 4V and RR 310. These bikes have a range from 160cc to 310cc and they're all designed to provide brilliant performance. With their sporty looks and commendable on-road performance, this range performs the dual role of commuter, and doubles up as a fun weekend bike for your favourite twisty stretch of road.
TVS XL 100 – This is one of India's most popular off-road commuter bikes, especially in rural areas. It's gained immense popularity due to its low maintenance and durability. Although a moped engine, it is capable of generating 6.5Nm torque and 4.3bhp. Furthermore, it's designed to carry a payload of up to 130kgs. Combine the above with an affordable price and a mileage of 60 kmpl and it's easily a leading choice.
TVS Jupiter – Available in four variants – Standard, ZX, ZX Disc, and Classic, every one of which has something that caters to every individual's needs. The bike comes with smooth performance and a torque of 8.4Nm. The improved mileage, along with convenient and city-friendly features like touch start technology, better seat height, lower kerb weight, better handling, etc. make it suited for your everyday needs. Anyone and everyone can enjoy a carefree ride on this super cool looking two wheeler.
TVS iQube Electric – The newly launched electric bike, as of July 2021 is currently available in five Indian cities – Bengaluru, Chennai, Coimbatore, Delhi, and Pune and is looking to expand rapidly to other cities too. This e-bike comes with a top speed of 78kmph and goes from 0-40kmph in nearly 4.2 seconds. In a single full charge the lithium ion battery can go upto 75km. The introduction of TVS SmartXonnect technology, makes this a connected bike. The rider can easily connect to the TVS iQube app to use different features like navigation, live tracking, geofencing, and more.
TVS NTORQ 125 – An automatic scooter, rather than being another family scooter, this one primarily fits into the performance scooter space. With good fuel efficiency, 125 torque, 9.4 bhp, a high speed of 95kmph, and light steering, you can easily get around the city in a breeze. As far as looks go, it has a sporty silhouette. The highlights of the two wheeler are the connectivity options and digital cockpit. All in all, it's an excellent buy for the city.
What Do TVS Bike Insurance Plans Cover?
With some of the most city-friendly TVS bikes, you also need an insurance policy that will keep up. Some of the aspects covered by a TVS bike insurance policy are:
Disasters brought on by nature: TVS motorbike insurance covers the cost of any harm to the vehicle or rider due to natural disasters such as storms, fires, and explosions

Mishaps and disasters caused by man that the TVS bike incurs as a result of human actions such as thefts, riots, vandalism, etc.

Personal accident safeguard for the rider as well as a pillion rider in case of injury, disability, and death

Shielding the legal and financial welfare of the insured person in case of third-party liability. This is a compulsory cover

Easy and speedy claim procedure

Entitlement to avail discounts and offers

Added extras safeguards at a nominal amount that will be added to the premium so the bike owner can avail of a number of additional benefits also called add-ons.
Exclusions For Your TVS Two wheeler Policy
TVS two wheelers are very suitable for the busy and crowded traffic conditions prevalent on Indian roads. However, both you and the bike are continually exposed to the threats of the road. 
Two wheeler insurance is indispensable to safeguard your TVS bike and support you to meet the cost of repairs, etc. in case of an accident. However, there are certain situations that TVS bike insurance policies don't cover. They are: 
Accident damages caused by driving above permitted speed limits, or if riding another person's bike
Loss or harm caused if the rider is a minor or does not possess a valid license
Injury caused due to absence of the mandatory protective helmet
Transgressing across non-permissible geographical boundaries of India
Any damage which is a result of drunken driving or under the influence of any drugs or intoxicants
Loss or theft of motorbike keys is not covered
Any damage which is a result of wear and tears from regular rough use of the bike, poor maintenance, and lack of periodical servicing
Mechanical as well as an electrical malfunction of any part of the bike
The Insurance policy will not protect against losses incurred in riots, vandalism, war, exposure to radioactivity, or nuclear emissions
Misuse of the motorcycle such as using it for racing, as a taxi, or other commercial use without the knowledge of the Insurance provider
As the owner of a TVS vehicle, you should be forewarned to be responsible and cautious when on the road. Investing in add-ons can resolve many of the above exclusion issues.
Add-Ons For The Protection Of Your TVS Bike
To ensure you protect your TVS bike to the maximum, it's important you include some important add-ons to your TVS bike insurance policy. A very nominal extra sum may be added to the premium on account of additional benefits.
Zero-depreciation: Depreciation over a period of time is inevitable and a cause of stress for the owner. A zero-depreciation safeguard reduces the anxiety of bearing the downgrading costs without causing a dent in the claim amount.
Roadside assistance: If you get stranded on a road or highway due to a breakdown, this cover provides aid to tackle issues such as a flat tire, fuel replenishment, hauling, battery upstart, and small repairs.
Tire damage protection: This safeguard provides protection for a puncture, cut or bulge in the tire or a burst tire as a result of an accident.
Key loss: A spare key is provided as soon as possible, and the company also compensates for the loss of the key.
Passenger assistance: Offers safeguard to the pillion rider in case of disability or death in a mishap.
Consumables safeguard: Provides protection for all the replaceable and usable articles of a bike such as lubricants, nuts, and bolts, washers, brake oil, grease, etc.
Engine protection: This safeguard takes care of the repair of the damaged engine/parts and saves the owner from massive financial losses. A must if the bike owner lives in a flood-prone area.
Daily allowance: The insurance provider gives a daily allowance to the insured for the period that his motorbike is in the workshop for repairs
NCB: The owner of the insured bike is entitled to a No Claim Bonus for previous years even if a claim has been raised for the current policy year.
Return to invoice: The owner is entitled to be compensated for the original invoice price of the bike in case of complete wreckage or theft.
Different Types Of Two Wheeler Insurance Policies For TVS Bike
For your TVS, you can choose from the two categories of motorbike insurance policy schemes.
Third-party liability bike insurance – Covers only third-party liability in mishaps occurring due to a collision or crash caused by your insured motorbike. This is a basic scheme and is compulsory according to the New Motor Vehicles Act, 2019. Riding an uninsured bike can result in a fine and even imprisonment.
Comprehensive bike insurance – Covers third-party liabilities and also other damages including those wrought by, theft, fire, and calamities both natural and man-made. However, it is not compulsory, unlike third-party insurance plans.
| | |
| --- | --- |
| Third-Party Liability only Motorbike Insurance ( Mandatory) | Comprehensive Motorbike Insurance ( Optional) |
| Only covers the damages incurred by the owner's bike to any third-party vehicle or property in a mishap | It covers third-party liabilities as well as damage caused to the owner and the bike |
| It includes a personal accident cover for the treatment of injuries caused by the accident. | It also proffers protection against perils like natural and man-made disasters, fire, explosions, etc. |
| Safeguards the owner's interests and ensures they conform with the law. | Safeguards the owner's interests and ensures they conform with the law. |
| It does not include the car owners own damage | It protects against damages to the owner vehicle as well as third-party damages |
| It does not allow the purchase of add-on safeguards. | It allows the car owner to purchase add-ons to improve car safety and performance. |
| Premium is lower as no add-ons are permitted | Has a higher premium, because of comprehensive protection with add-ons |
Compare And Buy The Best Motorbike Insurance Scheme Online For Your TVS bike
Just like how you survey the market to select the bike of your choice, similarly, you must take time and choose the best insurance plan for your dream machine. Why should you compare, you ask? Here's why: 
Evaluation of different bike insurance offers will give you a broad comparison of various motorbike insurance companies and their proposals so you can pick the appropriate one for your TVS bike.
As no agent is involved, the process is economical and you cannot get adversely influenced in making your final choice and there's no unplanned buying. You only purchase what you need for your TVS bike. 
The product details appear before you in their entirety with respect to prices, discounts, special benefits. This helps you make an astute and well-informed choice of add-ons and set a premium to suit your pocket.
You can read scores of customer reviews to get a better idea of the performance of the insurance plan that you finally select.
Factors To Help You Compare Insurance Plans For Your TVS Bike
When you pick and choose between plans, here are a few factors you should consider. Keeping them in mind will ensure you purchase exactly what suits your TVS bike, you and your pocket.
Type – Read the details carefully of every policy and ensure you pick one that suits your needs.
Details – Make sure you thoroughly know the features and benefits of every plan to determine what your chosen plan includes.
Premium – Premium payments have to be made regularly, so it makes sense to choose a plan that falls under your financial capability to avoid any burdens.
Add-ons – If you're purchasing comprehensive insurance, you want to make sure the add-ons available match your requirements. This way, when you enhance your cover, you get what you need.
Probus Portal, The Leading Choice For A TVS Motorbike Insurance Policy
Most motorbike owners find the procedure for acquiring a vehicle insurance policy cumbersome and tedious. They feel that their lack of understanding the finer details of the schemes and proposals may result in getting an incomplete and ineffective cover not measuring up to the premium they will have to pay. Such customers need a friendly helping hand that offers sound advice and timely aid at every step of their vehicle insurance contract such as Probus. A reliable, dependable, and trustworthy partner.
Benefit From The Versatile Services Offered By Probus
Assistance in the selection of the insurance plan that suits you by guiding you methodically through different insurance plans on its website.
The Probus team of experts are always ready to offer absolutely free and up-to-date, balanced estimation, advice to clarify doubts and help purchase the plan that best suits you.
We understand that claims can be a confusing task and as such the Probus Claims Support Team (IRDA certified) practically takes over the filing of claims making the process simple and uncomplicated for you.
Customers can register directly with us on our website and be guided effortlessly to buy the best insurance online thereby saving precious time.
We offer valuable information on discounts and tips on how to save on premiums.
We send timely reminders to its registered clients for policy renewals, discount offers, etc.
We respect and guard customer data and privacy judiciously ensuring complete impregnable security.
Probus Assistance For Your TVS Bike Insurance Policy Renewal
It is prudent to renew your TVS bike insurance on time to get the best renewal discounts and benefits. Probus makes the process easy and is ever ready to help you. We end your anxiety of forgetting renewal dates, pouring over paperwork, and even help you to recover an expired policy before the stipulated 90 days deadline.
For Online Renewal Of Your TVS Bike Insurance Policy
Log onto the Probus website
Click on 'renewal' and select 'motor insurance renewal' from the drop-down box
Select the insurer and you will be redirected to their renewal page.
Enter the details, select your best-suited two wheeler insurance policy.
Make any required changes in your personal data or policy particulars.
Make premium payments online through any secure gateway. 
Your renewed policy becomes functional right away.
A soft copy of the renewed policy is sent within seconds to your registered email address where it remains safe from getting lost or damaged.
Hassle-Free Claims With Probus Claims Assistance Team
A motorbike owner with a wrecked or badly damaged vehicle is understandably in a state of shock and devastation and may falter in filing a claim. We at Probus help by providing support and making the procedure simpler. Our claims assistance team comprises highly skilled and experienced experts who are IRDA (Insurance Regulatory and Development Authority) authorized. Once the required documents of the insurance policy and the claim form are submitted to the team, you can stop worrying knowing your affairs are in trusted hands.
Premium Calculation For Your TVS Bike
A premium calculator is an online tool easily accessible to prospective buyers. On providing details of the vehicle make, variant, date, and city of registration desired IDV and add-ons, the calculator flashes the calculated premium on the screen within seconds. This is helpful to the buyer in choosing a suitable bike insurance plan.
Premiums For Some TVS Motorbike Models
| | | | | |
| --- | --- | --- | --- | --- |
| Model  | Variant | Place of Registration | Date of registration | Premium (incl. Tax) (Rs.) |
| TVS Apache | RTR 160 2V DISC | Bangalore | April 2021 | 10911 |
| TVS XL 100 | TVS XL 100 COMFORT i TOUCH START | Bangalore | April 2021 | 4809 |
| TVS Jupiter | TVS JUPITER GRAND DISC BS VI | Bangalore | April 2021 | 4978 |
| TVS NTORQ 125 | TVS NTORQ RACE EDITION XP BLUETOOTH BS VI | Bangalore | April 2021 | 5174 |
*Disclaimer: The insurer used for this calculation is Bajaj Allianz Two Wheeler Insurance, the place of registration is Bangalore and year is 2021. Based on your specifics, the rates may vary.
Frequently Asked Questions
Most frequent questions and answers about on TVS bike insurance