Renew in just 5 mins.
No Inspection.
No Paper Work
* Subject To Underwriting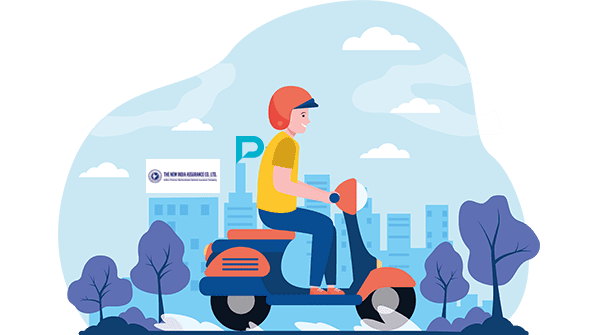 Compare

Bike Insurance Plans
Tata AIG Two Wheeler Insurance
Riding a two-wheeler provides you with enjoyable experiences by enabling you to travel over the longest distances and through the narrowest streets. However, you must take into account the safety factor equally.
TATA AIG General Insurance, a well-known company in the insurance industry, offers comprehensive two wheeler insurance plans that guarantee your vehicle is insured for all potential threats that it might be exposed to while on the road. The company provides cost-effective bike insurance policies with quick claim processing, unique add-on coverage, and a nationwide cashless garage network. To learn more about the plan, continue reading the page.
Key Features Of Tata AIG Two Wheeler Insurance Policy
Following are some of the key features of Tata AIG two-wheeler insurance:
| | |
| --- | --- |
| Key Features | Details |
| No Claim Bonus | If your prior year was claim-free, the plan provides a No Claim Bonus (NCB) discount on your bike insurance premiums starting at 20%. |
| Own Damage Cover For The Bike | This all-inclusive two-wheeler coverage includes Own Damage Coverage for your bike due to mishaps, disasters caused by nature or humans, or both. |
| Third-Party Damage Cover | The bike insurance coverage offered by Tata AIG shields you from financial loss due to property damage or personal injury to third parties. |
| Savings On Premiums | You can receive discounts on your two-wheeler premium payments of up to 75%. |
| Unique Add-Ons | Your two-wheeler insurance coverage can be enhanced by the company's selection of 7 add-ons to provide you with a complete protection shield. |
Types Of Two Wheeler Insurance Provided By Tata AIG
Tata AIG provides a variety of two-wheeler insurance policies to suit your bike's requirements and the level of protection required to keep it safe in various circumstances:
Comprehensive Bike Insurance Policy
Tata AIG's comprehensive bike insurance plan is built to provide defense against third-party liabilities, covering theft-related losses or damages, coverage for natural and man-made disasters, and personal accident coverage for the owner-driver. However, if the bike owner is intoxicated when operating the vehicle or is outside the specified geographic area, the policy does not provide coverage. To offer total security for your bike, we advise purchasing a Tata AIG comprehensive two-wheeler insurance coverage.
Standalone Own Damage Bike Insurance Policy
If an accident results in damage to your bike, the company's Standalone Own Damage Bike Insurance Policy is useful. While third-party liabilities are not covered by the Own Damage policy, your bike can still be financially protected against damage brought on by fire, natural disasters, and man-made disasters. This two-wheeler policy also provides compensation if the bike is stolen.
Standalone Third-Party Bike Insurance Policy
If you want to ride your bike on the roads, you are required by law to have third-party two wheeler insurance. If, as a result of an accident, your vehicle ends up damaging another car or injuring another person, Tata AIG's stand-alone third-party two wheeler insurance policy will assist you. However, this policy does not allow you the same level of protection for your bike. Third-party coverage does not cover bike theft or damage to the bike.
Importance Of Tata AIG Two-Wheeler Insurance
Here are some of the factors that signify the reasons why you should choose the Tata AIG two-wheeler insurance plan:
Protocols Are Simple & Hassle-Free
At Tata AIG, the various operations, including policy issuance, renewal, and claim settlement, adhere to very straightforward procedures and are completely hassle-free for the consumers, with essentially no paperwork needed for it.
The company's all-inclusive bike insurance plans provide protection against bike damage, theft, third-party liability, and owner-driver personal accident coverage. The plan thus safeguards your funds, your cherished bike, and you.
No Illegible Fine Print OR Hidden Terms
Tata AIG two-wheeler plans do not contain any illegible fine print or hidden conditions that are not disclosed to the consumer when the policy is purchased. The policy paper includes all conditions in the readable fine print.
A Wide Variety Of Add-On Benefits
TATA AIG offers a wide variety of add-on benefits to its policies to broaden the scope of coverage for the additions of covered bikes and cars. Include the optional add-ons of your choice to secure protection against all eventualities and damages, from Depreciation Allowance to Return-to-Invoice and Roadside Assistance.
Tata AIG recognizes the value of a straightforward claim procedure. Simply visit the Claim Process Page of the company, complete the required information and documents, then click on Submit to receive your two wheeler insurance reimbursement. The claim verification and disbursal process will start as soon as possible.
High Claim Settlement Ratio
The ratio of settled claims to total claims received in a year is shown by the claim settlement ratio. The company has resolved 98% of its motor insurance claims in the fiscal year 2020–2021. Therefore, register a claim without worrying, and the company will do its best to get you the compensation you deserve!
What Are The Add-On Covers Available With Tata Two-Wheeler Insurance?
Choose from a range of 7 distinct bike insurance add-on covers to enhance your Tata AIG comprehensive two-wheeler insurance:
Depreciation Allowance: Under an Own Damage Claim, Tata AIG reimburses the amount subtracted based on the depreciation value of the replaced items. Only for the first two claims may the zero-depreciation add-on cover advantage be used.
Return-To-Invoice Cover: This add-on benefit states that in the event of a total loss, constructive total loss, or theft, TATA AIG will pay the difference between the claim amount received under its own damage coverage and the invoice value of the vehicle.
Emergency Medical Expenses: In an emergency where the owner, rider, or pillion rider needs to be taken to/admitted to a hospital or nursing home, the Emergency Medical Expenditures add-on benefit reimburses the medical expenses incurred. The cost of a reasonable ambulance ride to transport the patient from the scene of the accident to the hospital or nursing home, as well as some additional supporting equipment like a wheelchair, crutches, artificial limbs, etc., that may be needed by the injured are also covered by this insurance.
Additional Personal Accident Cover To Owner Driver: TATA AIG offers an extra Personal Accident Cover to the registered owner driver due to the greater risk of accidents associated with two-wheelers.
Additional Third-Party Property Damage Cover: Tata AIG can gladly provide you with an additional Third-Party Property Damage cover if you feel the necessity. In addition to the amount that is covered by the policy, this add-on benefit provides additional protection if third parties' property is damaged.
Consumable Expenses: This add-on covers the price of consumables that would need to be purchased in the event that the insured bike was involved in an accident. Other than fuel, these consumables include lubricants, screws, nuts and bolts, engine oil, gearbox oil, distilled water, oil filters, grease, clips, brake oil, bearings, washers, and similar items.
Roadside Assistance: Nothing is worse than a fantastic bike trip being ruined by a vehicle breakdown in the middle of the road. When you purchase this add-on, we will dispatch rapid breakdown assistance to your location to handle a range of problems, including a flat tyre, a dead battery, a need for gasoline, mechanical or electrical repairs, etc. Under some conditions, the company also provides on-the-spot repairs to get you back on the road and travelling quickly!
What's Covered Under Tata Two-Wheeler Insurance?
Tata AIG two-wheeler insurance covers a range of circumstances, such as:
Damages and loss to the bike
Personal accident cover for the owner-driver
Specific coverage on the add-ons
What's Not Covered Under Tata Two-Wheeler Insurance?
Here are some examples of general exclusions from Tata AIG bike insurance:
Age-related mechanical and electrical breakdown of the bike, general wear and tear, and resulting loss.
If the bike is utilized outside of the specified geographical borders, i.e., outside of India's borders.
Damage brought on by acts of war, actions that resemble war, rebellion, and nuclear threats.
When utilized for racing, reliability tests, speed trials, etc., the bike sustains damage.
In the event of a third-party liability-only plan, the bike will have its own damage coverage.
In the event of a third-party liability policy, the owner-driver will have personal accident coverage.
Bike riding without a helmet or a proper license.
Driving a bike while under the influence of alcohol or drugs.
If you operate the bicycle in a situation that restricts its use, such as while driving through a floodplain (contributory negligence).
If a personal bike is employed for work.
If the bike is not stolen, damages are brought on by burglary and breaking.
Frequently Asked Questions