Renew in just 5 mins.
No Inspection.
No Paper Work
* Subject To Underwriting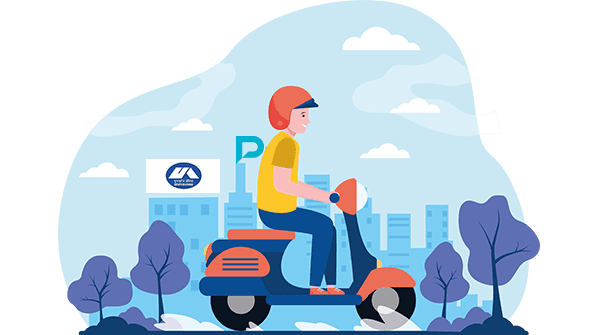 Compare

Bike Insurance Plans
United India Two Wheeler Insurance
United India Insurance Company (UIIC) is a public sector insurance company owned by the Government of India. It was integrated on 18th February 1938 and made public sector in 1972. It implements policies including bike insurance with many others, catering to business, urban as well as rural requirements. Previously, UIIC functioned as a subsidiary of General Insurance Corporation of India (GIC) until it acquired its present status under the IRDA Act 1999.
With its headquarters located in Chennai, the company has a network of 1,340 offices all over India with a fervent and proficient conglomeration of 18,300 employees to oversee services across the country. United India Insurance Company being a public sector insurance company offers reasonable insurance rates for its wide-ranging customer base and is known for being reliable and customer friendly.
Characteristics Of United India Two Wheeler Insurance
Here's a look at the distinctive traits or characteristics of United India Two Wheeler Insurance:
| | |
| --- | --- |
| Features | Benefit |
| Premium | Starting from 482/- |
| No Claim Bonus | From 20% to 50% which depends on the claim-free years |
| Add-ons | Available on an additional premium |
| Customer support | Available at 1,340 offices all over India and 3,100+ garages |
| Claim Process | Can be processed on call or off line. Customer support is available to assist the policyholders at any hour of the day. |
| Claim Settlement Ratio | 89.6% . Round the clock helpline available |
| Own Damage Cover | Depends on the IDV of the Two Wheeler |
| Third party cover | 1 Lakh for Property/Vehicle Damage |
| Personal Accident Cover | Up to Rs 15 Lakh |
| Online facility | Online purchase and renewal for the two wheeler insurance available |
| Extension | Extension of geographical area by paying an additional amount of Rs.500 |
Coverage With United India Two Wheeler Insurance
United India two wheeler Insurance is a trust that is supported with a strong garage network, excellent and dedicated service and speedy solution to customer queries. United India two wheeler Insurance guarantees the best service with a low and reasonably priced premium within the reach of all its customers.
Have a look at the kinds of coverage offered by United India two wheeler Insurance:
Plan

Coverage

Third Party Liability Insurance only

The liability coverage applies to accidental death, injury and/or damage caused to vehicle and property
It also includes personal accident coverage for the owner-driver
Unlimited coverage is given for the death or injury of third party and up to Rs.1 Lakh for damage to property.

Comprehensive Insurance plan
 
A. Own Damage two wheeler insurance

Natural calamities like floods, cyclones and storms
Landslides and Earthquake
Fire and explosion
Acts of rioting and vandalism
Theft of two wheeler

B. Personal Accident Cover

United India two wheeler Insurance will pay Rs.1 lakh to the owner-driver of the insured vehicle in case of permanent total disability or to the beneficiary in case of accidental death

Type of Injury Compensation as below

Death / loss of two limbs /loss of both eyes/ permanent disability – 100%
Loss of one limb / sight of one eye – 50%
By paying a nominal fee, you can avail several add-ons with United India Two Wheeler like:
Eligibility Criteria of United India Two Wheeler Insurance
It is compulsory for every two wheeler owner to have a bike insurance policy.
The eligibility criteria set by United India two wheeler Insurance require:
Valid Registration Certificate (RC Book)
No Alterations and modifications in the vehicle without informing the company 
Prompt payment of the insurance policy for the two wheeler insured
Transfer of policy within 14 days in case of sale of the two wheeler 
How To Buy or Renew United India Motor Insurance Policy?
Customers can buy a new policy or renew an existing policy by logging into the United India Insurance website or through the Probus website.
1. Buy/Renew with Probus Insurance Broker
2. Buy/Renew By Direct United India Website
Steps To File a Claim Under United India Bike Insurance Policy
Here's the step-by-step claim process:
Step 1
Immediately contact United India two wheeler Insurance Company by call or by visiting the city office where the incident has taken place.
Step 2
Do not move the two wheeler at the accident site till the time the surveyors visit the accident spot.
Step 3
In case of any third-party injuries or death, immediately inform the nearest police station about the incident and file an FIR.
Step 4
The two wheeler can now be towed to any of the network garages nearby.
Step 5
The quotation from the company approved garage can be submitted along with the completed claim form, the surveyor copy and FIR.
Step 6
Once the surveyor verifies the damage caused you may go ahead with the repair works.
Step 7
Submit the cash bills for spare parts, labour charges etc. and then get the reimbursement done.
Documents Needed To File a Claim for Accident or Theft
Claim form
Legitimate vehicle registration certificate
Driving License
Copy of the first two pages of the policy document
FIR for accidental damage or theft
Original repair bill, cash receipt, and proof of release
Exclusions Under United India Two Wheeler Insurance
United India bike insurance also has some exclusions for which the policyholder cannot claim protection or coverage:
If the person was driving without a valid driving license.
Act of negligence as per the company rules like driving in a flooded area.
Driving under the effect of intoxicants or drugs
Claims arising outside of the specified geographical area as stated in the policy.
Damage as a result of wear and tear or mechanical breakdown..
Damages if the vehicle is being used for that not stated in the policy.
The fallacy of particulars and listing of a hoax claim
Claiming wrong coverage amount
Lack of details required
Delay in informing the company about the mishap
Learn About Premium And Premium Calculation
An insurance premium is the amount of money a person must pay for an insurance policy. Typically, certain factors influence the premium of a vehicle, like the model and make of the vehicle, the place of registration, the year of purchase, etc. When you apply/renew your policy, the process will show you the premium for different policies. You can then take your pick. For an old bike, the insurance premium will be a lot less because of the chances of the bike being understandably worn out and the scope of add-ons available being less.
Frequently Asked Questions