Renew in just 5 mins.
No Inspection.
No Paper Work
* Subject To Underwriting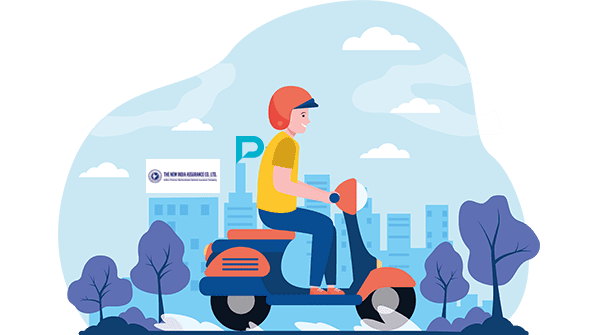 Compare

Bike Insurance Plans
ICICI Lombard Two Wheeler Insurance
The ICICI Lombard Two-wheeler Insurance protects you financially from any losses brought on by a traffic incident and defends you from any financial demands made by third parties involved in an accident involving your motorcycle. Additionally, it offers protection against bike/scooter theft and any damage brought on by events other than a traffic accident, such as earthquakes, floods, riots, etc. You can also choose a personal accident insurance policy that pays benefits in the event that a car accident results in the covered person's disability or death.
Read on to learn more about the ICICI Lombard bike insurance policy's benefits, inclusions, exclusions, claim process, renewal steps, and more.
Key Features & Benefits of ICICI Lombard Two Wheeler Insurance
One of the well-known firms in the insurance industry, ICICI Lombard has clients all over the nation. You should purchase bike insurance online from ICICI Lombard for the following reasons:
Roadside Assistance Cover
With the plan's roadside assistance coverage, there is no better way to be ready for an emergency breakdown or an accident out in the middle of nowhere. The roadside assistance add-on can cover you for a hotel stay, cab trip, flat tyre help, towing service, and other services if your bike or scooter breaks down or is involved in an accident.
Zero Depreciation Cover
Every bike's parts lose value over time as an asset. As a result, their market worth decreases. As a result of the depreciation value being subtracted, the coverage for the parts may be decreased at the time of the claim. However, you can protect your claim from depreciation by having zero depreciation cover. This add-on will result in a greater claim amount because it offsets any applicable depreciation.
Digital Claims Process
With this benefit, you will not need to visit the insurance company's offices. Log onto the IL Take Care app, submit your claim electronically, and InstaSpect will approve your repair request right away. While they repair your car, you may unwind.
Large Network
Over 4800 cashless partner garages are affiliated with ICICI Lombard's two-wheeler insurance network in India. Any of these network garages where you can get your car fixed and receive cashless payment.
Customer Service
In order to expeditiously resolve your claims, ICICI Lombard offers call center and chat services around the clock. One of the greatest in the business is ICICI Lombard's customer service.
Emergency Assistance
With the 24/7 emergency support, including roadside assistance, that ICICI Lombard two-wheeler insurance offers, the insurance coverage is convenient and advantageous for the customers.
Online Renewal
Simply purchasing an insurance policy is insufficient; you must also renew it annually. Your insurance policy renewal will be as easy with ICICI Lombard insurance as it was to purchase. Online renewal of your coverage is possible without an inspection or additional fees. All you need to do to renew your plan rapidly is enter the information from your prior policy.
Different Types of ICICI Lombard Two Wheeler Insurance
Listed below are the various types of ICICI Lombard bike insurance policies.
Comprehensive Policy
This two-wheeler insurance policy shields the owner from financial obligations related to unintentional harm to a third party or to their vehicle. You can even choose add-ons to improve your coverage under such a policy by paying a small additional price. At a slight additional cost, it also offers you personal accident protection of Rs. 15 lakhs for accidental death and disability.
Standalone Own Damage Policy
This stand-alone own-damage two-wheeler insurance plan covers damages to your bike or scooter brought on by man-made disasters like theft, burglary, riot, strike, etc., as well as natural disasters like earthquakes, floods, cyclones, landslides, etc.
Third-Party Cover
This kind of insurance policy protects you from monetary obligations resulting from an accident. If your bike injures a third party or damages their nearby property, your insurer will cover the costs under this form of the two-wheeler insurance policy.
What Are The Exclusions Under ICICI Lombard Two Wheeler Insurance?
The bike or scooter aging and sustaining wear and tear
Tread wear and tear, unless an accident damages the car, in which case we will pay up to 50% of the replacement cost.
Losses as a result of depreciation.
Electrical or mechanical failure
Injury to or by a two-wheeler rider who is intoxicated by alcohol or drugs
Damage or loss brought on by rebellion, war, or nuclear peril
Vehicle being utilized in a manner inconsistent with the use restrictions
How To Buy ICICI Lombard Bike Insurance Policy?
If you are looking to buy ICICI Lombard two-wheeler insurance, make sure you follow these mentioned steps:
Go to the official website of ICICI Lombard. After that, hover over "Motor Insurance" and then click on "Bike Insurance".
Enter all the necessary details like your mobile no, email ID, bike registration number, registration year, etc.
In the next step, you can select the plan of your choice.
After the main selection, you can choose to edit your coverage as much as the insurance provider allows by selecting the right add-ons, deductibles, etc.
When your selection is finished, you can make a payment through debit cards, credit cards, net banking, etc.
You will then receive your policy documents through email.
Steps to File a Claim For Your ICICI Lombard Two-Wheeler Insurance
Two-wheeler insurance claims can be submitted in two different methods. One is a cashless claim, and the other is a compensation claim. The way the settlement sum is disclosed in the two cases differs. An overview of the cashless claim procedure is provided below:
Call 1800 2666 or log in to IL Take Care app and raise a claim.
Use the InstaSpect option in IL TakeCare to complete vehicle inspection via live video streaming.
If the paperwork is in order, the company's claims manager will approve a repair right away after an inspection.
Deliver your damaged bike and the necessary paperwork to the closest network garage.
Unwind at home as they resolve your dispute with the garage.
After paying the remaining money owed to the garage, retrieve the vehicle from there.
Documents Required for Registering the Claim
o resolve a claim, the ICICI Lombard General Insurance Company needs specific paperwork. Depending on the type of claim, different documents are needed.
In case of accidents:
A claim form duly filled and signed by the plan buyer.
Copy of the plan buyer's driving license.
First two pages of the copy of the policy
First Information report, if applicable.
Electronic payment form, if applicable.
An Original Estimate Slip
Payment receipt and original repair invoice.
Only Repair Invoices in cases where repairs are done in a networked, cashless garage.
A stamp is necessary for vehicles that are registered with businesses.
In Case of Theft:
A claim form duly filled and signed by the plan buyer.
RC copy of the vehicle along with the keys of the vehicle.
Copy of the plan buyer's driving license.
A true copy of the First Information report.
RTO transfer papers along with Form 28 (3 copies), 29 (2 copies), 30, and Form 35 (in cases of hypothecated vehicles).
The police have reported that the car is untraceable and nowhere to be discovered.
The claim must be submitted right away by phoning the designated toll-free number.
A stamp is needed if the vehicle is company-registered.
In Case of Third-party Claims:
A claim form duly filled and signed by the plan buyer.
Copy of the plan buyer's driving license.
A copy of the First Information report.
Steps To Renew Your ICICI Lombard Two-Wheeler Insurance
A crucial aspect of obtaining bike insurance is renewals. Since the policy typically has a one-year term, it must be renewed annually to maintain coverage. If you don't, your coverage expires, forcing you to deal with the trouble of getting new insurance.
To renew the policy, log on to the official website of ICICI Lombard.
After that, you will see the "Renewals" section on the top right in the orange banner.
Then, hover over it and click on "Bike Policy".
Fin ill the required details like your policy number.
Make a payment through debit cards, credit cards, net banking, etc. As soon as the process is finished, you will receive your policy through email.
Frequently Asked Questions