Renew in just 5 mins.
No Inspection.
No Paper Work
* Subject To Underwriting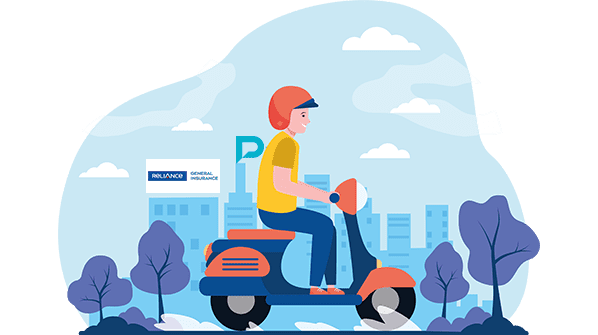 Compare

Bike Insurance Plans
Reliance General Two Wheeler Insurance
With 139 branches and over 28,900 agents spread across the country, Reliance General Insurance offers a range of insurance products including motor, health, travel, marine, and home insurance. These products are tailored to suit each customer's needs.
Reliance General Insurance offers competitive and attractive prices on its two wheeler insurance, which aims to cover your vehicle in times of an accident. With easy online purchase and renewal, the policy requires minimal paperwork and intends to speed up buying the policy and filing a claim.
Quick View of Reliance Two Wheeler Insurance
With an unpredictable future, it becomes important to safeguard yourself against unexpected expenses. One such expense could come up due to loss or damage to your two-wheeler. A two wheeler insurance can cushion the blow to your finances when the need arises.
| | |
| --- | --- |
| Features | Benefits |
| Cashless facility | Avail of cashless facility with over 1200 network garages |
| Choice of coverage | Choose from own-damage, third-party liability, and comprehensive coverage |
| Add-ons | Select from beneficial and attractive add-on covers to enhance protection |
| Easy claims process | File a claim with an easy video claims process |
| No claim bonus | Offers a discount of up to 50% on premium |
| High settlement ratio | Settled up to 98% of all claims filed in FY 2019-20 |
| Flexible tenure | Annual as well as long-term tenure available |
Why Go for Reliance Two Wheeler Insurance?
Reliance's two wheeler insurance lets you tailor your insurance policy according to your requirements. You can choose the type of policy you would prefer and select add-ons if needed.
Third-party liability coverage provides protection in the event a third person, property or vehicle is involved in an accident. The policy covers any financial liability arising in such a situation towards the third party. It is mandatory as per the law for every vehicle plying on Indian roads to be insured with third-party coverage.
Own damage cover protects against expenses arising from loss of or damage to the policyholder's vehicle due to an accident or natural disaster. Add-ons can enhance this protection.
The comprehensive cover combines the perks of third-party liability and own-damage cover to give the policyholder an all-round coverage for their two wheeler.
Personal accident cover provides a safety net of INR 15 lakh to the owner driver in the event of injury, disability, or death in an accident involving the insured vehicle.
Reliance two wheeler insurance can be easily purchased or renewed online with minimal paperwork. The process is simple and quick.
The claims process of Reliance's two wheeler insurance is easy, and the settlement ratio is high.
You can choose from the add-on covers to boost the coverage of your insurance policy. These include nil depreciation, helmet cover, EMI protection and daily allowance benefit.
No claim bonus offers discounts of up to 50% on your premium amount. Other discounts including voluntary excess also help reduce the premium.
Flexibility in choosing your policy tenure lets you go with a standard annual policy or select a long-term one according to your requirement.
What Is Covered Under Reliance Two Wheeler Insurance Policy?
Reliance's two wheeler policy provides coverage to the policyholder in certain situations involving the insured vehicle. These include loss of or damage due to:
Accident
Cyclone / hurricane / typhoon
Earthquake
Explosion
Fire
Flood
Hailstorm
Inundation
Landslide
Lightning
Riots / strikes / malicious acts
Rockslide
Self-ignition
Tempest
Terrorism
Thunderstorm
Transit by air, rail, road, elevator
What is Not Covered Under Reliance's Two Wheeler Insurance Policy?
While coverage is offered for a wide range of circumstances, some situations which do not fall under the purview of the policy are:
General wear and tear due to age and use of the vehicle.
Electrical and mechanical breakdown.
Consequential loss as a result of previous damage.
Damage arising as a consequence of the vehicle being used beyond its capacity or as outlined in the terms and conditions of the policy.
Damage or loss arising from the vehicle being driven without a valid driver's licence.
Damage or loss due to the vehicle being driven under the influence of alcohol and/or drugs.
The amount of mandatory deductible must be paid by the policyholder and outlined in the policy document.
Expenses arising from damage only to the tyres and tubes are not covered. If the vehicle is damaged along with the tyres and tubes, the insurance company will pay a depreciated amount of 50% of the cost of replacement.
Loss or damage to accessories as a result of burglary or theft is not covered. However, if the vehicle is stolen at the same time, the cost may be covered as outlined in the policy document.
Add-Ons Available For Comprehensive Policy Holders
Reliance's two wheeler insurance offers the following add-ons that can enhance coverage of the two wheeler's insurance policy. These add-ons can be purchased with the payment of an additional premium.
Benefits of Buying Reliance's Two Wheeler Insurance Online
A Reliance two wheeler insurance policy that is approaching its expiry date must be renewed in a certain timeframe, after which the policy coverage expires. Since stepping into the digital age, the online purchase has become easier than ever. Although offline renewal is also an option, renewing online not only saves time but also makes the process paperless and quick.
With online buying has increased in recent years, the gateways offered for payments are secure and safe. This drastically reduces chances of theft of sensitive personal data. Plus, buying online gives you a chance to take your time while customising the policy to see how it suits you.
If you're renewing Reliance General Two Wheeler Insurance, you can easily do so online. And, since all information regarding your policy, premium, and payment is available to you online, the entire process is transparent and you, the policyholder, stay informed.
Benefits of Purchasing a Long-Term Policy?
Insurance providers offer annual as well as short-term and long-term policies. If you are looking for a policy that will provide coverage for a long time while offering you the same benefits, here's why long-term policies are a great choice.
Saves you from the hassle of renewing your policy each year
The premium amount is lower for long-term policies, especially after adjusting for inflation
Avoids penalties that may be issued due to riding an uninsured bike
Where Can I Purchase or Renew My Policy?
Buying a policy offline is an option, but it can be time consuming. You can walk into any of Reliance General's branches or speak to an agent, fill the form, provide the required paperwork, and pay the premium to receive your policy document.
If you wish to purchase or renew online, you can consider doing so with Probus or on Reliance General's website.
1. Renewal or Purchase on Probus Insurance Broker
2. Purchase or Renew on Reliance General's Official Website
Documents Required While Purchasing the Policy?
With Reliance General's two wheeler insurance, you are required to submit a minimal number of documents at the time of purchasing or renewing your policy. These include:
Identity proof – driving licence, photo ID issued by the government, PAN card, AADHAR card.
Address proof – driving licence, address proof issued by the government, passport, passbook for you bank or post office account.
Contact information of the policyholder – name, address, occupation, gender, date of birth.
Driving licence information of the policyholder.
Registration certificate and number of the two wheeler.
For renewal – details of previous policy.
For online payments – net banking/ debit card/ credit card details on the payment page.
How Can I File A Claim Online For Reliance Two Wheeler Insurance?
While filing a claim, the amount, if approved, is disbursed one of two ways – cashless claim at a network garage or reimbursement.
1. Cashless facility
If the vehicle is taken to a network garage of Reliance General Insurance, then the claim will be settled directly with the garage. The policyholder will only be required to pay the difference between the actual amount and the amount disbursed.
2. Reimbursement
If the vehicle is repaired at a garage that is not part of Reliance General's network, the policyholder will pay the entire amount upfront to the garage. The insurance provider will then settle the amount by disbursing funds to the policyholder upon submission of the relevant documents.
Call +91 22 4890 3009 to register your claim with Reliance General Insurance.
Note the time of the accident, collect details of any witnesses, and take photos of the vehicle at the site.
If a third party is involved or if the claim is for a malicious act or theft, an FIR will have to be registered at the nearest police station. The police will issue a certificate, which will have to be submitted along with a copy of the insurance policy to the insurance provider.
Take the vehicle to the nearest garage. If you wish to avail of the cashless facility, take the vehicle to a network garage.
You can also opt to file a claim through the Reliance Self-i app or get on a video call with a representative of the insurance provider.
Frequently Asked Questions