Bike Insurance Calculator
Compare Premium.
Buy Now.
* Subject To Underwriting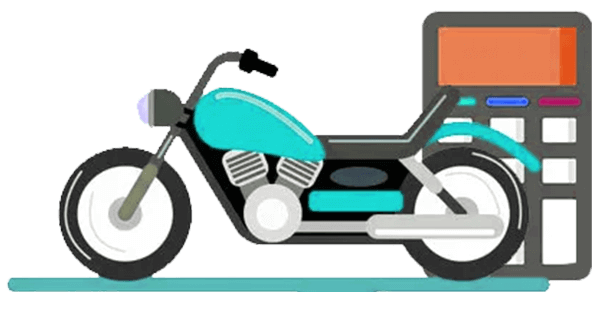 Compare

Bike Insurance Plans
Two Wheeler Insurance Premium Calculator
A two wheeler or bike insurance premium calculator is an online tool with algorithms to help calculate the two-wheeler insurance premium applicable to your vehicle and plan. All you need to do is feed the system with necessary details of the two-wheeler like the model, make, year, registration date, city, and the type of plan you would like to opt for – third party liability or comprehensive. The online premium calculator will use these inputs to generate the right insurance premium quote for you. You can also mention the add-on covers you would like to take along with your insurance plan.
When you're buying two wheeler insurance for your vehicle, among many factors you will also look at the premium amount associated with each insurance plan. You can do this by using two wheeler insurance premium calculators.
Benefits Of Two Wheeler Insurance Calculator
Using a two wheeler insurance premium calculator can be beneficial in making the right choice of insurance plan. Here are some of the most crucial ways in which this online tool can help:
Determine The IDV Of Your Vehicle – Knowing and using the right IDV on your vehicle is very important especially when it involves claiming insurance for loss or theft of your two wheeler. The online two wheeler insurance premium calculator can help determine the most accurate IDV based on your two wheeler's specifications.
Choose The Right Add-ons – Add-ons provide extra protection and cover against unforeseen damages and other hidden losses. You can choose which add-on covers work well for you based on their consequent effect on insurance premium value using the two wheeler insurance premium calculator.
Get The Best Premium Amount – The online two wheeler insurance premium calculator is a convenient way of instantly getting premium quotes from different insurers and opting for the one that suits your needs and budget the best.
Parameters That Influence Two-wheeler Insurance Premium
The insurance premium varies from one vehicle to the other based on several factors. These include:
The make and design of the vehicle – Simpler and safer vehicles cost lower premiums than those made for adventure sports and speeding because of the higher risk of damages.


Vehicle's Insured Declared Value (IDV) – The IDV of your two wheeler refers to the current resale or market price of your vehicle in the market, which also corresponds to the maximum amount you can claim in case of loss or theft of the vehicle.

IDV = Ex-showroom price + Value of fittings (if any) – Value wrote off as depreciation.


No Claim Bonus – You can opt for a no-claim bonus option on your insurance plan at a small additional fee. With this add-on, you are eligible for a bonus every year in which you have made no insurance claims on your vehicle.


Voluntary Excess – Voluntary excess refers to the amount you will let go from your own pocket before the insurer proceeds with the claim settlement. The higher the voluntary excess amount, the lower will be your premium.


Add-on Covers – Getting add-on covers for extra protection is an excellent idea for enhanced protection. However, it will attract a higher premium on your insurance policy.


Discounts and Waivers – If you have special discounts or waivers applicable to you because of memberships of associations like the Automobile Association of India, your premium amount automatically becomes lower.


City or Location – The city of vehicle registration also affects your two wheeler insurance premium value significantly. In some cities where the traffic is more, the risks of accidents are also higher. Therefore, vehicles registered in such cities will attract higher premiums for insurance policies.
How To Use A Two-wheeler Insurance Calculator?
The method of insurance premium calculation can vary a bit from one insurer to the other, but in most cases, the basic details needed for calculation are almost the same. The bigger difference in insurance premiums kicks in between new vehicles and used vehicles.
To use a two wheeler insurance calculator for new or used vehicles online, you need to:
Visit the webpage of the insurer and click on the insurance premium calculator tool
Select your two wheeler's make and model
Select the city of registration of your two wheeler
Enter the year of purchase of the vehicle
Mention if you have claimed the no-claim bonus in the previous year
After entering the above details, the online premium calculator will show you the premium amount applicable to your two wheeler
Here are the essential details you will be asked for the premium calculation of new two wheeler vehicles:
Name of manufacturer
Year of manufacture
Model of the two wheeler
A variant of the two wheeler
Registration state and city of the two wheeler
For used two wheeler vehicles, you need to enter:
Make, model, and the variant of two wheeler
Fuel type
Current two wheeler insurance policy details (if any)
Two-wheeler's registration state and city
No-claim Bonus (NCB) or past claim file reports and details (if any)
After you enter the above-mentioned details, you will get the insurance premium amount applicable to your two wheeler vehicle. You can choose the insurer and the premium amount best suitable for you.
Comprehensive Two-wheeler Insurance Premium Calculator
Opting for comprehensive two wheeler insurance policies gives you all-around protection from any financial and legal distress due to accidents or damages caused because of your two wheeler to you or any third party. This 360-degree coverage plan is the only plan that allows for customization. And consequently, the insurance premium also varies significantly depending on the inclusions you opt for and other add-ons you take along with the comprehensive policy plan. This is where the insurance premium calculator tool becomes helpful as you can check in real-time how every add-on affects the total premium value on your two wheeler.
While it was discussed earlier the parameters that affect the premium calculation. Mentioned below are some critical components specific to a comprehensive insurance policy that affect the premium of your two wheeler with a comprehensive insurance plan:
Make, model, and city of registration of your vehicle
Including coverage for damages to any third party and their property because of your vehicle and any legal implications that come along with it
The insured declared value (IDV) of your vehicle
Add-on covers included
Deductibles are the amount of money you opt to pay during claims. The higher the amount of the deductibles, the lower is the premium on your two wheeler insurance policy
Personal Accident cover for the owner or driver. This is a compulsory inclusion by the law.
Third-Party Two-wheeler Insurance Premium Calculator
Having third-party insurance on your two wheeler is the minimum requirement by the law. Critical components that influence the premium of your two wheeler insurance include:
CC of your two wheeler or the engine capacity. This is directly related to the speed and risk associated with riding your two wheeler and therefore affects the premium amount.
Personal Accident cover for the owner/ driver. This is a compulsory inclusion by the law.
Damages to a third party and their property.
How To Calculate Bike Insurance Premium?
The basic formula used by insurance premium calculators to arrive at the insurance premium amount on your two wheeler vehicle is:
Insurance Premium = Own Damage Premium + Third-party Premium + Optional Add-on cover charges (if any) + Personal Accident cover (owner-rider) + Optional Pillion Rider cover – (No Claim Bonus + Other Discounts, if any).
The online premium calculator will calculate and show you the premiums for your two wheeler's insurance policy to make things simpler. The table below highlights how the insurance premium varies across different two wheeler models.
| | | |
| --- | --- | --- |
| Name | Model | Insurance Premium |
| Bajaj Pulsar | 200 DTSI Electric Start 200cc | ₹ 1,850 |
| Honda CB Shine | Electric Start Disc Brake Alloy Wheels (125 Cc) | ₹ 1,330 |
| Bajaj Platina | STD 100 cc | ₹ 1,330 |
| Royal Enfield Classic 350 | Classic Desert Storm 500cc | ₹ 3,184 |
| Hero Honda Glamor | Electric Start Disc Brake 135cc | ₹ 1,330 |
*Disclaimer: The insurer used for this calculation is HDFC Ergo Two-Wheeler Insurance. The place of registration used to calculate these premiums is Mumbai and the year of registration is 2020. Based on your specifics, the rates may vary.
Tips To Reduce Your Two-wheeler Insurance Premium
Apart from being mandatory by the law, insurance policies also prove to be beneficial in several situations. However, you can optimize the insurance premium amount you pay by considering these important tips before choosing your insurance plan:
Keep your voluntary deductibles high – Increasing your voluntary deductibles can significantly reduce your insurance premium amount. You can choose to do this especially if you have had no insurance claims in the last four or five years.


Ride safely and maintain a good record – Riding safely and avoiding any kind of damages and insurance claims can earn you a good No-claim bonus every year.


Choosing add-ons wisely – Add-ons offer extra protection on your two-wheeled vehicle, however, you must choose the right set of add-ons to take on your policy. Selecting add-ons increases your premium amount, so choose only the ones that are relevant for you and your vehicle.


Speak to the insurance company – After getting a quote from the insurance calculation online, you can speak to the insurance company before making the final payment. They could inform you about special deals, offers, or discounts or even heckle a bit on premium pricing.


Compare different policies online – Comparing the quotes and inclusions from different insurers on the Probus website can land you the best deals with the best coverage suited for you.


Timely renewal of the policy – Renewing your insurance policy on time ensures that you get your no-claim bonus if applicable and can also avail of any discounts and offers on your policy.
Top Reasons Why Probus Vehicle Insurance Should Be Your First Choice
Easy process and zero documentation – At Probus, you can get your two wheeler insured online without any physical documentation submission. Just a few clicks and your two wheeler insurance policy is ready.
Easy and hassle-free claims assistance – The superior AI-powered technology and highly motivated team at Probus ensure that claim assistance happens in a quick and hassle-free manner.
Compare plans – With just a few clicks or taps you can effortlessly compare plans on the go on the Probus portal to find a match that aligns with your needs.
Free premium calculator – With the free premium calculator, you can easily get quotes from some of the best insurers and pick what appeals to you and suits your pocket.
Complete transparency – Along with no hidden costs, you can get maximum benefits of your insurance coverage at the best deal through Probus's extensive set of insurers. Land yourself unbelievable policy inclusions and add-ons at the best possible prices along with a few handy tips on how to save on premium.
Expert assistance – With a team of experts always at your beck and call, you can get any questions or queries answered in an unbiased manner.
Top-notch security – With matters of security, there's no need to be concerned. From payment to personal information, all your data is safe with us.
Frequently Asked Questions
No, you do not have the option to change your policy from a third-party insurance policy to a comprehensive one. However, you can take additional coverage in the form of add-ons or take another damage standalone policy from the same Insurance company or a different insurance company.
You can make amendments in policy details through endorsements. Endorsements allow you to:
Change the two wheeler owner/policy holder's address
Change the two wheeler owner/policy holder's name
Change the two wheeler owner/policy holder's email id or mobile number or both
Change the two wheeler registration number
Change the two wheeler engine number
Change the two wheeler model and built
Change the two wheeler variant
Increase your voluntary deductibles
Make corrections of premium
Make corrections in the two wheeler's Insured Declared Value (IDV)
Make corrections of No Claim Bonus (NCB)
Transfer of ownership of the two wheeler/bike