Renew in just 5 mins.
No Inspection.
No Paper Work
* Subject To Underwriting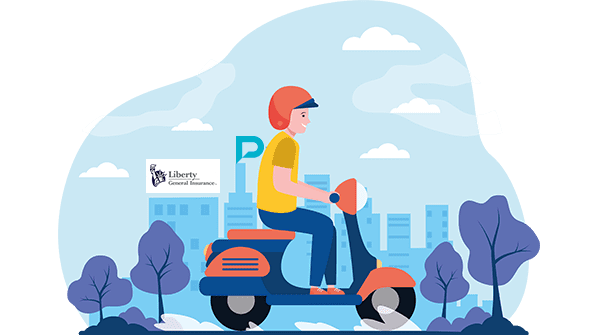 Compare

Bike Insurance Plans
Liberty Two Wheeler Insurance
Two Wheeler insurance shields the covered vehicle and its owner from third-party liabilities if it is ever involved in an accident. These include any harm sustained by someone or damages to someone else's car or other property. In the event of an accident, this coverage will cover the liability to third parties. The liability insurance covers accidental death, bodily harm, and/or property or vehicle damage.
Liberty General Insurance offers a comprehensive two-wheeler insurance cover covering an extensive range of any misfortune events. The two-wheeler insurance plans provide defense against any third-party liability claims as well as other costs that a vehicle owner might suffer.
Read on to know more about the Liberty Two-wheeler insurance, features, types, buying, renewal, and claim process.
Key Features & Benefits of Liberty Two Wheeler Insurance
Here is the list of the features and benefits of the Liberty Two Wheeler insurance policy.
Loss or damage to own vehicle due to natural calamities
The insurance policy will provide a benefit to cover costs or losses if your car sustains damage or is lost as a result of a natural disaster. Self-ignition or lightning, fire, explosion, flood, typhoon, earthquake, storm, hurricane, tempest, inundation, hailstorm, cyclone, frost, landslide, and rockslide are among the natural disasters described.
Loss or damage to a personal automobile brought on by natural disasters
Certain man-made calamities would also be covered by the two-wheeler insurance coverage. These include any harm sustained while traveling by air, rail, road, rail, inland canal, lift, or elevator. They also include robbery, burglary, riot, strike, accident caused by outside forces, malicious acts, and terrorist action.
Personal accident cover
Any injuries experienced while operating, traveling, mounting, or dismounting the bike will be covered by an individual accident insurance policy for the owner or driver. This plan offers Rs. 1 lakh in coverage. Policyholders can add extra coverage for unidentified and pillion riders.
Third-party liability
The insurance covers any resulting legal obligations by the terms of the plan for any unintentional harm done to a third party. Any costs associated with unintentional death, permanent injury, or destruction of third-party property will be covered by the insurance. The insurance policy's limit for property damage to third parties is Rs. 1 lakh. There is no cap on insurance coverage for fatalities brought on by third parties.
No Claim Bonus
For each year without a claim, you are entitled to an NCB discount on your own-damage premium. It starts at 20% for the first year and rises to 50% after five years without filing any claims. The best part is that you can keep the discount even if you decide to sell your old bike and get a new one instead.
Vehicle Relocation
In the event of a significant breakdown, Liberty General Insurance can help you move your two-wheeler to a garage.
Lost Key Assistance
Last but not the least, lost key assistance is another feature of Liberty General Insurance that will assist you in obtaining a replacement bike key if you lose yours.
Types of Liberty Two Wheeler Insurance
There are two different kinds of two-wheeler insurance coverage available. The first is a standard annual policy, whereas the second is a multi-year plan. Let's examine them both:
Annual Policy
You must pay the yearly premium for this year-long motorcycle insurance policy. It covers harm to your person or property, as well as vehicle damage. This policy can be easily renewed through the LiveMobile app or on the business website.
Multiyear Policy
This special two-wheeler insurance plan is a Liberty General-only service. The fact that you can pay your payment once and receive up to three years of coverage is the biggest perk! If you ride a bike frequently, you should choose this unique product.
Exclusions Under Liberty BIke Insurance
For the following, the corporation will not be required to reimburse the insured:
You are eligible for a No Claim Bonus if no claims were filed or are ongoing during the previous year(s) of your two-wheeler insurance.
When a loss is concurrently covered by more than one type of two-wheeler insurance coverage with a different insurer, a manufacturer's warranty, a recall campaign, or other similar packages.
Any loss that results from an incidental oil leak, excluding damage to the gearbox and the internal child elements of the engine that are damaged as a result of water intrusion or oil leakage.
Cost of engine oil and supplies if the engine needs to be flushed.
Loss or damage, such as engine rust, resulting from a delay in notifying the firm or from a lack of confidence in the ability to remove the insured vehicle from the waterlogged region.
When the insured has not taken reasonable precautions to prevent loss or damage to the insured vehicle.
General Exclusions of Kotak Two Wheeler Insurance
Understanding a policy is not completed if you do not go through its exclusions of it thoroughly. Therefore, to avoid future complications, and to offer you a clearer picture of the policy, here are the general exclusions of Kotak Two Wheeler Insurance:
Normal wear and tear and general aging of the vehicle will not be covered under the policy.
The policy will not provide any coverage for depreciation or any consequential loss.
If there is any damage to/by a person driving any vehicles or cars without a valid license, the company will not take any liability.
Damage to/by a person driving the vehicle under the influence of drugs or liquor
The mechanical, or electrical breakdown also falls under the category of exclusions.
The company will not compensate you if your car suffers any loss, or damage due to war, mutiny, or nuclear risk.
Vehicles including two-wheelers being used otherwise than in accordance with limitations as to use will not be covered by the policy.
Wear and tear of consumables like tires and tubes unless the vehicle is damaged at the same time, in which case the liability of the company shall be limited to 50% of the cost of replacement will also fall under the category of exclusions.
How To Buy Liberty Two Wheeler Insurance?
Online, Liberty General Insurance makes it simple to purchase a two-wheeler insurance policy.
Visit the official website of Liberty General Insurance and select "Two-Wheeler on the top"
Fill out the necessary details about you and your bike.
Following that, you will be given a price for the anticipated premium.
You can proceed with the payment if you accept the premium rate.
Your insurance will be supplied once the money has been received.
Steps To File a Claim For Your Liberty Two Wheeler Insurance
The methods listed below can be used to file a claim under your two-wheeler insurance policy:
File a claim with Liberty General Insurance by doing so online, by calling customer service, or in person at a branch.
For the necessary information, a representative will get in touch with you.
The representative can advise you on whether to relocate the car to a garage or wait for the surveyor.
A surveyor will be dispatched within the city limits within 24 hours and beyond the city limits within 48 hours.
Send your documentation to the insurer for review.
The insurance company will examine your claim, and if it is valid, it will be settled.
If you qualify for cashless claims, you must take your car to a network garage for repairs. Direct communication between the insurance company and the garage will take place. As long as the policy is in effect, you won't be responsible for any repairs. Liberty General Insurance will pay the garage's invoice. The Liberty General Insurance website has a list of network garages.
Documents Required For Registering the Claim
Listed below are the documents required for registering the claim for your Liberty two-wheeler insurance policy.
Insured's name and contact details
Two-wheeler Insurance Policy number
Complete address of the place where loss/damage took place
Complete address of the place where the damaged vehicle is available for inspection
Registration number of the vehicle
Name of the driver of the car at the time of the damage
Name, contact number, and relationship of the caller with the insured customer
Brief description of the nature of loss/physical injuries, if any
Claim form filled and signed
RC book copy and Driving license copy
Entire set of keys of the bike
Original bills of repairs/ invoice
Photographs of the insured damaged vehicle
In case of theft or total loss submit the Subrogation & Power of attorney
NOC from the financer for total loss or theft
Steps To Renew Your Liberty Two Wheeler Insurance
When you renew your insurance coverage on time, the procedure is significantly easier and hassle-free. For the insurer to be satisfied to issue you a policy after the coverage has expired, more inspections and other information may be required. Your insurance can be renewed online in a few easy steps.
Visit the official website of Liberty General Insurance and select "Two-Wheeler."
Select "Renew LVGI Policy."
Type in the LVGI Policy number.
Type either your chassis, engine or registration number. If your car was new last year, enter "new."
Following that, you'll get a quote for the anticipated premium.
You can proceed with the payment if you accept the premium rate.
Your insurance will be supplied once the money has been received.
Liberty General Two Wheeler Insurance is supported by a wide network of garages, high-quality support, and prompt solutions. The two-wheeler insurance plan offered by this company offers thorough protection for your bike in the event of an accident or other damage.
Frequently Asked Questions
Anti-theft systems are not frequently installed on two-wheelers. However, installing anti-theft devices will qualify you for a discount from Liberty General Insurance.
You have two options for contacting the business: either directly visit the nearest branch or call the toll-free number. The claim form may also be mailed to the business. Usually, the claim is settled within 7 working days if no discrepancy comes.
You can request the policy be canceled if the car has liability coverage. Just stop by the closest branch to cancel the policy.