Renew in just 5 mins.
No Inspection.
No Paper Work
* Subject To Underwriting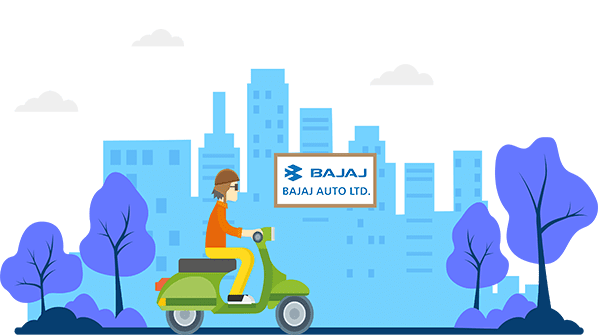 Compare

Bike Insurance Plans
When you hear the name Bajaj, the first thing you think of is the iconic "Hamara Bajaj" advertisement from 1989 which carved a special place for the brand in the minds of Indians. Bajaj is more than just automobiles. The Bajaj Group has a presence in the automobile, financial services, home appliances, insurance, iron & steel, and numerous other industries. 
Established in 1926, the Bajaj Group started its automobile unit in 1945. Bajaj Auto brought the iconic Vespa scooter to India by obtaining a license to manufacture from the parent company Piaggio. Motorcycles, a lucrative sector, were manufactured in 1986 and that is where the company began its ascent to success in the automobile industry. Around this time, Bajaj Auto also entered an agreement with Kawasaki, leading to the brand's entry into the Indian market. The brand has become synonymous with the average Indian who wants to drive a two-wheeler made in India and has technology that will last for a long time.
A Glance At The Bajaj Group
| | |
| --- | --- |
| Started in | 1926 |
| Headquarters | Mumbai, Maharashtra |
| Bajaj Auto started in | 1945 |
| Bajaj Auto headquarters | Pune, Maharashtra |
| Founder | Jamanlal Bajaj |
| Industries | Automobiles, home appliances, financial services, insurance |
| Total subsidiaries of Bajaj Group | 8 |
Top 3 Best-selling Bike By Bajaj
Bajaj is one of the top players in the two-wheeler market. Despite having numerous best-selling bike models, here are their top 3 performers in the bike sector in India:
Bajaj CT 110 – The bike has a single-cylinder engine and is an extremely fuel-efficient model. This is one of the main reasons for its popularity.
Bajaj Pulsar 150 – Making Indian roads safe, this model has some stellar safety features. The bike is sporty and great for long commutes on Indian roads.
Bajaj Avenger Cruise 220 – This gorgeous bike is perfect for bike enthusiasts. The large windshield creates a powerful riding experience, along with an entirely digital console in the front.
What Does A Good Bajaj Bike Insurance Plan Cover?
Driving a Bajaj bike is pretty cool, but do you know what is cooler? Having the right Bajaj bike insurance. Yes, a good Bajaj bike insurance plan is easy to obtain and well, also a legally required mandate by the Government of India. Having insurance for your bike is basically a way to safeguard yourself against the financial burden after an accident, an unforeseen emergency with your bike, damage due to natural disasters, and other similar situations. With a Bajaj bike insurance policy, you can easily repair your bike to its former glory without completely emptying your pockets.
Here are a few things to look for in your Bajaj Bike Insurance plan: 
Damage due to natural disasters is covered under a bike insurance plan. Be it due to a forest fire, an earthquake, or a landslide, damage to your bike is covered under the insurance plan.
Damage occurring during an accident is another thing that is covered under your Bajaj bike insurance plan. This means that in the event of an accident on the road, the damage to your bike will be paid for by the policy.
Damage caused to a third party, whether property damage or personal damage, is covered under a bike insurance policy. This includes damage done by your bike to a third party.
Expenses for replacing or repairing your bike that might be required due to an accident are also covered under the terms of a good Bajaj bike insurance policy.
Some Damages That Are Not Covered In A Typical Bajaj Bike Insurance Plan
Damage due to regular use such as regular wear tear of the parts of your motorcycle happening because of daily usage is not covered in a Bajaj bike insurance policy.
Damage due to driving illegally means that your insurer will not pay dues for an accident resulting from driving after drinking alcohol or consuming illegal substances.
Driving without valid paperwork will result in your policy not covering any damages. This includes an expired license, registration, etc.
Driving without an active insurance policy is illegal in India and any damage resulting from this action is not covered by your bike insurance policy.
Damage occurring during events such as war, riot, or any sort of protest is not covered by your Bajaj bike insurance policy.
The Perfect Add-Ons For Your Bajaj Bike Insurance Plan
Why do you need to pay more when you already have a Bajaj bike insurance policy in place? Well, if you want to fully protect your two-wheeler and yourself, these insurance policy add-ons make your policy better and ironclad. You are simply giving yourself extra layers of protection in case of an unforeseen event.
Zero Depreciation: Automobiles depreciate due to wear and tear that occurs with daily use. With this add-on, you get the full value of your bike without depreciation being deducted, in case you choose to file a claim or replace it.
24 x 7 Assistance: Imagine taking a scenic trip on your bike and getting stuck somewhere. With this add-on, you can call for help anytime, anywhere so you and your bike are always safe.
Personal Accident Cover: An important add-on, the personal accident cover is meant for the pillion rider. The add-on offers financial compensation for the treatment of your pillion rider in case of an accident.
Third-Party Vs Comprehensive: Which Insurance Policy Should You Choose?
When choosing your Bajaj bike insurance plan, this is the first choice you will be asked to make. Well, a policy is a policy, right? No. When choosing your bike Insurance policy, you can choose either third-party insurance or comprehensive insurance.
Third-party insurance is the basic insurance needed to ride your bike on the road and covers only third-party liability that occurs in the event of an accident. If you want a plan without any added frills, this is the right plan for you
A comprehensive insurance plan is a more expensive option, as it allows various add-ons. Not just that, a comprehensive insurance policy for your bike covers damages due to natural calamities, theft, fire, etc. In general, a comprehensive Bajaj bike insurance plan offers more well-rounded coverage for the bike and the rider both.
What Do You Get When You Opt For Bajaj Bike Insurance?
Financial protection: With a good Bajaj bike insurance policy in place, you are safe financially in case of any damage to your bike due to an accident or if it is stolen.
Legal protection: A valid Bajaj bike insurance policy keeps you legally covered while driving on Indian roads.
Personal accident cover: In the event of an accident, the rider is offered financial assistance in case of partial or permanent disability, or the family is offered a certain sum in case of death.
Worry-free driving experience: You can stop worrying about having to pay for damages caused to your bike or caused to a third party due to your bike, and actually enjoy your ride.
Why Should You Buy Bike Insurance Plans Online?
If you are still asking yourself how to go about purchasing a Bajaj bike insurance policy, this part is for you. If you don't feel like getting in touch with an agent and complicating your insurance buying process, you can do the entire process online. But why online?
Honest customer reviews: You can go through numerous customer reviews then and there. You don't have to call family and friends, asking for their opinions about this plan or that. Within a few clicks, you get an honest opinion of what people think of the policy.
Easy comparison of policies: With one click, you can check out numerous Bajaj bike insurance policies in one place. Compare prices and coverage on the same screen and decide on the spot.
Cost-effective policy purchase: With no middlemen, there are no commissions. You pay for the policy you want. Buying Bajaj bike insurance online is just the better option financially and timewise.
How To Compare Bajaj Bike Insurance Plans Online?
So, are you purchasing your Bajaj bike insurance online? Well then, here are a few things to look out for while comparing policies online. 
Take a look at what type of plan you want to purchase, whether it is third-party insurance, comprehensive insurance, and whether it has any add-ons. 
The fine details including the features, benefits, and protection offered to the rider and the bike are important aspects to check in your insurance plan. 
Take a look at the premium you will be paying to see if it falls within your budget and how often it needs to be paid. 
Extra benefits such as add-ons available for the insurance policy you have chosen need to be carefully looked at. 
Check the reliability of your insurance provider by reading reviews online so you know you are trusting the right company for your policy.
Choose Probus To Buy Bajaj Bike Insurance
Here's a quick reason why you should pick Probus:
A team of experts is always ready to assist you with insurance buying, renewing, or claim assistance. The IRDA-certified experts are here for your assistance from start to finish.
The claims filing assistance team is extremely efficient and they will do all the hard work, while you simply need to submit all the relevant information and documents related to your claim.
Varied policy options mean you can compare plans for your bike anywhere, anytime, and still be able to make an informed decision.
Support throughout the process makes the team available to you round the clock.
What To Do When It's Time To Renew Your Bajaj Bike Insurance Plan?
When renewing your Bajaj Bike Insurance plan on Probus, these are the steps you should follow: 
Visit the Probus website
Choose renewal on the home page
Click on motor insurance policy
Select your insurer
Enter information about your bike, policy, and insurer
Check if you qualify for any discounts, go through the add-ons to your policy and other information
Make the payment
You are insured and ready to go.
What The Premium For Your Bajaj Bike Will Look Like
| | | | | |
| --- | --- | --- | --- | --- |
| Bajaj Model | IDV | Ex-showroom price | Basic cover | Basic + 0 dep + Roadside assistance |
| Bajaj CT 110 Alloy Wheel | 27459 | 32305 | 533 | 629 |
| Bajaj Pulsar 150 | 63450 | 74647 | 460 | NA |
| Bajaj Avenger Cruise 220 | 71596 | 84230 | 545 | 1287 |
*Disclaimer: The insurer used for this calculation is Edelweiss General Insurance and the place of registration in Ahmedabad, in the year 2020. Based on your specifics, the rates may vary.
Frequently Asked Questions
Yes, if you want to protect yourself and your bike on the road, a good insurance policy is a must-have. Also, it is illegal to drive in India with an uninsured bike.
The zero-depreciation add-on can make sure that you get full value for your bike when filing a claim or replacing your bike.