Renew in just 5 mins.
No Inspection.
No Paper Work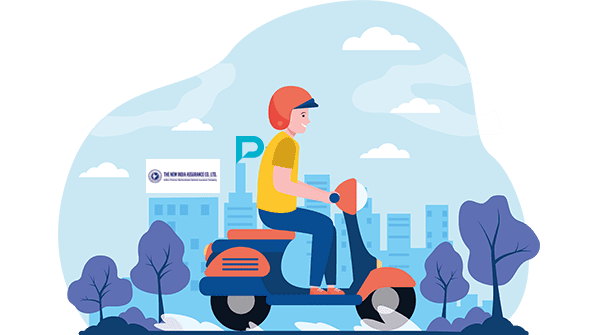 New India Two Wheeler Insurance
Established in 1919 by Sir Dorabji Tata, New India Assurance has made its presence known in 28 countries. The company has a wide network of 2395 offices and 68389 agents, ensuring that customers can easily access help and resources.
Among the 250 products that New India Assurance has to offer, its two wheeler insurance provides extensive coverage and insures new as well as old vehicles. The policy protects against third-party liability, damage to the policy holder's vehicle, and other damage that is not covered in the standard policy if you choose add-ons.
Snippet Of New India Assurance Two-wheeler Policy
Opting for New India Assurance's two-wheeler insurance opens a world of benefits for customers. The company offers the following to its customers
| | |
| --- | --- |
| Highlights  | Description |
| Comprehensive and third-party liability | Offers comprehensive as well as third-party liability only coverage up to INR 7.5 lakh |
| No-claim discount | 20% to 50% no-claim discount available on renewal |
| Add-ons | Offers personal accident cover, legal liability to employees and co-passengers, and accessories cover |
| Online purchase | Offers quick online purchase which makes buying insurance smooth and easy |
| Cashless facility | Avail of cashless facility at network garages |
| Claims settled | 91.26% of all filed claims have been settled till date |
What Benefits Does New India Assurance's Two-Wheeler Policy Offer?
New India Assurance's two-wheeler insurance policy provides a host of benefits to its policyholders.
You can buy and renew your policy online easily through Probus or New India Assurance's website.
With a no-claim bonus, voluntary deductible, and membership of an automobile club, policyholders can receive rebates on their premium amounts.
With 24×7 customer support, policyholders can receive assistance round the clock with regards to their doubts, questions, as well as claims.
Pick from a comprehensive cover or a third-party liability-only policy based on your requirements. You can also boost protection by selecting add-ons for an additional premium.
Easily redress a claim with New India Assurance at any time with just a call to the company's toll-free number.
What's Covered With New India Assurance Two-Wheeler Policy
New India Assurance two-wheeler policy offers comprehensive coverage as well as coverage for third-party liability.
Third-party liability includes cover for legal liability arising in an accident involving a third party, which may be a person, property, or another vehicle.
A comprehensive cover protects the policyholder against third-party liability as well as expenses arising from damage to one's own vehicle. This covers damage as a result of:

Accident or collision
Burglary or theft
Natural disasters like storms, floods, earthquakes, landslides, and typhoons
Malicious acts
Transit via road, air, elevator, or inland waterways
Under the comprehensive cover, you can also avail of towing facilities, for which the insurance provider covers up to INR 300. You may be able to get more coverage by paying marginally more premium.
Personal accident cover for private cars offers up to INR 15 lakh to owner-driver in the event of injury, disability, or death.
What's Not Covered With New India Assurance Two-Wheeler Policy
As with all insurance policies, New India Assurance too has a few conditions under which coverage is not offered.
Riots, war, and warlike conditions
Wear and tear due to use
Consequential loss from prior damage
Driving without a valid licence
Driving while intoxicated due to alcohol or drugs
Driving beyond limits specified in the policy.
Add-ons to Enhance Your Protection
New India Assurance offers some valuable add-ons for its two-wheeler insurance policy.
Coverage for co-passengers – Offers accident coverage for passengers not paying the fare in commercial vehicles
Coverage for employees – Offers accident cover to paid employees
Accessories cover – Offers coverage for damage to accessories in the vehicle
Return to invoice – Offers coverage for amount difference between the insured declared value and the invoice value of the vehicle in the event of loss or destruction of the vehicle.
Zero depreciation cover – Covers the difference between depreciation value and the actual cost of replacing spare parts.
Consumables cover – Covers the cost of consumables replaced during repairs for which a claim is filed, including the cost of nuts and bolts, oil, ball bearings, and more.
Add-on for towing charges – Covers the cost of towing a vehicle in the event of its incapacitation above INR 300.
Eligibility Criteria For Purchasing The New India Assurance Two-Wheeler Policy?
If you wish to purchase a two-wheeler insurance policy for your vehicle from New-India Assurance:
Your vehicle must be registered with your city or town's regional transport office.
The policy will be issued to the person in whose name the vehicle is registered.
How Can I Choose A New India Assurance Policy?
Buying a two-wheeler insurance policy requires patience and information. 
Checking the various insurance providers in the market along with the policies they provide is the first step to getting a good deal for your vehicle
Each vehicle is different and, as an owner, you may have some specific requirements that may be met by one insurance provider but not another.
You can choose a comprehensive cover, or you may only want third-party liability, which is mandatory. You may or may not want to purchase add-on covers.
Since a number of factors go into calculating bike insurance premium, along with what coverage you choose, research is key. So, compare the policies available to you and make an informed decision.
How Can I Buy Or Renew Two-Wheeler Policy With New India Assurance?
New India Assurance offers its customers numerous options when it comes to the mode of purchase while buying a policy.
The time-tested method to buy any insurance policy is to do it in person.
Walk into any New India Assurance branch or get in touch with an agent
Fill the application form and submit it along with other documents that are required to process your application
The company will verify your documents and send a representative to survey the vehicle being insured
You will receive a quote for your premium
Pay the premium amount and receive the policy document via mail or you can collect it from the branch or agent in person
2. Purchase or renew via Probus
Open Probus's website in your browser.
Fill in your basic details like your name and email address.
Provide the details of your vehicle like the registration number, brand, model, and the year it was registered.
Choose any add-ons that you wish to purchase.
If you are renewing your policy, you will need to mention the detail of your previous policy.
Browse through the insurance policies and choose the one that most suits your needs.
Pay the premium amount and get the policy document in your email inbox.
3. Purchase or renew on New India Assurance's Official Website
Open New India website in your browser.
Select the relevant option between purchasing a new policy or renewing your existing one.
Choose add-ons that you may want along with your policy.
Enter the details of your vehicle to receive a quote.
Make the payment on the payments page and receive your policy in your inbox.
How To File A Claim With New India Assurance?
With over 2300 branches and 68,000+ agents in addition to online resources, filing a claim with New India Assurance is easier than ever. The procedure varies slightly depending on the situation.
I. Theft Claim
In the event of the theft of your vehicle –
File an FIR with the nearest police station
Submit the final report from the police to New India Assurance
Cooperate fully through the investigation
Provide any and all paperwork that is requested by the insurance company
Turn over the vehicle's keys and the subjugation letter to the insurance provider
II. Third-party claim
Intimate the insurance provider of an impending third-party claim immediately
Submit the court summons to the insurance company
Submit the claim form along with your driver's licence, FIR, and vehicle's registration certificate
III. Accident Claim
Fill in the claim form and submit it
Provide a copy of your licence and vehicle's registration certificate
The vehicle will be assessed by a representative of the insurance company and a report will be given to the company
Sign the repair bills and any cash memos
Upon approval, you may be required to turn over any broken parts of the vehicle to the insurance provider
What Documents Are Required To Submit At The Time Of A Claim?
The documents common to any claim type are:
Driving licence
Police FIR
Duly filled claim form
Vehicle's registration certificate
Copy of the insurance policy
Estimate of cost of repairs
Stamped bills and receipts
Premium receipt
Learn About Premium And Reducing Its Cost
The amount you pay to the insurance provider at the time of purchasing or renewing the two-wheeler policy is known as premium. This amount takes into account your details as well as details of the bike that is insured. There are a few ways in which this amount can be reduced.
One such way is by not filing claims for small amounts. If the amount does not burn a hole in your pocket, consider not filing a claim. This way, you may be entitled to a no-claim bonus. It is essentially a discount on your premium. This bonus starts from 20% and goes up to 50%, increasing with each term that you do not file a claim.
Another way to reduce your premium is to opt for a higher voluntary excess. Also known as a deductible, the excess is the amount outlined in the agreement that the policyholder must pay at the time of the claim. Any amount above that is disbursed by the insurance provider. Opting for a higher excess brings down the premium amount, which, in the long run, is beneficial to the policyholder.
If you are a member of the Automobile Association of India, you may receive a discount on your premium.
Frequently Asked Questions
1. Is it alright if I buy only the own damage cover and not a third-party liability?
Ans. The simple answer is no. The Motor Vehicle Act makes it mandatory for all vehicles plying on public roads to be insured with a third-party liability cover.
2. Can I avail cashless facility with New India Assurance's two-wheeler insurance?
Ans. If you get the insured vehicle repaired at New India Assurance's network garages, you can definitely avail the cashless facility. If the garage is not approved, you may submit the bills and receipts for reimbursement.
3. Are there any costs that I must bear at the time of a claim?
Ans. You will have to pay the deductible and the amount difference between the actual and depreciated value of the spare parts that may have been replaced.
4. What is a no-claim bonus?
Ans. At the time of renewing your policy, if you have not filed a claim during the previous tenure, you are eligible for a discount on your renewal premium. This is known as a no-claim bonus.
5. Can I renew my policy online?
Ans. Of course, you can! You can renew your policy on Probus's website, or you can choose to renew on New India Assurance's website. Both options are available to you.