Renew in just 5 mins.
No Inspection.
No Paper Work
* Subject To Underwriting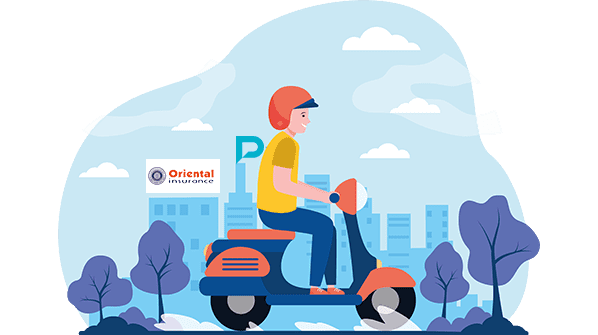 Compare

Bike Insurance Plans
About Oriental Two Wheeler Insurance
Founded in 1947, Oriental Insurance Company Ltd is a wholly owned subsidiary of the Oriental Government Security Life Assurance Company Ltd. The general insurance company has its head office in Delhi with over 1800 branches across the country and operations in Nepal, Dubai, and Kuwait.
Oriental offers competitive pricing on its two wheeler insurance policy along with a host of benefits for its policyholders. Policyholders also have the option to choose from add-ons to enhance coverage.
Quick Look At Oriental Two-Wheeler Insurance
Oriental's two-wheeler insurance is a valuable safety net that protects against expenses that one may have to bear in the event of an accident.
| | |
| --- | --- |
| Features | Benefits |
| Package policy | Offers comprehensive coverage which includes third-party liability |
| Customised protection | Choose from add-on benefits for a customised insurance package |
| Annual and short duration cover | Policy is valid of one year, and shorter validity policies are also available |
| Swift online purchase and renewal | Purchase, renew, or even switch to Oriental from another provider easily online |
| Emergency service | Free emergency service available without a rise in premium amount |
| Discount offers | Discounts offered based on voluntary deductible, no-claim bonus, installation of anti-theft device in vehicle, and joining an automobile association |
Advantages of Oriental Two Wheeler Insurance
Oriental's two-wheeler insurance looks at covering expenses that the policyholder may have to bear as a consequence of an accident. The insurance policy protects you from burning a hole in your pocket in such situations.
Oriental two-wheeler insurance's comprehensive policy covers expenses arising from own damage as well as third-party liability. The insurance company will pay for the damages as outlined in the policy for the policyholder's vehicle as well as any liability to the third party.
Third-party liability coverage protects the policyholder from liability if a third party, which could be a person, vehicle, or property, is involved in the accident. Any pay-out to the third party is taken care of by the insurance provider as per the policy terms.
Personal accident cover compensates the owner-driver in the event of injury, disability, or death in an accident up to a sum of INR 15 lakh.
Add-ons provide additional protection in certain conditions that are not applicable under the comprehensive or third-party liability covers. These add-ons are available for an additional premium. You can opt for as many add-ons as you require based on your needs.
Oriental's two-wheeler insurance offers a standard annual policy, which is renewed each year. If required, policies valid for shorter durations are also available for purchase.
The insurance company also gives policyholders access to emergency service when needed. These services are offered without adding to the premium.
You can also avail of discounts on your premium with a no-claim bonus or by opting for a higher deductible. Installing an anti-theft device and being a part of an automobile association can also bring down your premium.
Coverage For Oriental Two-wheeler Insurance?
Two-wheeler insurance policies cover certain situations that may arise and not necessarily include a collision accident. Some of these inclusions are:
Natural calamities – flood, hurricane, landslide, hailstorm, thunderstorm, frost, earthquake
Fire, explosion, or self-ignition
Man-made calamities – riot, strike, malicious act
Theft or burglary
Accident by external means
Damage in transit – road, air, inland waterway, elevators
If the two-wheeler needs to be towed, the insurance company will provide up to INR 300 as towing expenses. The cost of spare parts is disbursed after taking into account their depreciated value as follows.
| | |
| --- | --- |
| Parts | Depreciation Value |
| Rubber/nylon/plastic parts | 50% |
| Tyres and tubes | 50% |
| Batteries | 50% |
| Fiberglass components | 30% |
| Glass parts | Nil |
For other parts, including those made of wood, the depreciation value is based on the age of the vehicle.
| | |
| --- | --- |
| Age | Depreciation Value |
| Below 6 months | Nil |
| 6 months to 1 year | 5% |
| 1 year to 2 years | 10% |
| 2 to 3 years | 15% |
| 3 to 4 years | 25% |
| 4 to 5 years | 35% |
| 5 to 10 years | 40% |
| Above 10 years | 50% |
What Are The Exclusions With Oriental Two-Wheeler Insurance?
Oriental's two-wheeler insurance coverage excludes certain situations. These may be:
Loss or damage occurring outside the geographic location mentioned in the policy
Loss or damage due to a contractual agreement
Loss or damage while the vehicle was being used for purposes other than that mentioned in the policy
Loss or damage as a result of driving without a valid driving licence
Loss or damage as a consequence of driving under the influence or alcohol or other intoxicants
Loss or damage incurred in a deliberate attempt to injure oneself, suicide, or an attempted suicide.
Loss or damage during war and war-like situations or nuclear peril
Normal wear and tear
Loss as a consequence of previous damage
Depreciation
Loss or damage due to mechanical or electrical breakdown
Add-ons to Enhance Your Protection
Oriental's two-wheeler insurance policy can be upgraded with some or all of its add-on covers. The policyholder can select add-ons as per their requirements for more comprehensive protection.
Where Can I Purchase Or Renew My Oriental Two-Wheeler Insurance Policy?
While you can always reach out to an Oriental Insurance Company's representative at the branch or an agent for purchasing or renewing your policy, you can also do so online.
1. Purchase or renew via Probus
Step 2
Click on 'Purchase or Renew Policy'
Step 3
Provide your contact information, including your name, mobile number, and email address
Step 4
Add details about the vehicle you wish to insure. These details include the make and model of your vehicle and its year and place of registration.
Step 5
State is the vehicle was previously insured. If yes, give details of the previous policy and mention if any claim was made.
Step 6
Go through two-wheeler insurance policies offered by various bike insurance providers and select the one that fits you best.
Step 7
Select any add-ons that you may wish to purchase.
Step 8
Pay the premium on the payments and get a copy of your policy in your email inbox once it clears. Save a copy so you always have it on hand.
2. Purchase via Oriental's Official Website
Step 1
Visit the official Oriental insurance website.
Step 2
Fill in the details asked in the 'buy new' part of the page. This includes the year of registration for your vehicle and its date of purchase, the regional transport office with which it is registered, and the state where it was purchased. Mention the vehicle's engine, chassis, and registration number, its colour, and hypothecation type.
Step 3
Provide your contact information, including your name, mobile number, and email address
Step 4
You will get a quote for your premium. If you wish to proceed, fill in your personal details.
Step 5
On the payments page, make the payment of the premium. Once it clears, you will receive the policy document at your email address.
3. Renew via Oriental's Official Website
Step 1
Visit the official Oriental insurance website.
Step 2
Select the option - renew your Oriental two-wheeler policy or a two-wheeler policy purchased from a different company which you wish to switch.
Step 3
Enter your old policy number and click RENEW NOW.
Step 4
Select any add-ons that you would like to purchase.
Step 5
If you wish to proceed with the quoted premium, make the payment on the next page and receive your policy document via email.
Claims Process For Oriental Two-Wheeler Insurance Policy
Oriental Insurance is committed to customer satisfaction and has set up a smooth claims process.
Filing a claim properly in valid circumstances ensures swift resolution and disbursement of funds. To file a claim:
Intimate the company immediately of an impending claim.
Download the claim form from the website or obtain one from the branch. Alternately, you can file a claim online by logging into the portal and providing the details.
Fill in the details on the claim form and attach all the required documents.
A representative may be assigned to assess and investigate the damage to the vehicle.
Submit the repair estimate and all bills and receipts.
Once the paperwork is approved and the representative submits their assessment report, the funds will be disbursed.
How Is A Premium Calculated?
A premium seals the deal between the insurance provider and the policyholder. It takes into account the risk factors for the vehicle and the owner, and also the liability of the company.
Premiums are calculated based on different aspects such a:
The insured declared value of the two-wheeler
The capacity of the vehicle
The area or region where the vehicle is registered
The vehicle's age
The vehicle's make and model
The fuel type of the vehicle
Electricals and other electronic items
Any add-on covers
Are There Any Additional Terms I Should Be Aware Of?
The policyholder must bear a few things in mind regarding the terms and conditions of the oriental two-wheeler insurance policy.
The policyholder must be the registered owner of the vehicle being insured.
The policyholder must hold a valid licence issued by the country's authorities.
For claims involving those other than the policyholder, the payment will be disbursed only after approval of the policyholder and will be considered final.
If the driver involved in the accident is eligible for compensation under the Workmen's Compensation Act, 1923, they will not be entitled to the policy's compensation.
For third-party liability, the disbursement will be made only if the third party is not involved for hire or reward. Also, the disbursement will happen only if the accident involves the policyholder or their household members, or the insured vehicle.
The company may independently conduct an assessment or investigation of any accident leading to a claim.
Frequently Asked Questions