Renew in just 5 mins.
No Inspection.
No Paper Work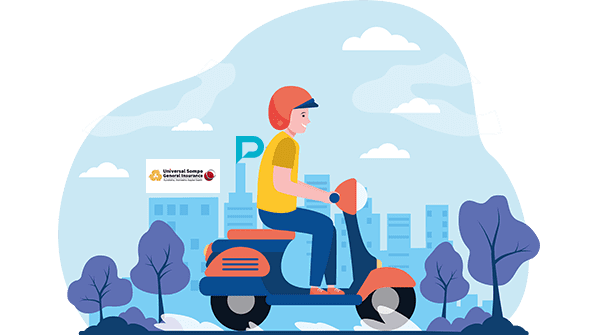 Universal Sompo Two Wheeler Insurance
Universal Sompo General Insurance is a Public-Private partnership that began operations in India in 2007 when it received its license and certification from IRDA (Indian Regulatory and Development Authority). The company is backed by three major Indian banks namely the Indian bank, Indian Overseas Bank, Karnataka Bank Ltd as well as a major investment company the Dabur Investment Corp and the Japanese insurance expert Sompo Japan Nipponkoa Insurance Inc. Its headquarters is in Mumbai.
The company has 86 branches and 17 zonal offices all over India and more than 3,500 garages to provide services for car and bike insurance customer support round the clock.
Universal Sompo two wheeler insurance holds authentic and prestigious certifications and meets the essential requirements as per law ensuring that the vehicle is protected against all kinds of eventualities.
The goal of Universal Sompo General Insurance is to become a leader in insurance products and it is progressively becoming a first choice insurance provider in India offering a variety of benefits and coverage as well as exemplary customer service.
Universal Sompo Two Wheeler Insurance AT A Glance
A look at the distinctive traits or characteristics of the company-
| | |
| --- | --- |
| Features | Benefit |
| Premium | Starting from 752/- |
| No Claim Bonus | Maximum NCB one can avail is 50% of the premium |
| Add-ons | Customized add-ons offered |
| Cashless Repairs | Available at company approved garages ( over 2200 ) |
| Claim Process | Can be initiated online/ on call immediately |
| Claim Settlement Ratio | 99% claim settlement ratio. Policyholders can make unlimited claims and all dealings are convenient and digitally possible. |
| Claim settlement support | Round-the-clock ( 24 x 7) crisis support is available |
| Own Damage Cover | Determined by the IDV (Insured declared value) of the two wheeler |
| Damages to Third-Party | 1 Lakh for property/vehicle damage |
| Personal Accident Cover | Up to Rs 15 lakhs |
| Policy period and renewal frequency | Annual or long term policy package as per the policyholder's choice |
Features And Benefits Of Universal Sompo Two Wheeler Insurance
Universal Sompo offers a number of advantages and gains like:
Add-ons and accompaniments are reasonably priced and afford better safeguards, but are also relatively cheap to purchase.
Comprehensive cover against several eventualities.
Individuals who take a long-term policy are entitled to discounts ranging between 5 and 10% of the premium amount.
No claim bonus of two kinds. Normal NCB and Incremental NCB an incentive for those who select long term policy.
The uncomplicated claims process ensures that all claims are settled promptly. 
Online purchase and renewal of an insurance policy enabling customers to save time and effort. 
High Insured Declared Value, with the utmost depreciation, limited to 50% of the vehicle cost.
Policy Options:-
Motor Two wheeler Insurance Policy – An annually renewable policy.
Two wheeler Long-term Package Policy – Those who do not wish to renew the policy each year can opt for a maximum policy term of 3 years.
Coverage of unexpected and unpredicted emergencies
The two wheeler insurance policy offered by Universal Sompo General Insurance covers motorcycles and scooters used for personal, social, leisure, and professional purposes and more. The bike insurance policy offered by the company does not just cover the policyholder against a range of incidents that cause damage or loss to the vehicle, it also provides excellent benefits.
Type

Cover

Third Party liability only Insurance

This includes coverage for any damage to property or vehicle of the third party caused due to the insured's bike. The compensation is up to Rs. 1 Lakh for third party liability.
Compensation in case of body injury or death of the third party in the accident involving the insured's bike is decided by the court.

Comprehensive insurance

Third party liabilities only benefits
Own damage caused by natural calamities such as floods, storm earthquakes etc
Own damage caused by man-made disasters such as riots, vandalism activities etc.
Theft of the bike, fire and explosion.
| | | |
| --- | --- | --- |
| Type | Comprehensive Insurance | Third Party liability only Insurance |
| Coverage | Includes cover for third party liabilities as well as for own damage to the owner's bike. | Provides cover only for third party damage caused by the policy holder's bike. |
| Add-ons | A wide range of add-ons available at minimal extra premium | No access to add-ons |
| Cost | Because of wide coverage to the policyholders the premium is comparatively higher. | As Third party bike insurance provides limited coverage the premium is lower. |
Add-Ons Available For Comprehensive Policy Holders
These are extra covers that can be acquired by paying an extra premium. They serve to give greater protection to the bike.
Engine and Gearbox Protection Cover: The cost of replacing the engine is extremely high. With this add-on, the engine and gearbox are protected for any major damages caused by an accident, water ingression into the engine or leakage of coolant and lubricating oil.
NCB Protector add-on entitles the policyholder to get the No Claim Bonus discount on the premium for every claim-free year starting with 20% and as high as 50% over 5 successive claim-free years.
If you buy a Return to Invoice add-on you can get the difference of the on-road price of your bike at the time of its purchase and in case of its theft or total wreckage. Valid for bikes not older than 5 years.
If your bike is at an authorized garage for repair for accidental damages, you will be entitled to Daily Cash Allowance Benefit for a maximum of 5 days. In case of theft, the allowance is provided for up to 10 days. This cover is applicable for bikes not older than 5 years.
Additional Accidental Injury Compensation for owner-driver up to Rs. 8 lakhs against accidental injury leading to complete disability or death in an accident when driving the insured bike.
Additional Accidental Injury Compensation for Family due to an accident that involves the insured vehicle and leads to death/ disability
Roadside Assistance includes 24-hour roadside help, towing facility, on the spot repair, puncture repair, fuel delivery in an emergency, loss of key assistance, cab service, procuring spares and relay of emergency messages and calls.
Cost of Consumables is the replacement of consumable items such as washers, oil etc., in case of damage caused to the insured vehicle.
Hospital Daily Cash Cover of daily cash benefit of Rs. 2,000 every day of hospitalization as a result of an accident due to an insured bike for a maximum of 30 days.
Eligibility Criteria To Buy The Universal Sompo Bike Insurance Online
Bikes should be legally registered.
The vehicle should be in a good condition to be used on the road.
The individual who owns/uses the bike should have a valid license.
No alterations and modifications in the vehicle without informing the company.
A physical inspection of the bike might be required in cases where the previous policy has lapsed.
Buy or Renew Universal Sompo Motor Insurance Policy
With just a few simple steps, customers can buy a new policy or renew an existing policy. Here's what you can do:
1. Buy/Renew with Probus Insurance Broker
Open the Probus website and select Apply/Renew two wheeler insurance, as relevant.
Decide on the insurance company of your preference.
In case of new policy, fill in necessary information such as city, model, variant, registration year and date, fuel type and personal details like mobile number, email address.
If you are renewing the policy, enhance the above information with extra/new/changed details.
Decide on the insurance provider of your choice after comparing plans from different insurance companies and pick the one of your choice.
In case of renewal decide on NCB as applicable. If you have opted for a comprehensive insurance pick add-on, if required.
Confirm and revise the data entered by you before making the payment
Make the online payment using any secure online payment service.
Your policy document will reach your inbox right away.
2. Buy/Renew By Direct Universal Sompo Website
Log onto the official website of Universal Sompo General Insurance.
Choose the two wheeler option on the homepage, under the "Buy/Renew Online" option.
Provide basic details like name, email id, mobile number
Select the plan you wish to purchase.
The details of the vehicle should be provided. These include the date of registration of bike, year of manufacture, name of manufacturer, bike model, engine capacity, etc.
If you are renewing a policy you will be asked to enter your previous Policy number for the renewal process
Choose the tenure, annual or long term
If you have chosen a Standard/ Comprehensive Plan you can tailor it further by setting an IDV (Insurance Declared Value) and selecting add-ons, of your choice.
A quote of the premium will be provided.
Pay the amount via net banking, credit card, or debit card.
Your policy will be sent to your email. You can also save the policy documents online at your convenience after renewal.
How To Make a Claim Under Universal Sompo Two Wheeler Insurance?
Universal Sompo has a committed team that takes care of claim requests. It is vital to inform the company to begin the claims process by keeping in mind some simple points.
Inform Universal Sompo office by calling toll free number – 1 800 22 4030. or their 24×7 call center number +91 22 26748600.
You will be given a reference number.
Make available every detail of the accident or theft. Leaving out nothing.
The claim form must be meticulously filled and submitted.
Universal Sompo will assign a customer service manager who will get in touch with the applicant within 24 hours.
A surveyor will be appointed.
Once the survey is done the vehicle can be given for repair.
All claim documents will need to be submitted to the insurer.
After verifying the claim documents the insurer will complete the payments
Universal Sompo enables tracking the status of the claim online.
Documents Required For Filing a Claim
Police FIR copy for accident damage or theft
Properly filled and signed claim form
A copy of the Registration Certificate (RC)
Original repair invoice for cashless claims
Driving license of the person driving at the time of the accident
Copy of first two pages of policy document
Original repair estimate, repair invoice and payment receipt for non-cashless claims.
Exclusions of Universal Sompo Two Wheeler Insurance
To ensure that the claim facility is not misused the following exclusions are applied
Ageing: Any damage to the bike due to the general ageing of components is not covered by the policy.
Wear and tear: Daily driving can result in wear and tear and damage to brakes, clutch, etc. This is not covered by the plan.
Breakdowns: Any breakdown due to electrical/mechanical reasons.
Negligent driving.
Unauthorized use which is not as per the set rules such as racing, speed testing, etc.
When the bike is used by an individual who does not have a valid driving license.
Any accident which occurs when the rider is under the influence of alcohol/drugs.
Any damage due to war or due to a nuclear incident.
Bike Insurance Premium and It's Calculation
An insurance premium is the amount of money paid for an insurance policy. A bike/two wheeler insurance premium calculator is an online means to help the customer create the right bike insurance premium for his two wheeler. To calculate premium for comprehensive bike insurance several aspects are considered including the bike's IDV, its age, cubic capacity, owner's age, etc. The premium will automatically appear during the online purchase or renewal of a policy.
For an old bike insurance premium will be much less because of chances of the bike being naturally worn out and the scope of add-ons being less.
Frequently Asked Questions
1. Is there a discount on the premium for a policy with a 2-year tenure?
Ans: Yes, the policyholder is entitled to a 5% discount. Provided no claims were made in the previous year and depending on your no claim bonus points.
2. If a policy expired two months back can it be renewed online?
Ans: No, a policy can be renewed online only if it has expired within a period of 45 days from the date of the renewal application.
3. If a two wheeler was used as a taxi will the insurance policy provide protection?
Ans: No. The policy is intended to afford cover only when it is used as a private vehicle.
4. How long does it take to settle a claim?
Ans: All claim related formalities are cleared within 5 days of receiving the documents.