Renew in just 5 mins.
No Inspection.
No Paper Work
* Subject To Underwriting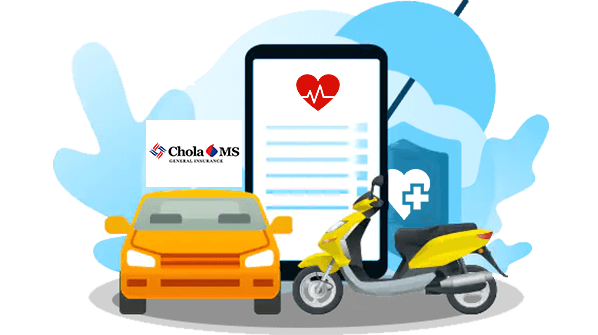 Compare

Bike Insurance Plans
Cholamandalam Two Wheeler Insurance
When you buy a two wheeler out of your hard-earned money, the next important thing you need to do is buy a bike insurance product to provide maximum security to your bike yourself. When it comes it a bike insurance policy, Cholamandalam General Insurance Company is one of the most prominent names. This company has come up with a sack full of bike insurance products that not only safeguards your dream two wheeler but also it offers you protection against an accident. More than that, third party liability insurance is a mandatory policy for all bike owners according to the Motor Vehicles Act of India. So be it a third party policy or a comprehensive bike insurance policy, Cholamandalam two wheeler insurance policies must be on your bucket list. To know more about these products, have a look at the following mentions.
Benefits of Cholamandalam Two Wheeler Insurance
The bike insurance policies available with this insurer have come up with lots of benefits that ensure your bike's safety. Here are the benefits mentioned below.
Protection Against Legal Liabilities:
Third party bike insurance policy offers protection against the third party's legal liabilities in case of an accident or property damage. The company pays full compensation to the third party, protecting you from legal adversities.
Protection Against Personal Accident:
This includes a payout to compensate for death, dismemberment of bodily organs, and permanent and total disability due to an accident. 
Protection Against Accidental Damage:
Own damage insurance for two wheelers is provided wherein damages to your bike that occurred during an accident are covered by this insurer. The company pays the full cost of repairs for the said damage.
Protection Against Fire Damage:
Damages by fires not caused deliberately by you will be covered by your policy of this company. 
Protection Against Damages Caused By Natural Calamities:
The policy includes the damages that occurred due to natural calamities such as landslides, earthquakes, floods, etc.
Add-on Covers:
This company has presented a handsome number of add-on covers to offer maximum protection to your two wheeler. These add-on covers can be purchased by paying a little extra premium.
Protection Against Damages During Transit:
Damages incurred while transiting via elevators, rail, road, inland waters, etc., are all covered under the comprehensive two-wheeler insurance by Chola MS.
Why Should You Opt For Cholamandalam Two Wheeler Insurance?
If you still have doubts about whether you should opt for this company or not for your bike insurance policy, here are the mentions to clear your confusion.
Transparency:
This company has maintained transparency since its foundation. It always values its customers and always tries to design policies that can best serve the consumers. 
Long-term products available:
With this insurer, you can get long-term bike insurance products that keep you safe and protected for a longer period of time, and you do not have to take the trouble of frequent renewal.
Customer-friendly Products:
The bike insurance products of this company are made in such a way that they can cater to the varied needs of different individuals.
Number of Policies:
Cholamandalam has come up with a wide range of bike insurance policies so that the customers can choose the most suitable one according to their needs.
Background of the Company:
This company has been in the general insurance market for a long time. And over time, it has earned a good reputation and gained popularity. 
Online Facilities:
In the age of modernization, with the growing demand for digitalization, Chola MS has also offered online facilities to its customers, such as renewal, bike insurance premium calculator, filing a claim, etc. 
Cashless Facility:
Cashless facility is available with this company. More than 8500 network garages are spread all over the country.
Types of Cholamandalam Two Wheeler Insurance
This company has developed a bundle of bike insurance policies that safeguards you and your bike from adverse situations. The details of the policies have been discussed below. Have a look.
Chola Standalone Own Damage Policy for Two Wheeler:
This policy protects against damages due to accidents, theft, natural calamities like floods and earthquakes, and social perils like riots, strikes, and terrorism.
Discount is available on renewal premium for no-claims in the previous policy year.
Fire accidents and road accidents are covered under this policy.
This policy also provides you protection against theft of your two wheeler.
Motor Two Wheeler Liability Policy for 5 years:
This policy is a dedicated third party policy under which you can get Legal Liability cover to Third parties (TP) for personal injury and property damage resulting from an accident. The company will reimburse for the death of or bodily injury to any person so far as it is necessary to meet the requirements of the Motor Vehicles Act.
You will also get compensation for damage to property other than property belonging to the insured or held in trust or in custody, or control of the insured up to the limit specified in the schedule.
This policy also offers Compulsory Personal Accident (CPA) Cover for the Owner- Driver.
| | |
| --- | --- |
| Nature of injury | Scale of Compensation |
| Death | 100% |
| Loss of two limbs or sight of two eyes or one limb and sight of one eye | 100% |
| Loss of one limb or sight of one eye | 50% |
| Permanent total disablement from injuries other than those named above | 100% |
The Company will also pay all costs and expenses incurred with its written consent.
The Policy Tenure of this policy is 5 years for Third party Liability, and CPA cover is available for Owner-driver – 1 or 5 years.
The Company may, at its own option:
Arrange for representation at any Inquest or Fatal Inquiry in respect of any death which may be the subject of indemnity under this Policy and
Undertake the defence of proceedings in any Court of Law in respect of any act or alleged offense causing or relating to any event which may be the subject of indemnity under this Policy.
Motor Two Wheelers Policy Bundled/Chola Motor Two Wheeler Package Policy:
This policy offers coverage for the conditions like loss or damage to your Vehicle due to
Social perils like Burglary, House-breaking or theft, Riot, Strike, Terrorism, and Malicious activity
Natural perils like Storms, cyclones, floods, inundations, hurricanes, tempests, hailstorms, frosts, Earthquakes (Fire and Shock), rockslides, and landslides
Accident
Fire, Explosion, self-ignition, or lightning
While in transit by road, rail or inland waterway, airlift, elevator
This section is subject to a deduction for depreciation at the rates mentioned below in respect of parts replaced:
For all rubber/nylon/plastic parts, tires, tubes, and batteries – 50%
For fiberglass components – 30%
For all parts made of glass – Nil
The rate of depreciation for all other parts including wooden parts will be as per the following schedule
| | |
| --- | --- |
| Age of the two wheeler | Percentage of depreciation |
| Not exceeding 6 months | NIL |
| Exceeding 6 months but not exceeding 1 year | 5% |
| Exceeding 1 year, but not exceeding 2 years | 10% |
| Exceeding 2 years, but not exceeding 3 years | 15% |
| Exceeding 3 years, but not exceeding 4 years | 25% |
| Exceeding 4 years, but not exceeding 5 years | 35% |
| Exceeding 5 years, but not exceeding 10 years | 40% |
| Exceeding 10 years | 50% |
With this policy, you will also get protection from the Legal Liability to Third parties (TP) for personal injury and property damage resulting from an accident.
Compulsory Personal Accident (CPA) Cover for Owner-Driver comes along with this policy. The Company undertakes to pay compensation as per the afore-said scale for bodily injury/death sustained by the owner-driver of the vehicle in direct connection with the vehicle insured or whilst mounting into/dismounting from or traveling in the insured vehicle as a co-driver, caused by violent, accidental external and visible means which independent of any other cause will within six calendar months of such injury result in. This cover is subject to the following conditions:
The owner-driver is the registered owner of the vehicle insured herein.
The owner-driver is the insured named in this policy.
The owner-driver holds an effective driving license, in accordance with the provisions of rules of the Central Motor Vehicles Rules, 1989, at the time of the accident.
Available Add-on Covers Under Cholamandalam Two Wheeler Insurance Policy
Cholamandalam General Insurance Company also offers multiple add-on covers to strengthen your bike insurance policy as per your needs, which can be bought by paying a little extra premium. The followings are the available add-on covers:
Zero Depreciation – During the repair or replacement, or any such damage or loss, you will receive the full value of your claim with the help of this add-on cover.
Return to invoice cover – In the cases where there is a total loss of your two wheeler, the damage is beyond repair, or a case of theft, this add-on ensures that your bike is covered.
Roadside Assistance – With the help of this cover, expenses like battery jump start, charges for the towing facility, flat tire or minor repair assistance, hotel stay, or even a ride back home will be compensated.
Consumables cover – This add-on cover covers every consumable item, such as engine oil, nuts, screws, distilled water, or other similar items.
Engine protection cover, and many more.
What are the general exclusions of Cholamandalam Two Wheeler Insurance?
Understanding a policy is not completed if you do not thoroughly review its exclusions. Therefore to give you a comprehensive idea of the policy, and to avoid future complications, here are the mentions of the exclusions of Cholamandalam Bike Insurance:
Any consequential loss is not covered under this policy.
The expenses arising out of normal wear and tear will not be paid by the insurer.
The mechanical and electrical breakdown will not be reimbursed.
Damage due to the influence of alcohol, drugs, or any other intoxicating substances will not be the responsibility of the company.
Failures and breakage will also fall under the category of exclusions.
The conditions like racing, pace making, reliability trial, speed testing, and any purpose in connection with Motor Trade will be excluded as well.
Any damage arising out of war, war-like situations, riots, public unrest, etc., will not be paid by the insurer.
If there are any expenses due to the damage arising out of ionizing radiation, and nuclear weapons, the company will not take any responsibility for that.
The company will not pay for damage to Tyres and Tubes unless the vehicle insured is damaged at the same time, in which case the company's liability will be limited to 50% of the replacement cost.
The Company will not be liable in respect of any claim arising whilst the vehicle insured is being used otherwise than in accordance with the "Limitations as to Use" or being driven by or is for the purpose of being driven by him/her in charge of any person other than a Driver as stated in the Driver's Clause.
Claim Process of Cholamandalam Two Wheeler Insurance
Follow the step-by-step guide to avail of a smooth, hassle-free claim experience with the company.
As soon as the incident/accident happens, you need to inform the insurer about the same. For this, you can call their customer services Executive at 1800 208 5544 or mail to customercare@cholams.murgappa.com or directly walk into any of their official branches and get your claim registered with the company.
Once the claim is registered, a surveyor or in-house loss assessor will be appointed on behalf of the company, who will reach the place of survey within 6 hours of intimation of claim in case of Local Surveys and within 48 hrs for Outstations.
After that, you need to send the company the required documents. Do not produce any false documents. And co-operate with the surveyor. Preserve the report of the surveyor for future reference.
Your documents will be verified and evaluated by the company.
If no discrepancy is found, the settlement Advice, together with the discharge voucher, is sent within 7 days from the date of receipt of all documents.
Necessary documents for a successful claim:
A duly signed and filled Motor Claim Form
Copy of the Registration Certificate of your bike
FIR in case of TP Injury, Death, or Accidental Case
An authentic approximate evaluation of the loss or damage. ( Ensure that you make an extra copy of this and keep it with you).
The receipts of the payment and the repair bills.
How can you renew Cholamandalam Two Wheeler Insurance?
With the online facility, you can now renew your bike insurance policy online without physically visiting the company's official branch or standing in a long queue very smoothly by following the steps below.
Go to the official website of the Chola MS General Insurance Company.
On the right side of the homepage, there will be the Renew Chola MS Policy option. Click on that. You will be directed to a new page.
Then, on the landing page, select the Motor tab.
There you need to provide certain details such as your bike insurance policy number, and two whee4ler registration numbers/engine numbers.
Then, click on the Proceed option.
The renewal amount will be displayed on the screen of your device. Check the details thoroughly, and if everything is fair, pay the renewal amount by choosing one of the suitable payment options available with the insurer. Your job is done.
Once the payment is successful, you will get a notification about the same in your registered mobile number and/or email ID.
Frequently Asked Questions