Renew in just 5 mins.
No Inspection.
No Paper Work
* Subject To Underwriting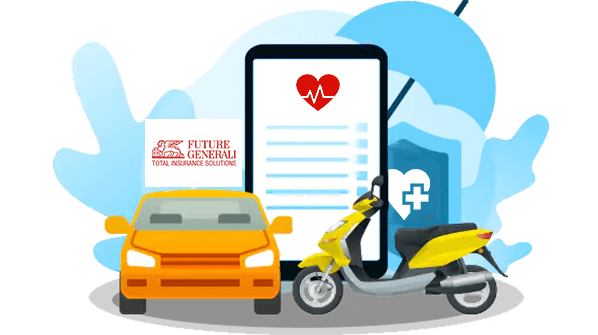 Compare

Bike Insurance Plans
Future Generali Two Wheeler Insurance
Future Generali Two Wheeler Comprehensive Insurance Policy covers third-party liabilities as well as damage to the covered vehicle that could arise in an accident or in the event of an unforeseen incident. coverage for third-party liabilities, such as those arising from accidents or unforeseeable events that cause bodily harm, disabling conditions, property damage, or death of a third party. The Motor Vehicles Act requires this kind of two wheeler insurance coverage.
This insurance covers third-party obligations, such as those resulting from accidents or unforeseeable events that cause bodily harm, disabling conditions, property damage, or a third party's death. Although comprehensive two-wheeler insurance is not required, once it has been obtained, the policyholder is not in need of a separate third-party insurance policy.
Key Features and Benefits of Future Generali Two Wheeler Insurance
Here is the list of the features and benefits of Future Generali Bike insurance policy.
Third-Party Liability
Sometimes, someone else has to bear the penalties instead of you. Third-party liability coverage from our bike insurance will keep you safe in such circumstances. It makes up for losses caused by damage to someone else's property, physical harm, or death.
Bike Damage
Don't worry if your bike has been damaged by an accident or theft. Future Generali will cover all losses thanks to its bicycle insurance. The comprehensive insurance policy for two-wheelers covers any damage to your vehicle that results from an accident, a theft, or a break-in. Comprehensive two-wheeler insurance coverage also cover damages including damaged parts, dents, and scratches. You have the right to file a claim for such damages or repairs if your bike sustains damage as a result of an accident.
Personal Accident
A second policy for personal injury protection must be obtained in addition to the two-wheeler insurance. The insurance covers unintentional fatalities and disabilities brought on by motorcycle accidents. Both the driver and the passenger can purchase the insurance. Accidents are always unpredictable. As a result, Future Generali's bike insurance offers up to Rs. 15 lakhs in accident coverage.
Loss of Personal Belongings
If you usually take a new phone, laptop, etc. every time with you along with your two-wheelers, the policy will cover you by offering protection to your personal belongings.
No Claim Bonus
One of the main advantages of selecting the Future Generali bike insurance policy is that, even if you filed a claim the previous year, you will still be eligible for an NCB advantage at the time of renewal.
Network Garages
Another major feature of Future Generali bike insurance is that there are 3500+ partner workshops across India for cashless claims.
Roadside Assistance
Stuck on the highway or involved in an accident? Why should such occurrences deter you? With the Future Generali coverage, you will have roadside assistance available to you around-the-clock.
Return on Invoice
Future Generali's bike insurance will be there for you if damage results in your bike being declared a total loss. The difference between the bike's invoice price and insurance value will be paid to you by the company.
Zero Depreciation
Last but not least, the company will give you the full claim value even if your bike is old and has lost value.
Things Not Covered Under the Future Generali Bike Insurance Policy
Listed below are the things that are not included or covered under Bike insurance policy by Future Generali.
The vehicle's normal wear, tear, and ageing
Any harm is done to the car by someone who isn't in possession of a legal license.
Damage or loss brought on by rebellion, war, or nuclear peril
Any incident that occurs outside of the region
Any harm done to or by someone operating a vehicle while under the influence of alcohol or drugs.
How To Buy Future Generali Bike Insurance Policy?
Purchasing a two-wheeler insurance policy for your car is quite straightforward and simple. Here are the steps for purchasing a two-wheeler insurance plan from Future Generali of India:
Visit the Website-
Start by going to the Future Generali India Insurance Company's official website. The next step is to obtain an online quote for the bike you wish to insure.
Fill in the Information–
Create a profile and submit some basic information about your vehicle to generate your online quote. The fundamental details include your vehicle's make, model, and year of manufacture, the engine number, the registration number, the chassis number, etc.
Review–
After that, you can check your coverage and deductibles and modify the coverage as necessary.
Select a payment option and pay comfortably in a few simple steps after confirming the premium that must be paid and accepting the terms and conditions.
You can download and print the insurance document after paying the payment. The email address of the policyholder that has been given to the insurance provider also receives a copy of the policy document.
Steps To File a Claim For Your Future Generali Two Wheeler Insurance Policy
The two-wheeler insurance plans from Future Generali India include both reimbursement claims and cashless claims. Either get the car fixed at one of the network garages, then submit a claim for cashless payment.
Inform the Insurance Company
The first step in the claim settlement process is to notify the insurance company online by filling out a form on the company website or by calling 1800 220 233.
Inspection
The insurance provider will despatch a surveyor to examine the car and gather the necessary records as evidence of the damage done to it.
Submit Documents
The surveyor will need to see the pertinent paperwork.
Payment–
After proper verification, the insurance provider will pay the workshop directly and submit the bill received to the surveyor or the nearest Future Generali India branch along with the payment.
How To Renew Your Lapsed Future Generali Two Wheeler Insurance Policy?
In order to maintain coverage and adhere to insurance regulations, your policy must be renewed. On the corporate website, you can renew the insurance online. The coverage would expire if the policy is not renewed in a timely manner. The no-claim incentive would still still be in effect during the grace period for renewal. The no-claim bonus would expire if the grace period ran out. Once your bike has been inspected by the insurance company, you can advise them that your coverage needs to be renewed.
Frequently Asked Questions