Renew in just 5 mins.
No Inspection.
No Paper Work
* Subject To Underwriting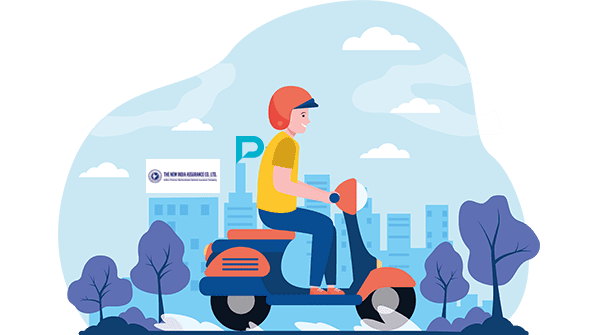 Compare

Bike Insurance Plans
Navi General Two Wheeler Insurance
Navi General Insurance is well-known for offering two-wheeler insurance plans that protect your vehicle from mishaps, theft and vandalism, natural and man-made disasters, fire and explosion, and other perils. Three main two-wheeler insurance policies are provided by Navi General Insurance: Third Party, Standalone Own-Damage, and Comprehensive insurance coverage.
Suppose the covered two-wheeler is damaged or the policyholder is held legally responsible for third parties due to an accident. In that case, Navi's bike insurance policy can aid the policyholder financially and legally. Read on to learn more about the Navi General bike insurance, types, benefits, exclusions, claim process, renewal, and more.
Types of Navi General Two Wheeler Insurance
Here are the different types of Navi General Bike insurance policies.
COCORide Two Wheeler Package Policy
Your legal obligation for third-party property damage and bodily injury resulting from the usage of the vehicle is protected by this insurance coverage. Additionally, the plan provides the mandatory Rs. 15,00,000 in personal accident insurance for individual car owners while they are driving, getting into or out of the covered vehicle, or riding as a co-driver.
COCORide Long-Term Two Wheeler Package Policy
For a period of two to three years, the Long-Term Two-Wheeler Insurance policy offers adequate and thorough coverage for both you and your two-wheeler. The following risks are covered by the policy as protection against any loss or damage to the vehicle or its accessories. The following are examples of accidents that can occur: fire, explosion, self-ignition or lightning, earthquake, inundation, hurricane, flood, theft, malicious act, typhoon, storm, frost, landslide, tempest, cyclone, hailstorm, rockslide, riot, strike, robbery, and more.
COCORide Two Wheeler Own Damage Policy
If you are the owner of a privately registered two-wheeler, this coverage is for you. With the COCORIDE Two-Wheeler Own Damage coverage, your vehicle is properly and completely protected. If the owner of the car has a valid driver's license, it offers mandatory personal accident coverage for Rs. 15,00,000 for a fee. The company vehicle in question is exempt from this rule. The business will not be liable for any harm if the person operating your car is impaired by drink, drugs, or both.
Liability Only Two Wheeler Policy — 5 Years
This policy pays the third party and his dependents back for monetary and other losses brought on by your car. Up to a predetermined limit, it covers damage to property that isn't the insured's, is held in trust for the insured, or is in the insured's care or control. In addition, if it's necessary to comply with the Motor Vehicles Act, the plan offers coverage for any person's death or physical harm.
Why Should You Consider Navi for Bike Insurance?
Navi General Insurance is an excellent choice for bike insurance, as it offers the following benefits:
A Reputable and Legitimate Insurance Company
You should check the insurer's legitimacy before buying bike insurance. If an accident or other unforeseen circumstance damages your bike, you may rely on a trustworthy insurance provider. Navi General Insurance has a high Claim Settlement Ratio (CSR), which distinguishes them as a trustworthy insurance provider.
Offers Reasonable Premiums
The best coverage and the most affordable bike insurance policies should both be considered. You might be able to lower the cost of your Navi bike insurance by taking advantage of incentives like the no-claim bonus.
For a pitiful cost, customers can obtain complete insurance coverage from Navi General Insurance for a full year.
Provides Cashless Services
It would be preferable to take the availability of cashless services into account while selecting the finest insurance plans. One of the most beneficial things that any insurance carrier provides is cashless claims. Repairs are carried out for free at the network of garages connected to the insurance firm.
It's quick and simple because the bike insurance provider evaluates the damage and pays directly for repairs.
Renewal and Claim Processes are Simple
Most insurance firms follow a set of regulations when filing claims. However, some steps may vary between firms. Read your policy's terms and conditions to learn how to submit a claim. Claims should be easily and swiftly filed.
The development of technology has simplified the process of buying, renewing, and claiming insurance. Navi General Insurance offers online claims and renewal for bike insurance.
Coverage Options
With basic coverage, you might not be able to get complete bike insurance. Your bike insurance policy can be customized to match your individual needs by adding extra coverage. At Navi General Insurance, 12 additional covers may be added to your insurance policy to make it more comprehensive. Among the most helpful are the following:
Expenses associated with consumables
A zero-depreciation policy
Assistance with roadside emergencies
What Are The Things Not Included Under Navi Two-Wheeler Insurance Policy?
Listed below are the things excluded under the Navi General Bike insurance policy.
1. Any claim resulting from a contractual obligation;
Any accidental harm, damage, or responsibility received while the vehicle insured hereunder is
(a) being used in a manner that is not permitted by the "Limitations as to Use" or
(b) in charge of any person other than a Driver as defined by the Driver's Clause, is being driven by them or is to be driven by them.
2. (a) Any unintentional loss or damage to any kind of property, as well as any expense or loss that results or arises as a result, including any consequential loss.
(b) Any inadvertent loss, damage, or responsibility that is caused by, contributes to, or results from nuclear weapons material, whether directly or indirectly;
Any unintentional loss, damage, and liability caused directly or indirectly, locally or remotely, by, contributing to, or connected with, hostilities or warlike operations (whether before or after a declaration of war), civil war, mutiny rebellion, military or usurped power, or by any consequences, whether immediate or delayed.
Buying Process- How To Buy Navi Two-Wheeler/Bike Insurance Policy?
If you want to buy a Navi bike insurance policy to protect your bike, the following are the things you need to consider.
Go to the official website of Navi General Insurance. Then, go to the motor insurance section.
In the beginning, you will see the option "Buy Two-wheeler Insurance" in blue color. Click on it. You will then be directed to the page wherein you need to enter the details under "Tell Us Your Bike Number".
After that, you will need to enter your vehicle number. And Then, Click on "Next".
Once you have already entered your vehicle number, you will see the details of your bike.
Then, you will need to pay for your bike insurance from Navi.
When the payment is successful, your policy details will be transferred to your registered mail address.
How to Renew your Navi General Bike Insurance Policy?
Please phone us at our toll-free number, 1800 123 0004 (from 8 am to 8 pm), to renew your motor policy. You can also send an email to mycare@navi.com with the details of your policy.
Claim Process- Steps to File a Claim For Your Navi Two-Wheeler Insurance
Cashless Claim
By selecting the cashless garage network, you can take advantage of the cashless facility in case of an accident claim. Below is a step-by-step approach for your convenience;
Step 1: Claim Registration
Notify or submit a claim in the following way;
Making a call on Toll-Free # 1800 123 0004 OR
By sending an E-Mail to insurance.help@navi.com OR
Through Customer Portal on website www.naviinsurance.com OR
Directly walk into a branch
Step 2: Take your vehicle for repair
Bring your car to any garage in our network, along with the documentation listed below. The surveyor will survey the garage.
Claim Form must be fully completed and duly signed by the insured (the CO's seal must be included if the insured is a firm or corporation).
A duplicate of the registration certificate (original for verification & return).
A copy of the driver's license of the vehicle at the time of the collision (original for verification & return)
Police Report/Panchnama (in the event of Partial Theft, Third Party Property Damage, Death, Body Injury, Damage from Riot, Strike, or Malicious Act)
KYC documentation (ID proof and address verification, as required by the policy) if the claim exceeds Rs. 1 lakh.
Step 3: Claim Settlement
A surveyor will analyze the loss and issue a work order after receiving all pertinent and essential claim documents.
After repairs are finished, the surveyor may perform another inspection.
Upon receiving the original/proforma repair bill, Navi GI will issue a Claim Amount Confirmation (CAC).
After paying your portion of the claim and the payment for any non-accidental work, you can pick up your car. When picking up your car, give the garage a signed note of satisfaction (with the CO's seal if the insured is a firm or company). After receiving the surveyor's report and the necessary claim paperwork, the company will issue the claim money in the garage's favour within 7 working days.
What Are The Required Documents to Register a Claim?
Here are the documents you may need to submit to file a claim against your Navi General bike insurance:
Copy of Insurance Policy / Cover Note
Copy of RC book (Registration Certificate)
Copy of the Motor Driving License of the person driving the vehicle
Frequently Asked Questions
Age, IDV, engine size, and region of registration are some of the variables used to determine two-wheeler insurance rates.
If the policy doesn't satisfy your insurance needs, you have 15 days from the day it was delivered to return it. You will need to advise the insurance that there are formalities to finish regarding this. The premium will be reimbursed if the insurer complies with the terms and conditions.
Yes, you can switch service providers for your two-wheeler insurance plan without losing your NCB. Simply pick up the phone and call one of their customer service representatives for further information.