Renew in just 5 mins.
No Inspection.
No Paper Work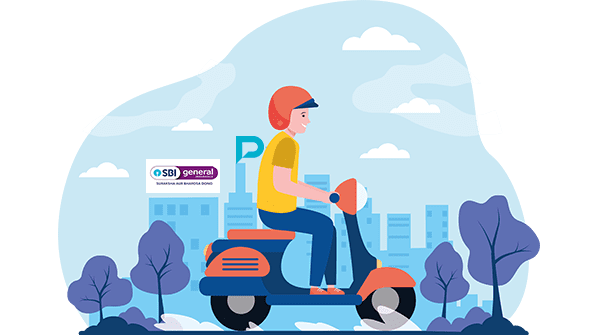 SBI General Two Wheeler Insurance
SBI General Insurance Company Limited was established in 2010 as a joint venture between State Bank of India (holding 74% of shares) and Insurance Australia Group (IAG). Its aim is to make a range of insurance services reachable for the masses.
Motor bikes are an affordable and convenient mode of transport popular in urban and rural India. Because of high-speed driving, they are also most likely to meet with accidents. SBI general two wheeler insurance is for the protection of motorcycles and scooters in India. It provides remarkable monetary cover against any physical damage to the two wheeler, third-party liability as well as theft, fire and other such eventualities.
In fact, SBI General two wheeler insurance package policy is particularly planned to cope with whatever hazards you may meet with as a motorbike rider. The package aspires to meet all your requirements and provide protection at a reasonable cost.
Interesting Facts About SBI General Two Wheeler Insurance
| | |
| --- | --- |
| Extra Safeguards | Attractive add-ons available |
| Claim Ratio | 91.75% |
| Inclusions in the own damage cover | Any loss or damage due to various Natural and Manmade Calamities |
| Cashless Network Garages | Available |
| Third-Party Cover | in case of death or bodily injury of a third-party, property damage to the third-party up to Rs.1 lakh |
| Bonus / Discounts | No Claim Bonus (NCB) |
| Personal Accident Coverage | Rs. 15 accident cover for owners of the vehicle |
| Policy Term | 1 year to 3 years |
| Personal Accident Cover For Passengers | Rs.1 lakh for the co-passenger |
Advantages of SBI General Two Wheeler Insurance
SBI two wheeler insurance policies offer many benefits and features. Some of them are:
Policy buyers aged between 25-55 years are offered special discounts on their premium.
Insured can avail additional discounts if your vehicle is insured with the company without any break in the policy.
The best and transparent claim assistance.
 The company constantly updates customers concerning the movement of their claims.
 You can buy/ renew / get instant quotes online.
Trouble-free, simple, and swift inspection of accident damages by the inspection team.
Coverage for SBI General Two Wheeler Insurance
SBI General Insurance offers Third Party and Comprehensive plans.
Category

Cover

Third Party liability Insurance is mandatory

The liability coverage applies to accidental death, injury and/or damage caused to vehicle and property
It also includes personal accident coverage for the owner-driver
Unlimited coverage is given for death or injury of third party and up to Rs.1 lakh

Comprehensive Insurance Plans
 
A. Own Damage

Natural calamities like floods, cyclones, and storms
Landslides and Earthquake
Fire and explosion
Acts of rioting and vandalism
Theft of the two wheeler

B. Personal Accident Cover

Rs.1 lakh to the owner-driver of the insured vehicle in case of permanent total disability or to the beneficiary in case of accidental death

Type of Injury Compensation Level in case of personal accident cover for owner-driver

Death / permanent disability- 100%
Loss of two limbs or sight of two eyes or one limb and sight of one eye – 100%
Loss of one limb or sight of one eye – 50%
Pick and choose any of the add-ons as you please and need.
Pillion Rider: SBI two wheeler insurance offers Rs.1 lakh to cover the pillion rider.
Increase on the Personal Accident Cover: You can increase the amount of the personal accident cover beyond Rs.1 lakh.
No Claim Bonus: You are entitled to an NCB for every claim-free year starting with 20% and as high as 50% over 5 uninterrupted claim-free years.
Membership of AAI: If your bike is registered with an accepted Automobile Associations of India can avail of an extra discount
Installation of Security Devices: If your two wheeler is fitted with approved anti-theft attachments, you are entitled for a further discount up to 2.5% on your own-damage premium.
Tenure Discount You can get 5% discount on the Own Damage Premium if you decide on a 2-year policy and 8% if you choose a 3-year policy
Specialized Discount for specially modified vehicles for the blind, mentally challenged and specially-abled individuals up to 50% of the own-damage premium.
Process for online application/renewal of SBI General Two Wheeler Insurance
When it comes to purchasing a new policy or renewing an existing one, you can choose from either of the options below:
1. Buy/Renew with Probus Insurance Broker
Log on to the Probus website and select apply/renew two wheeler insurance, as relevant.
Choose the insurance company of your preference.
In case of the new policy, fill in necessary information such as city, model, variant, registration year and date, fuel type and personal details like mobile number, email address.
If you are renewing the policy, add extra/new/changed details.
Decide on the insurance provider of your choice after comparing plans from different insurance companies.
In case of renewal decide on NCB as applicable. If you have opted for comprehensive insurance, select the desired add-ons.
The applicable premium amount will be displayed. Confirm and revise the data entered by you before making the payment
Make the online payment using any secure online payment service.
Your policy document will reach your inbox right away.
2. Buy/Renew Via official SBI Website
The renewal of SBI two wheeler insurance is largely like purchasing a new policy.
Log onto the official website of SBI General Insurance Company to purchase/renew your two wheeler policy.
Choose the two wheeler option on the homepage, under the "Buy/Renew Online" option.
You will enter a new page. Provide the asked details such as registration number etc. there and click on 'GET QUOTE' for SBI General two wheeler insurance purchase/renewal online.
Provide basic details like name, email ID, mobile number, etc.
Select the plan you wish to purchase.
If you are renewing a policy, you will be asked to enter your previous policy number for the renewal process.
Choose between annual or long-term tenure
If you have chosen a standard/ comprehensive plan you can modify it further by setting an IDV (Insurance Declared Value) and selecting add-ons of your choice.
A quote of the premium will be provided.
Pay the amount via net banking, credit card, or debit card.
Your policy will be sent to your email. You can also save the policy documents online for your convenience.
SBI General Two Wheeler Insurance Claim Settlement Process
Here's the step-by-step claim process for your perusal.
Contact SBI two wheeler insurance department immediately after the mishap and inform about the date, time, and place of the occurrence.
Do not remove the two wheeler from the accident spot/site till the surveyors visit the accident spot to survey your vehicle.
In case of any third-party injuries or death, file an FIR and give the name of the hospital and the doctor, if the third-party is being treated in a hospital.
Now the two wheeler can be moved to any of the convenient network garages. Obtain the quotation and submit it to the company along with the completed claim form. Have a final survey of your vehicle. Submit the surveyor copy and FIR.
The repair work should begin only after the final surveyor validates the damage caused.
Submit the cash bills and get the reimbursement within 30 days of final survey and receipt of documents.
Documents Needed To File a Claim For Accident or Theft
Police FIR for accident damage or theft.
Accurately filled and signed claim form.
Registration Certificate (RC)
The original repair bill for cashless claims.
Driving license of the person driving at the time of the accident.
Copy of the first two pages of the policy document.
Original repair estimate, repair statement and payment receipt for non-cashless claims.
Vehicle being used for the illegal purpose such as use as a taxi.
General ageing normal wear, tear of the two wheeler
Any significant depreciation
The person driving the two wheeler without a valid license
Electrical or mechanical breakdown
Any damage or loss due to war, nuclear risk etc.
Damage while driving the vehicle under the influence of intoxicant
Fraudulent or false claim
Know More About Premium And Premium Calculation
An insurance premium is the amount of money paid for procuring an insurance policy. A premium calculator is an online tool to help the customer generate the right premium for his vehicle. To calculate the premium for comprehensive bike insurance several factors are considered including the bike's IDV, its age, cubic capacity, owner's age, etc. The premium will automatically appear during the online purchase or renewal of a policy.
Frequently Asked Questions
1. How to apply for the SBI Two Wheeler Insurance plan?
Ans: By calling their helpline number 1800-102-1111 or writing an email to their customer service or by visiting the official website and selecting the 'Buy Online' tab available.
2. What are the key features of SBI General Two Wheeler Insurance?
Ans: Some major features are:
Customized pricing model according to the customer's convenience.
Additional discounts for uninterrupted vehicle insurance.
Quick claim settlement with a claim ratio of 89.51% in 2020
3. How can I check the status of my policy?
Ans: You can log in to the website using your username and password to check the status.
4. Does the SBI two wheeler insurance have a clause for No Claim Bonus?
Ans: Yes, SBI General Insurance offers No Claim Bonus if no claim has been made during the whole policy period.
5. How many cashless garages does SBI Insurance have?
Ans: SBI Insurance has more than 16,000 garages all over the country.