Renew in just 5 mins.
No Inspection.
No Paper Work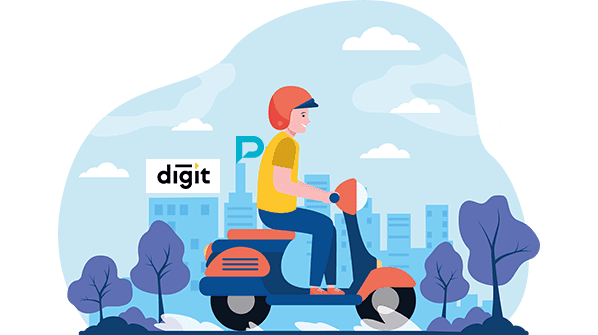 Digit Two Wheeler Insurance
The founder of Digit is Mr. Kamesh Goyal, the former CEO of Bajaj Allianz. They have made a mark in the insurance market and have built an impressive image with the clientele by providing excellent services in the field of bike insurance, health insurance, car insurance, mobile insurance, jewelry insurance, among others. Digit believes that investing in insurance schemes provides a sense of security and stability and the company strives to build a relationship of trust with its customers by making the procedure simple and uncomplicated.
With an impeccable settlement record of 100% travel claims with Cleartrip.com and over 87% claims till date, they're a sought-after option. Additionally, the organization has close ties with leading companies such as PolicyBazaar, Thomas Cook, Tanishq, Amazon, Flipkart PayTM, etc. Over the years they've grown their presence in more than 179 countries and have a connection of 10,000 network hospitals.
Key Highlights About Digit Two Wheeler Insurance
| | |
| --- | --- |
| Features | Benefit |
| Premium | Starting from 752/- |
| No Claim Bonus | Offers up to 50% Discount depending on period of no claim |
| Add-ons | 5 customized add-ons offered |
| Cashless Repairs | Available at company approved garages ( over 2200 ) |
| Claim Process | Smartphone-enabled Claim process. Can be done online within 7 minutes! |
| Claim Settlement Ratio | 97% with round-the-clock helpline available |
| Own Damage Cover | Offered and depends on IDV (Insured declared value) |
| Damages to Third-Party | Liability for Personal Damages, Up to 7.5 Lakhs for Property/Vehicle Damage |
| Personal Accident Cover | Up to Rs 15 Lakh |
Why You Should Opt For Digit Two Wheeler Insurance?
Go Digit bike insurance provides you with lots of features and advantages. Some are:
Low Price: Go Digit bike insurance policies guarantee the best service with low and reasonably priced premium and a high IDV
Hassle-free Renewal and Purchase: You can buy or renew Go Digit bike insurance directly online by simply visiting the company's official website.
Cashless Facility: Go Digit bike insurance has an approved network of a number of garages where you can avail yourself cashless services for the repair of your two wheeler vehicle.
Speedy Claim Settlement: Claims are settled within a fairly short time under the Go Digit bike insurance plan.
Breakdown Assistance: Go Digit two wheeler insurance provides road breakdown support online and smartphone enabled inspection.
24/7 Support: Go Digit offers round-the-clock aid over the phone and online regarding claims, policy purchase and renewals and any other assistance.
Coverage For Go Digit Two Wheeler Insurance
Go Digit offers two types of two wheeler Insurance plans
Third-party liability only Insurance and
Comprehensive/Standard insurance
Category

Cover

Third Party Insurance

Accident resulting in injury or death to a third party.
Bike accident resulting in damage to someone else's property.
Legal expenditure and fee following a bike accident.

Comprehensive insurance

Any sort of robbery, thievery or housebreaking
Fire, explosion, self-ignition
Manmade calamities such as terrorism, strike, riots or malicious act.
Accident by any external means.
Flood, earthquake, storm, rockslide, landslide, etc.
Transit by rail, road, inland waterway, lift, etc.
Quick Comparison Between The Two Types Of Policies
| | | |
| --- | --- | --- |
| Coverage | Third party Insurance | Comprehensive Insurance |
| Accident of policyholder's own two wheeler | No | Yes |
| fire and explosion of own two wheeler | No | Yes |
| natural calamity damages to vehicle | No | Yes |
| Theft | No | Yes |
| Pickup and drop facility | No | Yes |
| Tailored IDV | No | Yes |
| Add-ons | No | Yes |
| Damages to third-party vehicle | Yes | Yes |
| Damages to third-party property | Yes | Yes |
| Personal accident cover | Yes | Yes |
| Death of or harm to a third-party person | Yes | Yes |
Digit Two Wheeler Insurance Add-ons
Digit two wheeler insurance offers a few customized add-ons at a reasonable premium.
Zero Depreciation – The required depreciation amount is not taken in account during claims. You get the full worth of the charges of repair/replacement during a claim. 

Return to Invoice Cover – In case the two wheeler is stolen or wrecked beyond restoration, Go Digit will cover the costs of procuring a new bike, inclusive of the road tax and registration fees.

Engine & Gear-box Protection Cover – The cost of replacing the engine is approximately 40% of its cost of the two wheeler. With this add-on, the engine and gearbox are protected for any major damages caused by an accident, water ingression or leakage of lubricating oil.

Consumable Cover – This covers costs for all consumables such as the engine oils, nuts and bolts, washers grease, screws, etc. in case of an accident

Breakdown Assistance – The Go Digit team will always be on call in case of any breakdowns.
Exclusions for Go Digit Two Wheeler Insurance
Just as you get comprehensive coverage, there are a few exclusions too, such as:
Own vehicle damage is not covered if the policy is a third-party liability-only policy.

If the driver is under the influence of any intoxicants or does not have a valid driving license.

Any damage caused by negligent driving against instructions in the manufacturer's driving manual, for example driving in a flooded area

If the vehicle is found to be used for any illegal purpose.

For any loss or damage to the insured vehicle if it takes place outside India.

If add-ons have not been bought, the corresponding situations will not be covered.
Process For Online Application/Renewal Of Go Digit Two Wheeler Insurance Policy
Customers can buy a new policy or renew an existing policy by logging into the Digit website directly or through the Probus website.
1. Buy/Renew Two Wheeler Insurance With Probus
Open the Probus website and select apply/renew for two wheeler insurance, as relevant.
Decide on the insurance company of your preference.
In case of a new policy, fill in necessary information such as city, model, variant, registration year and date, fuel type and personal details like mobile number, email address.
If you are renewing the policy, enhance the above information with extra details.
Decide on the insurance provider of your choice after comparing plans from different insurance companies and pick the one of your choices.
In case of renewal, decide on NCB as applicable. If you have opted for comprehensive insurance, you can pick add-ons, if required.
Confirm and revise the data entered by you before making the payment
Make the online payment using any secure online payment service.
Your policy document will reach your inbox right away.
2. Buy/Renew Two Wheeler Insurance with Digit
Tap 'Get Quote' and choose the two wheeler insurance plan of your choice.
Choose between a third-party liability only two wheeler insurance or a standard package/comprehensive two wheeler insurance.
If you are renewing a policy, give details about your earlier insurance policy- expiry, claims made in the last year and if not, then the NCB you are entitled to.
You will get the required estimate for your premium. If you've chosen a standard plan, you can tailor it further by selecting add-ons, of your choice.
Complete your online payment.
Your policy will be sent to your email.
Two Wheeler Insurance Claims Made Simple with Digit
Instead of waiting for an assessor to check for damage in an accident, Digit allows self-inspection of the two wheeler's damages through its Smartphone-enabled app. Digit has a claim settlement ratio of 97% in two wheeler insurance. Hard copies of claim forms are not required. The policy holder simply must upload the required documents online.
In a gist:
Call on 1800-258-5956
You will get a link for self-inspection on the registered mobile number which also contains instructions on how to take pictures of the vehicle's damages from your smartphone
Customers can choose the mode of repair they wish to opt for, i.e., reimbursement or cashless through Digit's approved garages.
Things You Need To Know About Premium And Its Calculation
An insurance premium is the amount of money a person must pay for an insurance policy. A bike/two wheeler insurance premium calculator is an online means to help the customer create the right bike insurance premium for his two wheeler. Typically, certain factors influence the premium of a vehicle like the model and make of the vehicle, the place of registration, the year of purchase, etc.
How To Determine The Exact Premium?
Similar to how you apply/renew your policy, you can follow the same steps and it will show you the premium for different policies. You can then take your pick.
Bike insurance premium calculator for old bikes
For an old bike insurance premium will be a lot less because of chances of the bike being understandably worn out and the scope of add-ons available being less.
Frequently Asked Questions
1. What are the factors that determine the premium of Digit two wheeler insurance?
Ans: A few factors that determine the premium are:
Insured Declared Value
No claim Bonus
Age of the two wheeler
Engine Capacity
2. How to get a cashless repair for my two wheeler?
Ans: The company has more than 1,000 cashless network garages in India. You can call the toll-free number 1800-103-4448 or access the Digit General Insurance website to find the nearest approved garage.
3. What are the benefits of taking Digit two wheeler insurance?
Ans: Enjoy unlimited benefits like:
Provides affordable two wheeler insurance plans
Cashless repair and replacement facilities all over India
Online purchase and renewal service
Round the clock customer assistance
Fast and fair claim settlement
4. I have a query regarding my Digit two wheeler insurance, who should I contact?
Ans: You can contact Digit by calling the toll-free number 1800-103-4448 or writing your query at hello@godigit.com.