Renew in just 5 mins.
No Inspection.
No Paper Work
* Subject To Underwriting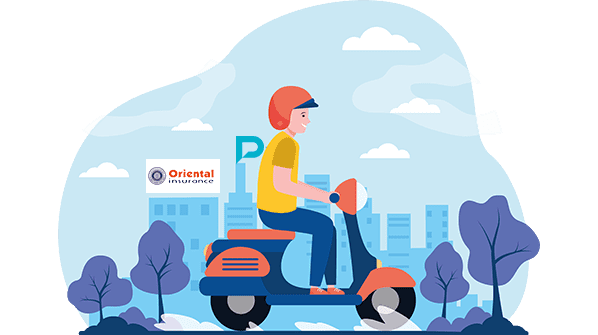 Compare

Bike Insurance Plans
Oriental Bike Insurance Policy Download
So, you have just bought your favourite bike. And now to safeguard it and make your rides tension-free, you are planning to buy an Oriental bike insurance policy. It feels good to be responsible for something that you own and love so dearly. However, just buying a two-wheeler policy for your bike won't be enough. You need to put in some extra effort to make sure that you can avail of the facilities offered by your insurance policy during unforeseen events.
Apart from paying the premiums regularly, you must also ensure that you have at least a few downloaded copies of your Oriental bike insurance plan. A downloaded copy of your bike insurance plan can save you at several crucial junctures of life where the technology may not support you. It is always better to have an "old-school" backup for your insurance plans in case things go wrong during times of emergency. 
Read on to know why it is necessary to get a few downloaded copies of your Oriental bike insurance plan.
Situations when your downloaded policy copy will come in handy!
If you are a tech-savvy person, you may question the purpose of downloading a hard copy of your bike insurance policy. Below mentioned are a few situations where modern technology might fail you. In those conditions, having a download hard copy of your two-wheeler insurance paper will keep your boat sailing. Have a look!
Suddenly, your smartphone breaks down: Accidents or unfortunate device breakdowns are quite common. Your smartphone may break down because of an impact or on its own. And you may not be able to show the soft copy of the policy papers to the concerned authority. Having a hard copy can pull you out of such situations seamlessly.
You are not carrying your phone or laptop at present: Suppose you are in the middle of an emergency situation and you have left your laptop or phone back at home or the office. Now you do not have time to get back and fetch your device to show the softcopy of your bike insurance policy. Again, you can simply rely on the downloaded hard copy of the policy papers to prove that you are a law-abiding citizen and that you have insurance to back up your expenses.
You are stuck in a no-network area: There are still many regions in India that do not have proper network coverage. In those areas, you may not be able to log in to the dashboard of your insurance company. Accessing the soft copy of the policy paper will thus be next to impossible. Having a hard copy thus can be of great help during those times when you do not have a network.
Step-by-step process to download your Oriental Bike Insurance Policy
Here's how to download your Oriental bike insurance policy papers in a few easy steps:
Visit the official website of Oriental Insurance Company.
At the top, you will notice a couple of options in blue font.
Choose the one that says "CUSTOMER SERVICES."
Then click on the third last option – "DOWNLOAD POLICY."
Click on the same and you will be asked to log in.
Enter your log in credentials and then go on to download your policy papers in a PDF format.
Next, get a few printouts of the same, and you are sorted.
Is it possible to make any changes to your Oriental Bike Insurance document?
If you are worried about a few incorrect details in your Oriental bike insurance document, such as spelling errors in your name, or wrong contact number, then you can go on to make some alterations in the document. But you will need the help of the customer care executive for the same. Get in touch with them and share your concern. Also, you may drop a mail in their email ID regarding the changes you want in your document. The same will be done within a specified time period.