Renew in just 5 mins.
No Inspection.
No Paper Work
* Subject To Underwriting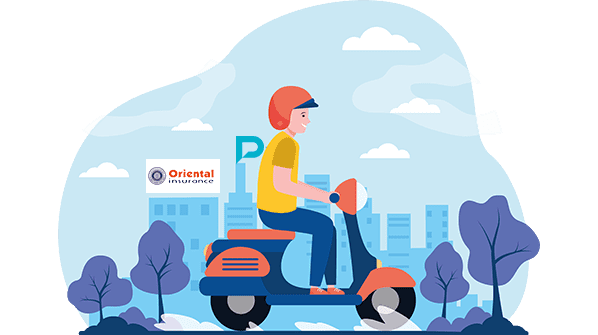 Compare

Bike Insurance Plans
Oriental Bike Insurance Policy Renewal
If you have purchased a bike insurance policy to provide overall protection to your dream two wheeler, you also need to learn about the renewal procedure of the policy otherwise, after a certain point of time, your policy will be void, and you cannot avail of the benefits of the policy due to not renewing it on time. and, if your bike policy is from Oriental General Insurance Company, then this renewal process will be simpler and easier as this company has built its official website in such a super consumer-friendly manner that even an internet naïve can do the procedure without any effort. Oriental general is already popular among customers for its various bike policies and its customer-friendly approach has made them more convincing. To know more about the bike insurance policy renewal process under this insurer, have a look at the following mentions.
How To Renew Oriental Bike Insurance Policy?
You just need to follow the below detailed steps properly without any failure to renew your two wheeler policy. Have a look at the steps.
Go to the official website of Oriental General Insurance Company.
On the top of the homepage, you will get the Renew option. Click on that.
You will be directed to a new page. There you need to select the Renewal of OICL Policy option.
Then, put the existing bike insurance policy number in the right place.
After that, you need to put the details regarding your policy. Do not do any mistakes while putting in the credentials because one single mistake can bring errors in the entire renewal process.
Once you are done putting your policy details, on the basis of that, the renewal amount will be displayed before you.
And also, you can view your personal information for OICL policy renewal. Check it twice.
If no discrepancy is found, pay the renewal amount by availing of one of the most convenient payment methods available with the insurer.
Upon successful payment, you will get a notification regarding the same in your registered mobile number and/or email ID.
Save it for future reference, or else you can also make a printout of it for better convenience.
Besides this online method, you can also renew your two wheeler policy under this insurer by visiting one of the official branches of the company. their customer executives are knowledgeable and experienced enough to guide you through the entire renewal process.
How To Contact Oriental General Insurance?
If you follow the above steps religiously, you should not face any issues while renewing your bike insurance policy under this company. Even if you face any glitches, you can contact the company by following the methods below.
You can directly contact the company by calling their toll-free number 1800118485, or 011- 33208485 (Normal Charges Apply).
You can write to the company mentioning your problem regarding renewing your bike policy using their official email ID, csd@orientalinsurance.co.in, or anitasharma@orientalinsurance.co.in.
You can also lodge a grievance or complaint by visiting the Contact Us option that is available on their official website.
Apart from the above online methods, you can also contact the insurer offline by visiting the nearest official branch of the company. Their customer executives are always at your service.