Renew in just 5 mins.
No Inspection.
No Paper Work
* Subject To Underwriting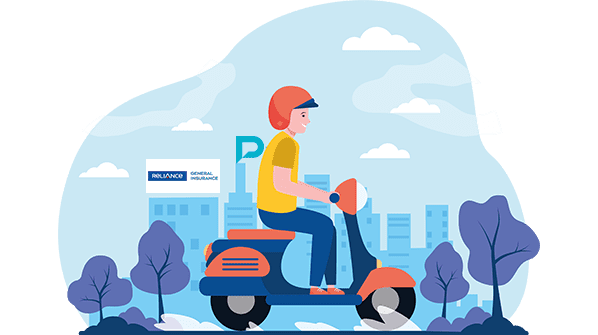 Compare

Bike Insurance Plans
Reliance Third-party Two Wheeler Insurance
It is no secret that an owner of a vehicle uses it as a means of travelling to their predetermined destination. However, mishaps can occur to anyone at any time. Accidents and the growing number of two-wheelers go hand in hand. In light of this, the 1988 Motor Vehicles Act mandated that all owners of two-wheelers obtain minimum third-party bike insurance for their vehicles. If the driver or owner of a two-wheeler is discovered to be operating a vehicle without third-party insurance, they may face penalties.
Reliance third-party bike insurance is the basic form of motor insurance that covers the policyholder for third-party damages. Third-Party Two Wheeler Insurance by Reliance General offers economical premium rates along with financial coverage to shield the policyholder against unanticipated third-party damages. Even though its coverage is less than that of comprehensive two-wheeler insurance, it is still reasonable for people who don't want to drive a lot and have a limited budget for premiums.
Read on to learn more about the Reliance Third-Party bike insurance in detail!
Major Features and Benefits of Reliance Third-Party Two-Wheeler Insurance
In the event of a road accident or mishap involving the insured's bike, the following third-party liabilities are covered by the Reliance third-party bike insurance:
Bodily Injuries to a Third Party: When an accident involving an insured two-wheeler occurs, the Reliance third-party bike insurance covers the third party's physical injuries, death, or disability. If a third party sustain physical harm or disability as a result of an accident, they will receive compensation while they heal. Under this kind of insurance, a third party's accidental death is also covered.
Damage to Third-Party Property: If an accident involving the insured two-wheeler results in damage to third-party property, Reliance's third-party two-wheeler insurance will reimburse damages up to Rs. 1 lakh.
Damage to Third-Party Vehicle: In the event that the insured two-wheeler causes damage to a third-party vehicle, compensation will be given. This coverage will pay for any expenses or damages to the third-party vehicle resulting from an accident involving the policyholder's two-wheeler.
Peace of Mind: There's comfort in knowing that the two-wheeler has Reliance third-party bike insurance. It offers legal and financial protection in trying times, in addition to enabling the policyholder to drive their two-wheeler legally in accordance with the Motor Vehicles Act. This kind of two-wheeler insurance coverage can be quite beneficial in the event of a third party's property damage, death, or bodily injuries.
Affordable: There is no arguing with the fact that third-party bike insurance by Reliance General is considered the most basic type of insurance and is very affordable. Because of this, the majority of people decide to insure their two-wheelers with a third party.
Quick Support- Reliance General offers 24* 7 support through its telephone services and assistance even on holidays. Its customer service makes sure to help customers in an easy way.
What's Not Covered Under Reliance Third-Party Two-Wheeler Insurance?
The following are the things excluded under the Reliance Third-Party two-wheeler insurance. 
Driving without a valid licence: You are not able to file an insurance claim with the insurer if you operate a vehicle without a valid driver's license.
Outside the geographical area: Losses or damages sustained outside the nation's borders are not covered. The insurer would not consider an accident that occurs outside of India and results in damages.
Accessories: Unless the bike is also stolen, Reliance Third-Party Two-Wheeler Insurance does not cover loss or damage to vehicle accessories caused by burglary, housebreaking, or theft.
Damages due to drunk driving: Reliance General will not pay damages resulting from an accident caused by you operating a vehicle while under the influence of alcohol or drugs.
Limitation as to use: Reliance General will not provide coverage for the use of your vehicle in any way that deviates from the terms and conditions stated. For instance, you cannot file a claim under your two-wheeler insurance if you use your vehicle for commercial purposes.
Mechanical and Electrical breakdown: If the vehicle breaks down mechanically or electrically, there is no coverage.
Frequently Asked Questions