Renew in just 5 mins.
No Inspection.
No Paper Work
* Subject To Underwriting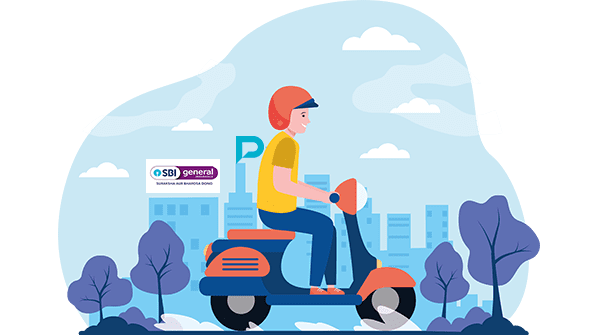 Compare

Bike Insurance Plans
SBI Bike Insurance Policy Download
When you purchase bike insurance from SBI General Insurance, you will receive a policy document within a few working days. This document is extremely crucial for renewal purposes and claim resolution. As a result, it is important for you to always preserve a copy of your policy's paperwork. 
You can also download your two-wheeler insurance policy document through the company's official website. But many people are not aware of the exact process for the same. Therefore, this post will discuss everything about downloading your SBI bike insurance policy document.
Steps For Downloading SBI Bike Insurance Policy
Once you purchase the policy, you can follow the below-mentioned steps for downloading it:
Pay a visit to the official website of SBI General Insurance.
Click on the "Our Products" link on the top bar of the page and then select "Motor Insurance".
Several options for motor insurance will be displayed on the right side. Click on "Two-Wheeler Insurance".
A new page will emerge showing various service options. Press "Policy Download".
Now enter your policy number and vehicle registration number on the page and fill in the captcha code. Then press "Next".
Now confirm your policy details and select the format in which you wish to download the policy.
Your policy will be downloaded successfully.
Is There Any Requirement For A Hard Copy Of The SBI Bike Insurance Policy Document?
Although it is important for a two-wheeler owner to have a third-party bike insurance policy, it is not necessary to keep the document in the form of a hard copy. When asked by the traffic police, the bike owner can also show the soft copy on their smart devices. Moreover, the IRDAI (Insurance Regulatory Development Authority of India) has launched the e-Vahan Bima application which enables you to scan the QR code of your bike insurance policy.
How To Make Changes In SBI Bike Insurance Policy Document?
Your SBI General two-wheeler insurance policy paperwork is editable both online and offline. Visit your local SBI General Insurance office to amend your insurance paperwork offline. Depending on the changes you want to make, you could have to pay a higher premium.
You must go to the official website of SBI General Insurance to make any online endorsements or changes to your policy document. The next step is to find the "modify policy information" area. You must enter the insurance policy number here before receiving an OTP on your registered mobile number.