Renew in just 5 mins.
No Inspection.
No Paper Work
* Subject To Underwriting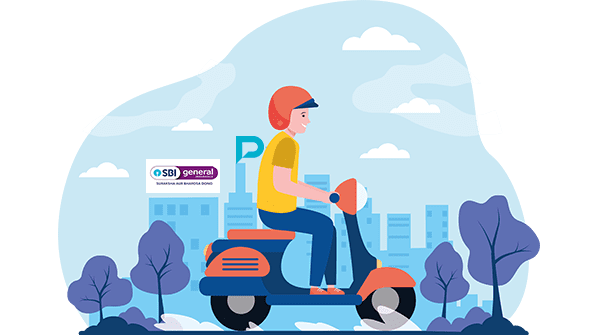 Compare

Bike Insurance Plans
SBI Bike Insurance Policy Renewal
Understanding the renewal process of your bike insurance policy is very important because every insurer has a different procedure. If you do not renew the policy on time, you will lose all the benefits and facilities that your two wheeler policy has to offer and whenever you go on the roads, your bike will be exposed to all the types of road risks. To keep pace with digitalization like other insurance companies, SBI General Insurance Company has come up with an online renewal process, which can be used to renew a bike insurance policy within a few clicks.
Steps/Process To Renew of the SBI Bike Insurance Policy
If you follow the below guide, you can easily renew your two wheeler policy of SBI General without any hassles. Have a look at the below mentions.
Go to the official website of SBI General Insurance Company.
On the top of the homepage, you will find the Renew tab. Click on that.
And then, select the Motor Policy option. Under that, you need to select the Two Wheeler option.
After that, click on the arrow sign that will be displayed just below it.
You will be directed to a new page. on the landing page, you need to put certain details related to your existing bike policy, such as the policy type and registration number of your two wheeler.
Then click on the Get Quote option, and provide the other details as required. In this stage, be careful with the credentials because a single piece of wrong data will bring errors to the entire procedure.
Once you are done with putting all the necessary information, on the basis of your given data, the renewal amount will be displayed on the screen.
Check it twice. If no discrepancy is found, pay the renewal amount by choosing one of the most convenient ways of payment available with the company.
Upon successful renewal, you will get a notification about the same in your registered mobile number or/and email ID.
Save it for future reference, or you can also make a printout for better convenience.
Apart from the online methods, you can also opt for the offline renewal process. In that case, you need to visit one of the official branches of the company. Their customer executives are experienced and knowledgeable enough to guide you through the entire process. But doing it online would be advisable as it is less time-consuming and paperless.
Can't Figure Out SBI Bike Renewal Process? Contact The Insurer
If you follow the above steps religiously, you should not be facing any trouble while renewing your bike insurance policy under this insurer. Still, if you face any glitches, you can contact the insurer by choosing any of the following ways.
You can reach the company by calling them at 18001021111 (8 am – 8 pm).
You can also directly write to the company availing of their email facility at customer.care@sbigeneral.in, and describe your issue. In that case, you may have to provide certain details such as policy number, registration number, etc.
The address of their Corporate Office and Registered Office:
SBI General Insurance Company Ltd.
9th Floor, A & B Wing, Fulcrum Building, Sahar Road, Andheri (East), Mumbai 400099.
Office Timings: 9:30 AM to 5:30 PM (Monday to Friday).
Apart from these, you can also visit the nearest branch of the company. Their customer executives are always at your service.