Renew in just 5 mins.
No Inspection.
No Paper Work
* Subject To Underwriting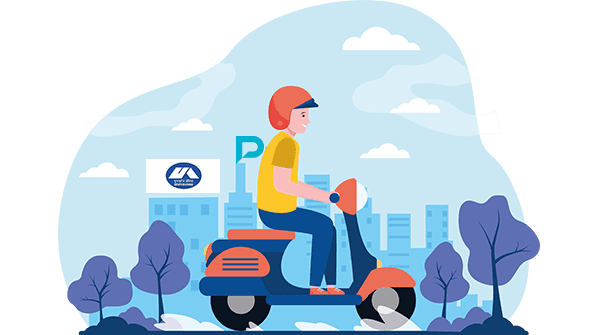 Compare

Bike Insurance Plans
United India Third-Party Two-Wheeler Insurance
Did you know? In 2020, there were 56,873 fatal two-wheeler traffic incidents in India, according to the Minister of Road Transport and Highways. The number increased in 2021 and 2022, and in 2023, more growth (in accidents) is anticipated. As a result, every two-wheeler owner is required to have third-party bike insurance under the Motor Vehicle Act of 1988. This protects against third-party liabilities such as harm, demise, and property damage that occurred to the third-party property or disability.
If you are looking for dedicated third-party two-wheeler insurance, then you can consider United India's third-party bike insurance. It will protect the policyholder in case of unforeseen liabilities that may arise from any loss or damage caused to a third-party person or vehicle from your vehicle. The insurer must also make up for any harm your bike causes to someone else's property. The major highlight of the insurer is that it has 200+ cashless network garages that offer cashless repair services. You can concentrate on getting better from the mishap rather than being bogged down in paperwork and drawn-out procedures thanks to streamlined procedures and speedy settlement.
Features and Benefits of United India Third-Party Two-Wheeler Insurance
United India Bike Insurance Third Party Cover offers the following benefits for the third party involved in the mishap. If someone operates a vehicle without third-party insurance, they will certainly face consequences from the law. Third-party insurance is required. The following are the key features and benefits of choosing Third-Party two-wheeler insurance by United India.
Third-Party Body Injuries:
Any injuries suffered by a third party as a result of an accident come under the United India third-party two-wheeler insurance. It handles the medical bills and other out-of-pocket expenses resulting from the bike accident for which the insured is insured.
Third-Party Accident/Death Cover:
When the insured's motorbike is involved in a fatal accident, the insurer pays a monetary settlement. The insurer also covers other obligations, such as those related to the repair expenses or expenditures associated with vehicle damage to a third party.
Property Damage Cover:
The insurer makes up for any property damage done to a third party. The business only provides compensation following legal proceedings in which a court of law determines the amount to be awarded.
Higher Number Of Claims Settled:
The insurer has a good track record of claims settled. Till now, the insurer has settled 2427073 claims, ensuring your United India Third-Party bike insurance claims can be settled without any difficulty.
Strong Office Network:
With dedicated support, the insurer has a robust office network of 1698 offices, ensuring seamless customer assistance with regard no matter what kind of issue you have with your United India third-party bike insurance.
Dedicated Cashless Garages:
The insurer has more than 200 cashless garages across the country, offering unmatched support.
Exclusions Under United India Third-Party Bike Insurance
The following situations are not covered by the United India third-party two-wheeler insurance:
Claims resulting from contractual obligations
Normal two-wheeler wear and tear
Driving while intoxicated
Driving when ineligible for a licence
Electrical and mechanical failure
Any harm or loss brought on by nuclear radiation and situations resembling war
Frequently Asked Questions
Here is the list of the frequently asked questions related to the United India Third-Party Bike Insurance.