Renew in just 5 mins.
No Inspection.
No Paper Work
* Subject To Underwriting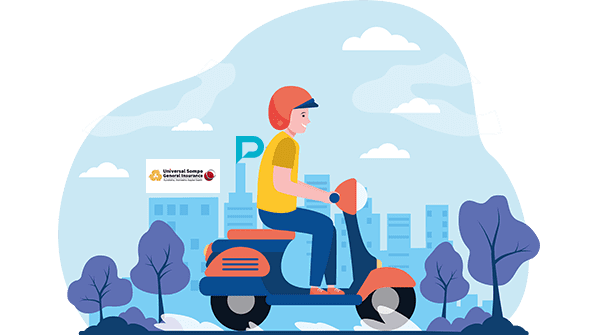 Compare

Bike Insurance Plans
Universal Sompo Bike Insurance Policy Download
The Universal Sompo bike insurance policy document is a legal document that acts as an agreement of insurance between the policyholder and the insurance company. The bike insurance terms and conditions, which specify when and how the insurance company would compensate the insurer in the event of an accident, are contained in the policy document. According to the Indian Motor Tariff, third-party insurance is a requirement for all motorcycles, although carrying a hard copy of the policy is no longer required; a soft copy will do.
Within a few working days of your purchase, Universal Sompo will send the policy paperwork for your purchased bike insurance to your registered email address. The claim settlement and renewal processes will both require this crucial document.
Read on to learn more about the process of downloading your Universal Sompo Bike insurance policy.
How To Download Universal Sompo Car Insurance Policy Online Using Policy Number?
If you want to download your Universal Sompo car insurance policy, follow the steps given below:
First, visit the official website of Universal Sompo car insurance.
After that, you will need to log in to the customer portal using your details.
Then, you will need to find and click on a tab titled 'policy details.
Next, click on a tab titled 'new policy.'
You will then be directed to the page wherein you will need to enter your policy number in the required field and click on 'search.'
The screen will now display your policy details and other information.
Download the policy document in PDF format.
Do I Need a Hard Copy of the Universal Sompo Car Insurance Policy Document? If yes, how to download it?
According to Indian traffic law, any car driver who uses the country's public roadways must be covered by vehicle insurance. You must, therefore, always have your policy documentation with you. You could be sentenced to jail time or pay hefty fines if you don't have legitimate documents. Even if you don't have tangible copies of your policy document, you can avoid all such penalties today thanks to the quickly developing technologies. You can now keep insurance paperwork in soft copy on your mobile according to the government's E-Vahan Bima initiative. You can also retain a PDF copy of the policy on your email address for future reference.
Frequently Asked Questions
Before signing the policy, it is recommended that you carefully read the policy text. The document includes all of the terms and conditions, policy number, plan information, tenure, benefits, policy information, personal information, insurance type, etc.
To receive the indemnity bond, you must pay the charge and the stamp fee.
Yes, the customer service representatives for Universal Sompo's auto insurance are available around-the-clock at the toll-free lines listed on the company's website.