Renew in just 5 mins.
No Inspection.
No Paper Work
* Subject To Underwriting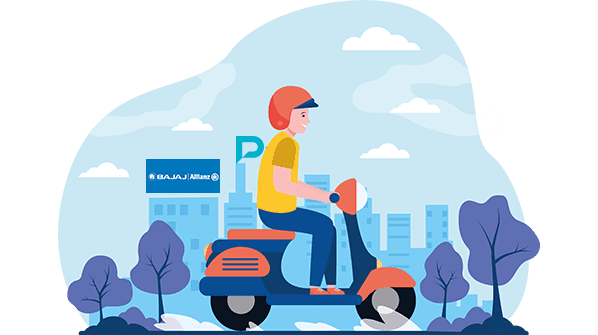 Compare

Bike Insurance Plans
Bajaj Allianz Bike Insurance Policy Download
The Bajaj Allianz bike insurance policy is an agreement including the coverage's features, exclusions, terms, and conditions. You can download the digitally signed Bajaj Allianz bike insurance document right away after making an online purchase or after making an offline purchase and paying for it. Additionally, the company sends physical copies of policies to customers through courier within 7 business days.
How To Download Bajaj Allianz Bike Insurance Policy Document?
For downloading the Bajaj Allianz bike insurance policy document, you can adhere to the following steps:
Pay a visit to the official website of the company.
Click on the "Support" link on the top-left corner of the home page.
Scroll down to the "Our Services" section and click on "E-Policy Copy".
Enter your details, such as your mobile number, policy number, and email ID.
Once you will fill in all the details required on the page and proceed further, a new page will open with the policy details and the policy document. The policy document will be in PDF form, which can be easily downloaded by the policyholder.
Why Do You Need Bajaj Allianz Bike Insurance Policy Document?
When driving a two-wheeler on Indian roads, you are required to carry a few important documents, including the registration, tax paid, PUC certificate, and valid insurance policy paperwork.
An appropriate bike insurance policy document covering third-party liabilities and your protection is required since the Motor Vehicles Act of 1988 specifies that they must be inspected. To your convenience, you should carry a copy of your Bajaj Allianz bike insurance policy.
Do You Need To Carry A Hard Copy Of The Bajaj Allianz Bike Insurance Policy Document?
Every industry, including the insurance industry, is becoming more digital as a result of technological innovation. It streamlines functionality and helps clients save time. In light of this, the Insurance Regulatory and Development Authority of India (IRDAI) has developed e-Vahan Bima, a tool that allows bike owners to carry soft versions of their insurance policies rather than paper ones.
In this digital world, you can avoid storing a printed copy of a Bajaj Allianz bike insurance coverage. Both a soft copy and a hard copy of the bike insurance policy are acceptable for policyholders, but they must have one in their possession at all times when riding a bike because it is required by Indian Motor Tariff. The bike insurance policy documents outline the coverage of the policy, as well as its inclusions and exclusions, available discounts, the features of the add-on cover, terms and conditions, etc.