Renew in just 5 mins.
No Inspection.
No Paper Work
* Subject To Underwriting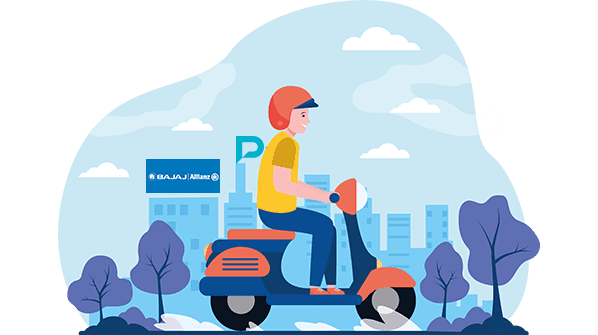 Compare

Bike Insurance Plans
Bajaj Allianz Bike Insurance Policy Renewal
You can prevent severe financial losses by getting the proper bike insurance. It is possible to be fined money or even go to jail for having invalid or expired insurance coverage. A bike insurance policy that is appropriate for your needs is provided by Bajaj Allianz. The damages to your bike will also be covered by a complete bike insurance policy and third-party liabilities. You just have to renew it on time to avail of its benefits.
How To Renew Bajaj Allianz Bike Insurance Policy?
Let's first examine how the Bajaj Allianz two-wheeler insurance renewal online functions since it is simple and convenient to do it online.
Visit the official website of Bajaj Allianz for bike insurance renewal
Click on the renewal tab (if you are an existing customer, select – Renew Bajaj Allianz policy, else select the other company renewal tab).
Put in your contact information and information on your two-wheeler, including its registration number, make, and model.
Select the appropriate add-on covers for your two-wheeler and then continue with the payment.
Before sending the payment, double-check all the information you supplied.
After modifying the IDV to your specifications, pay the premium amount that will be shown on the screen.
Depending on your preference, you can pay the amount using your debit/credit card or net banking.
If you do want to renew your two-wheeler insurance over the phone, call us at 1800-209-0144 or send "RenewGen" through SMS to 9773500500. The executives of the organization will direct and assist you in renewing your policy right away. To renew your policy, you can contact your insurance agent or intermediary or go to the Bajaj Allianz General Insurance branch closest to you.
Why Shouldn't You Miss Renewing Bajaj Allianz Two-Wheeler Policy On Time?
Let's discuss the following reasons. 
Loss/Damage Incurred Due to Natural Calamities
Bajaj Allianz offers coverage for losses brought on by unanticipated occurrences including landslides, earthquakes, floods, typhoons, hurricanes, and fire outbreaks.
Theft or Total Loss of the Bike
Losses caused by people can be expensive. You're covered by Bajaj Allianz because it also pays for damages to your two-wheeler brought on by riots, theft, or other nefarious acts.
Personal Accidental Coverage
The policy protects the rider and the passenger against accident-related injuries. For accidents, coverage up to Rs. 1 lakh is offered. For additional protection, you may choose from a variety of add-on covers.
Liabilities Owed to Third Parties
Accidents can harm your two-wheeler and/or result in a person's lasting injury or death. To safeguard against potential legal responsibilities resulting from such accidents, get two-wheeler vehicle insurance.
Repair and Replacement Expenses
A damaged motorcycle requires expensive repairs. The costs are sure to soar if you also have to replace a specific two-wheeler component, like the engine. With specific extensions to your two-wheeler insurance, you are protected against such costs.
Frequently Asked Questions