Renew in just 5 mins.
No Inspection.
No Paper Work
* Subject To Underwriting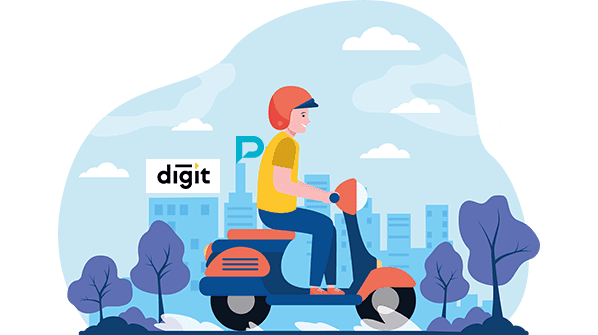 Compare

Bike Insurance Plans
Digit Bike Insurance Policy Download
Go Digit insurance offers the Digit bike insurance policy that provides maximum protection to your two-wheeler against theft, accident, fire, explosion, and more. Their bike insurance policies are simple to read and devoid of confusing language or loopholes that would make it difficult for customers to grasp them. Bike insurance must be purchased since it is required in India, and it is essential for both financial and legal reasons.
Go Digit Insurance Co. Ltd. gives you a policy document when you purchase a bike insurance policy from them; this document details the terms of the contract and establishes a legal binding between the two parties. They have an entirely online platform that enables you to make purchases and submit claims. Additionally, you can download your Digit Two-Wheeler Insurance Policy online from your device.
Let's find out more about the insurance policy and the document.
Details Provided in the Digit Two-Wheeler Insurance Policy
The Digit Two-Wheeler Insurance Policy Document mentions the following significant details:
Policy tenure
Insurance policy number
Exclusions
Inclusions
Claim procedure
Add-Ons
Terms and conditions
Details of the policyholder
Premium Value
Type of policy
Insured Declared Value (IDV)
Steps for Digit Two-Wheeler Insurance Policy Download
You must enter your email address and the Digit bike insurance policy number in order to download it. The ways to download the policy documents are listed below:
Download the Policy Document through Digit App
Step 1
From the Play Store or the App Store, download the "Digit Insurance App."
Step 2
Use your registered mobile number to log into the app.
Step 3
On the bottom right of the screen, select My Policies. You may view all of your policy documentation there.
Step 4
Click the Download Policy button after selecting the policy. The policy document will be easily accessible to you.
Download The Policy Document through WhatsApp
Step 1
From the phone number you've registered with us, send a "Hi" to our Digit Self-Serve WhatsApp number, 70260 61234.
Step 2
You'll get a message asking you to select how you want us to help you. Answer "2" to the message.
Step 3
Your policy document is now in your possession, exactly where it should be!
Via Way of Email
In order to obtain the policy paper at your email address, send us an email at hello@godigit.com.
Do I Need a Hard Copy of the Digit Insurance Policy Document?
According to the Motor Vehicles Act of 1988, it is a requirement for every owner of a two-wheeled vehicle to drive on Indian roads while carrying a copy of their bike insurance policy. However, the Insurance Regulatory and Development Authority of India (IRDAI) has introduced a mobile application called e-VAHAN Bima that enables you to keep a soft copy of the paperwork for your bike insurance policy on your phone without incurring any fees when reviewing. You can carry a digital copy of your policy paperwork with the e-VAHAN Bina application. It includes a QR code that contains all the information about your bike insurance coverage.
Every time you ride your bike, you don't need to download and print Bike Insurance Digit. However, having a hard copy of your bike insurance is vital to avoid any penalties in the event that you lose your phone or leave it at home. Therefore, it is advised to have a physical copy of your policy documentation in your bike box at all times. You won't feel stressed out even when faced with difficult circumstances while driving.
How To Get a Hard Copy of Digit Two Wheeler Insurance Policy?
The company has expanded Digit General Insurance's customer care services. It operates quickly and without fuss. As soon as the bike insurance policy is bought, the insured receives the relevant papers. If you don't receive your policy, you can download a copy that has been digitally signed from the Digit General Insurance website. Every policyholder has the opportunity to download the Digit two-wheeler policy in PDF format. You can take your policy paper as a tangible copy if you print it out. The steps to download a copy of your Digit bike insurance is described above.
Frequently Asked Questions
Here is the list of the frequently asked questions related to the Digit bike insurance policy.